Wireless earphones are great, they connect effortlessly to your favorite playlists and hold their charge even on the long runs! The Jabra Elite Active 75t True Wireless Earbuds are designed with comfort in mind and tested on thousands of persons to ensure an excellent fit. They stay in place no matter what you do. The new smaller design makes them ideal for all types of ears, while the ergonomic shape makes them very comfortable.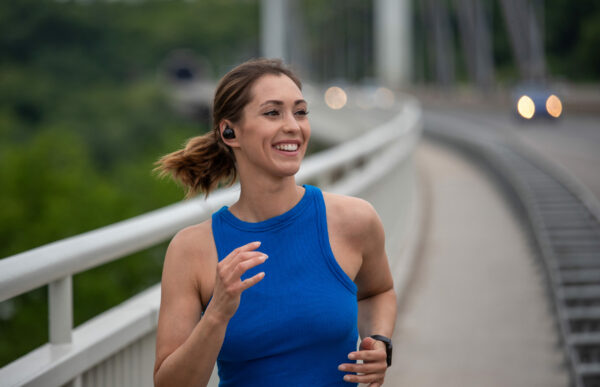 They are great for sports and the sweatiest of runners made to fit the oddest ear shapes. You can enjoy music, calls and communication with your voice assistant – all in high quality, even in busy environments. And you even avoid the hassle of cables.
Jabra Elite Active 75t Sound Quality
The Jabra Elite Active 75t delivers a truly accomplished sound – the whole spectrum is covered. The sound quality is good even though the bass tones can be a little overbearing in everyday use, but for some, these are indispensable on the runs.
Here you can go in and adjust a bit on the equalizer to get some more personal sound. So, the Jabra Elite Active 75t sounds bass-heavy by default, but you can adjust this in the Sound+ app.
The headset has plenty to offer, with a lot of bass on even the poorest productions. The same goes for the middle tones and treble. If something is missing, the Jabra Elite Active 75t almost always has the opportunity to offer something.
Conversely, of course, you can also turn down the frequencies you think to use too much space. however, it is easy to set the sound to your preferences. And the headphones are more than capable of delivering.
In addition, the sound is also as detailed as you could wish for. So, you do not have to turn up the volume to compensate and get it all – it is simply easy to hear the various elements of the music, even at low volume.
Sound is subjective and therefore there are different options to adjust! But no matter what you listen to, you can get a good result here – Again, the Jabra just delivers good sound, which could easily cost more. These earphones are IP57 rated against dust and water. They can access Amazon Alexa, Siri®, or Google Assistant ™ at the touch of a button.
Adjustable Equalizer
On the adjustable equalizer, the sound can be adjusted exactly as you prefer. Whether you want more bass or treble, you can be sure that your music always sounds exactly the way you want it, and thanks to a solid 4th generation true wireless connection, you will not be interrupted by audio dropouts or interference.
Jabra Mysound
MySound is Jabra's latest technology. It lets you hear music precisely as it's meant to be heard – excellent optimized and tuned via an in-app hearing test and then calibrated on your headphones. The result is music that is completely tailored to your individual hearing profile. In that way, you set the rules yourself.
Do you want to change which headphones you use to start and skip songs? Do you need to change which hand you use to answer and reject calls? MyControls lets you define and customize your headphone buttons directly from the Jabra Sound + app.
So, no matter how you want to manage your calls and music, MyControls gives you control over your headphones. And rules are better when you're making them yourself – right?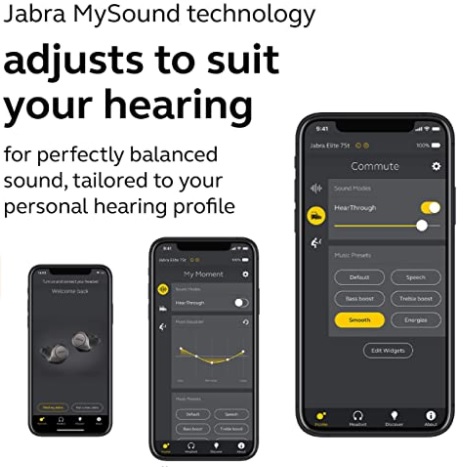 You can listen to music for up to 7.5 hours on a single charge, and from the included charging case you can refuel for an additional 20.5 hours. If you still run out of power, you can get 60 minutes of battery life with 15 minutes of fast charging.
The case takes up almost nothing, so you can easily carry it in your pocket. You really have a pair of comfortable and discreet headphones that you can use all day.
It gives you more power and more freedom because even when your energy reserves are by running out, your music and call opportunities are never more than a few minutes away.
Jabra Earbuds Call Quality       
When you are out running and want to make a call, it is important to have good Call Quality. It's also something that Jabra is really good at – both incoming and outgoing.
In wireless headsets with poorer call quality, you may experience dropouts on both Bluetooth signals or due to external noise. Here, the Jabra Elite Active 75t headphones do a good job on both of them.
Background noise is ruled out quite excellently, while sound levels seem to be well-tuned. Due to HearThrough, among others, it's possible to hear your own voice. It also has the effect that you are not going to raise your voice unintentionally when you are having a conversation.
HearThough
HearThough mode uses the 4 built-in microphones to pick up the sounds around you and play them through the speakers of your earbuds, so you do not have to stop playback to hear what is happening around you.
You simply just use the slider that can be adjusted in the Jabra Sound+ app to adapt how much ambient sound you want to hear. HearThrough works when you are listening to audio or a call, and also when there is no playback.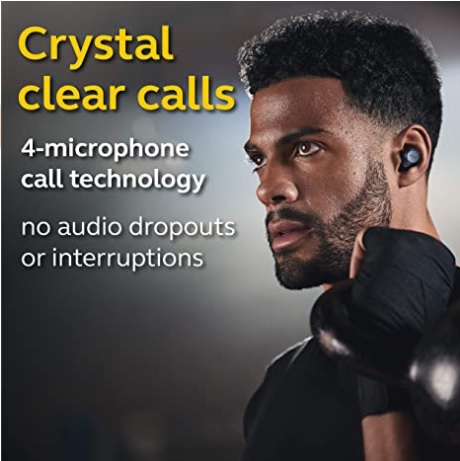 In other words, the enhanced 4-microphone technology means you are assured of superior call quality. The 4 microphones filter out interfering noise and amplify your voice so that your calls are clear, even in noisy and windy environments. This means that if you use your headset to make calls, you are really well covered here.
Jabra Elite Active 75t – Fit
The fit that Jabra has tested on thousands of people is quite good with the newly developed rubber earpieces, and once the plugs fit right in your ear canal, you get an impressive sound quality with deep and delicious bass, while being effectively insulated against ambient noise.
Jabra themselves are so proud of this detail that they have dubbed it PNC – Passive Noise Cancellation. Safe fit for an active lifestyle.
You can practically go wherever you want, and do anything, without worrying about losing an earplug. They are as mentioned tested for a secure fit with extra grip coating and are compact and comfortable. Designed to stay in place even when you're really putting them to the test.
IP57-rated, with a guarantee against dust and sweat, Elite Active 75t earplugs are also waterproof. Carry them all day, from bus or train to the gym and home again without having to worry about getting caught in the rain.
Jabra Elite Active 75t Set-Up
All Jabra Bluetooth headphones use the app called Jabra Sound +.
Once you have installed Sound +, it will guide you through setup, as well as provide a quick overview of how to use the Jabra Elite Active 75t. Then you can set different audio profiles for HearThrough, among others. After an update, the Jabra Elite Active 75t has also received active noise reduction – ANC. This can also be adjusted in the app.
It is through the application that you can customize the sound. In addition to the preset settings with, among other things, Treble and Bass boost, you can adjust the sound to your own preferences via the simple 5-point equalizer. The app has lots of other features and they all function very intuitively.
Once the setup is complete, you are ready to use your headset. The feedback you get at the touch of a button leaves you with no doubt as to whether you have actually initiated an action.
This means as I see it, that the headset will be easier to use without the phone. That you then just have to learn when to double-tap and keep touch surfaces down is another case. However, you will quickly learn this as it works quite intuitively.
The Jabra Elite Active 75t is water-repellent down to 1 meter. Therefore, the product of course also easily manages a run in any winter weather with rain and sleet.
Jabra Active Noise Reduction Technology (ANC)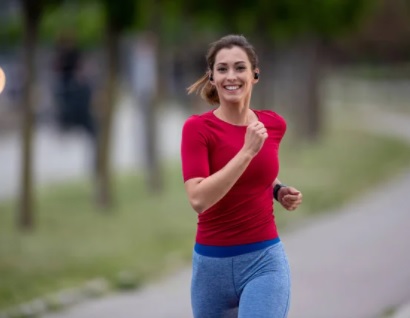 With noise reduction technology, you can filter the world around you and have the opportunity to focus on the music. Activate the ANC function using the Sound + app, and activate the selection of the ANC and HearThrough functions with the ear button.
The battery provides up to 5.5 hours of listening time with the ANC function on and with the charging box up to 24 hours. With a fast charge of 15 minutes, you get up to an hour more listening time.
Important Benefits of ANC
Being able to close out the sounds around you clearly has great benefits :
A feeling of much better sound quality
Initially, the ANC was generally not designed to make the actual sound quality better, but today it happens completely automatically. Because ANC shuts out unwanted sounds, the sound quality improves, even if the basic software as such has nothing to do with the sound quality.
This gives you as a user a sense of better bass, and sound in your music, and is clearly one of the biggest benefits of ANC as I see it.
Increased concentration to work or train
If you often are distracted while you work or exercise, your ANC headphones can help greatly. In fact, the ANC in some devices is so powerful that you would not even be able to hear the keys on your own PC keyboard and thus can focus 100% on your work.
You can just put music on and ignore all the noise around you while working, exercising, or maybe just going for a walk.
Can prevent hearing damage
Since ANC technology keeps sounds around you out, you can actually enjoy your music, audiobook or other, at a lower volume level. As the noise around you cannot get in line with normal headphones, you can spare your ears from loud noises that you might normally listen to.
Thus, you can avoid complications by listening to loud music for a long time, as the ANC allows you to turn down and still only hear music, and not sound and noise around you.
This can also be especially smart for those who work on construction sites where loud noises and bangs can occur. A pair of ANC hearing protectors or headphones can keep out the loud noises so that you do not get hearing damage.
Jabra Elite 75t vs Jabra Elite Active 75t?
The difference between the two is in the IP ratings. Jabra Elite 75t has an IP rating of IP55 which means it is dust-resistant and with water-resistant ability. It is protected against a small exposure to water or water droplets such as rain or water splashes. It also works against small dust particles and keeps the earbuds safe from dust.
Jabra Elite Active 75t has an IP rating of IP57 which means major protection against dust and water. It is not just water-resistant but waterproof, which is what makes it an ideal choice for swimmers. It protects against water submersion and can also be taken into showers because it can take high-pressure heavy water sprays.
Final Thoughts
So, Jabra Elite Active 75t are smart True Wireless headphones that are perfectly designed for an active lifestyle with sports, exercise and especially running training.
They handle just about anything you can expose them to such as water, sweat and dust, at least as long as you do not spend several hours at the bottom of a pool.
They are compact and designed for a secure fit. The wireless Jabra Elite 75t Active headphones deliver sharp and clear sound, improved battery life, stable Bluetooth connectivity, durable design and several convenient features for simple control. You can try it for yourself.
Are the Jabra Elite 75t Active worth it?
The Jabra Elite Active 75t True Wireless Earbuds are designed with comfort in mind and tested on thousands of persons to ensure an excellent fit. The sound is good and there are features such as the Jabra Sound+ app, Jabra's Mysound, and HearThough.
Jabra Elite Active 75t True Wireless Earbuds
$179.99