Soft, and smooth, the Ghost continues to be one of the great cushioned running shoes, with a soft feel, smooth ride and trusted fit. When you try Brooks Ghost 14 men's neutral running shoe you'll experience that this shoe delivers running comfort right from the first step. The shoe has more rigidity in the heel and a remarkable good balance between cushioning and stability. It feels safe and stable compared to many of today's often soft and squishy foam soles.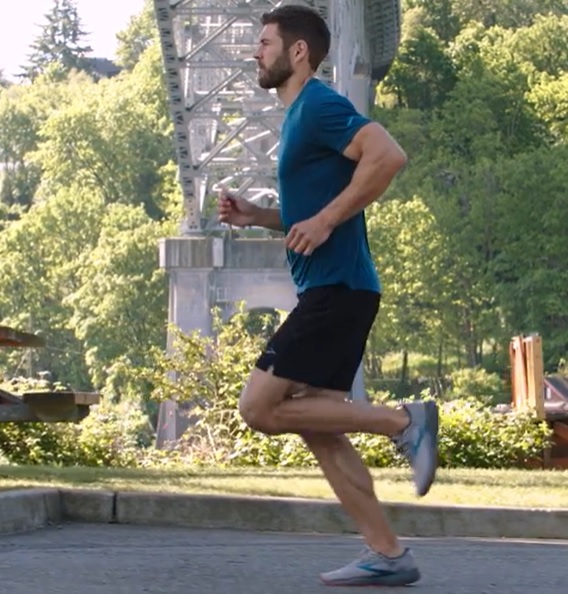 Brooks Story
Brooks has been manufacturing specialized footwear for more than 100 years. In 1914, Brooks began making ballet and bathing shoes at a small Philadelphia factory. They continued to make soccer, baseball, and softball shoes, which would be used by famous athletes. They even made roller skates and children's shoes in the 1920s and 30s.
Finally, in 1972, Brooks decided to focus on running shoes and continues with the commitment to also producing great running clothing by constantly listening to feedback from Olympic athletes and runners of all levels. Their innovative technology over the years has helped people with overpronation and stability problems, and shock absorption and was the first to make anatomically correct footwear specifically for women.
Today we know Brooks running as a team united by one purpose: To inspire everyone to run and be active. At Brooks, they take running and running technology pretty seriously. Their specialized high-tech features are what really set their running shoes apart.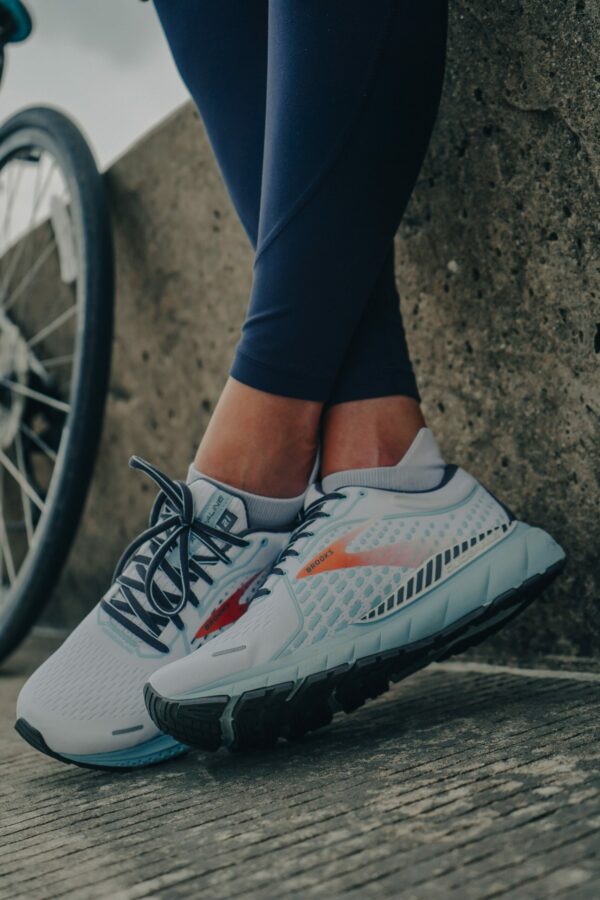 The Ghost Name
Brooks introduced the Ghost in 2008 with the goal of creating a go-to neutral shoe for runners. At that time, their director of product management was known for doing his running training at night — and was therefore nicknamed "the Ghost," which eventually ended up being the name of the shoe.
Brooks Ghost has a big and loyal fan base. It's a certain type of runner who buys the Ghost year after year. The type of runner who doesn't like taking risks when it comes to running shoes. They know what they like, and with Brooks Ghost, they get what they want.
Brooks Men Ghost 14 Running Shoes
The Ghost shoe in general is among the most winning from Brooks – hence its popularity. the shoe has won awards due to runners positive feedback. However, at least as important is that there are some technical features behind the shoe that works very well. The product comes with a lot of colors- and even wide size choices too.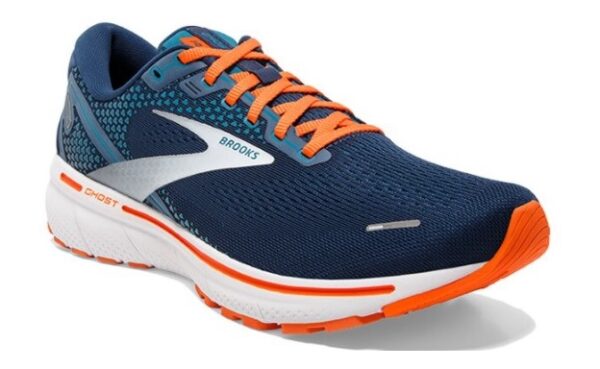 You get the technique DNA LOFT Cushioning in the neutral running shoe. It's a unique shock absorption system made just for Brooks running shoes. It offers smooth transitions, regardless of how your foot lands. It also gives you the optimal cushioning based on, for example, speed and weight. If you are an easy runner, the material does not yield much. If you are heavy, the material is fully utilized.
Brooks Ghost 14 men Flexibility
The shoe comes with a technique that makes the shoe more flexible and with a smoother transition. The new, soft midsole and Segmented Crash Pad open up for easier flow from landing to toe-off. No matter how your foot strikes the ground, smooth transitions ensure comfort.
So, you shouldn't even notice transitions. However, flexibility can be good and bad. Heavy running shoes are typically a bit rigid. This is not the case with the Ghost shoe, which with this technology gives you a softer and lighter roll across the foot – from heel to toe.
Other vital techniques are Profile Sockliner and Profile Element – these are the parts that contribute to the essential comfort and ventilation. There is also DRB Accel as support for the midfoot to protect you against tendon injuries and the like, which can otherwise be a bigger problem among runners.
Improved fit in Brooks Ghost 14 men
Brooks uses 3D Fit Print in the upper to balance stretch and structure so the shoe adjusts comfortably to your foot. In that way, Brooks Ghost sits tight and compact around the foot. It gives you the support you need, but also a movement of the whole foot. If you have slightly wide feet, you can choose the "wide" model.
Brooks Ghost 14 Men Durability
According to Brooks, is the outsole super sturdy with a great design to complement the cushioning effectiveness. It's standard on all of the brand's shoes. Qualified testers confirm that the new Ghost 14 is durable and they found no signs of wear even after several long runs. This means that you can expect to run many kilometers in these shoes.
There's durable and firm rubber on the lateral side and a softer rubber on the rest of the sole. Flex grooves partition it to maximize the shoe's flexibility.  You can expect smooth transitions from heel to toe at any pace and effective traction, even on wet pavement.
Brooks Ghost 14 Men Compared to Ghost 13
The Brooks Ghost 14 running shoes give you stable neutral runs with consistently reliable performance. It's a daily trainer that delivers slight improvements without overhauling the winning formula of its predecessor, the Brooks Ghost 13.
Harder wearing rubber at the rearfoot reinforces this zone, extending the lifespan of your running shoes while protecting them from impact forces due to the DNA Loft cushioning. Higher rigidity at the forefoot provides the support needed for the outsole to work in harmony with the updated midsole, which is softer compared to the Brooks Ghost 13.
DNA Loft cushioning runs from the heel to toe with a consistent density throughout. Ghost 14 offers a structured, locked-in feel and lasting comfort.
The fit and stack height is consistent with the Brooks Ghost 13. So, loyal Ghost runners will find it easy to transition to this new version. Several width offerings from narrow to extra wide allow you to find your fit precisely.
A slightly lighter, more breathable mesh upper keeps your feet in more cool and fresh conditions during your long runs.
As something completely new, the midsole on Brooks Ghost 14 now consists of 100% DNA LOFT, whereas in previous Ghost models there has only been 30% DNA LOFT in the midsole. So, the update makes the shoe even softer and even more comfortable.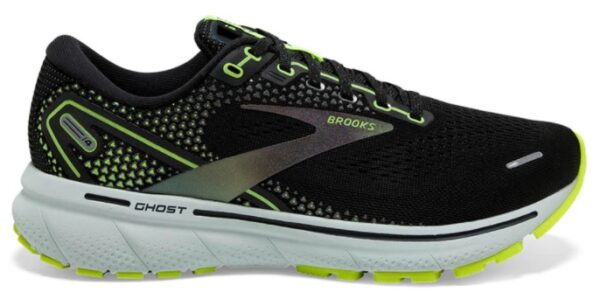 Brooks Men Ghost 14 Running Shoes Is Carbon Neutral
Brooks Ghost 14 is Brooks first carbon neutral shoe. They claim that this carbon-neutral running shoe is helping Brooks down a science-backed path to net-zero carbon emissions by 2040. Most of the upper materials are made with a minimum of 30% recycled content.
It's the carbon offsets, combined with recycled materials and reduced waste that allows the Ghost 14 to be carbon neutral. In short, Brooks has made Ghost 14 a climate-neutral running shoe by partly reducing CO2 emissions in production and by providing CO2 compensation for the remaining part. The shoe thus stands as Soft, smooth, and ready for any run.
Brooks Ghost 14 men features
For daily training – Everyday runs
Works best on solid surfaces
Soft cushioning Smooth transitions
Support: Neutral
Upper: Mesh
Midsole: Brooks DNA Loft
Forefoot Height: 12mm
Heel Height: 24mm
Offset / Drop: 12mm
Weight: 281g / 9.9oz
Width: B (narrow), D (standard), 2E (wide) and 4E (extra wide)
Final Thoughts
Brooks Ghost 14 is sincere and honest and that is also what we want out of a good workhorse running shoe. It's nice and cushioned underneath the foot. It's light enough to run for some shorter, quicker runs or do a progressive run in it. There's enough response through that forefoot to get a little bit of energy back from the ground.
The running shoe has been very consistent over the last half a decade and the great thing is that Brooks does not really change so much of the winning formula from year to year which is excellent.
The Brooks Ghost 14 is marginally softer underneath the foot compared to Ghost 13 and that's because they're using full-length DNA Loft and the geometry is the same on the lateral and medial sides. In line with the brand's reputation, the shoe offers premium quality for optimal durability. Finally, it's great to see a carbon-neutral shoe. That one of the big companies in the running manufacturing industry takes a first step like this!
What are Brooks Ghost 14 shoes good for?
The Ghost shoe in general is among the most winning from Brooks - hence its popularity. Brooks Ghost 14 has a unique shock absorption system, Profile Sockliner and Profile Element. They also give you stable neutral runs with consistently reliable performance.