Nike Air Zoom Alphafly Next 2 is aimed at the elite runner or 'super jogger' who has a very good feeling of the running technique. It's a shoe that makes more demands on your body, running technique, and level. So, it's not a shoe that everyone will be able to run with and feel comfortable in. But how would it be to run in a specially designed world record shoe?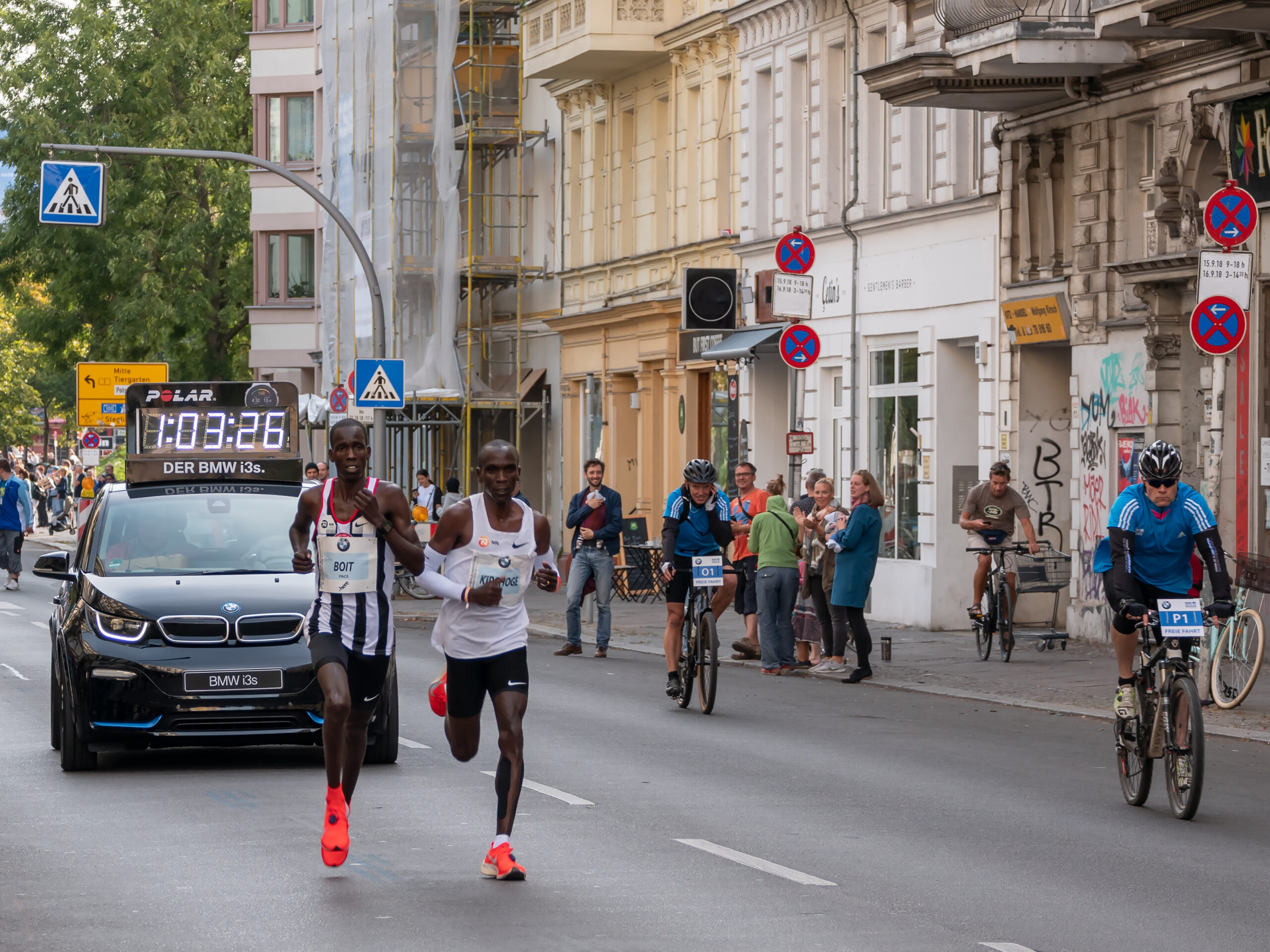 Nike Air Zoom Alphafly Next 2 And The New Marathon World Record
Eliud Kipchoge completed the 48th edition of the BMW Berlin-Marathon 2022 with a world record time of 2:01:09 hours. He did it with Nike Air Zoom Alphafly Next 2 on his feet.
The fantastic Kenyan marathon runner thus improved his own best time, from the Berlin Marathon 2018, by exactly half a minute. At times, Eliud Kipchoge was even on course for a dream time of under 2:00:00 hours, but could not maintain this fabulous pace.
Kipchoge was happy to have broken the world record in Berlin. "I wanted to run the first half so fast," said Eliud Kipchoge, who set the twelfth world record in the race's history in Berlin. Berlin thus also became the city where the most world records have been set for the marathon distance. Below is a great video clip with Kipchoge running toward the finish line:

Nike Air Zoom Alphafly Next 2
Nike air zoom alphafly 2 is a further development of Nike air zoom Alphafly Next%. The shoe with which Eliud Kipchoge set an unofficial world record in 2019 in Vienna with a time of 1.59.40. But in Berlin Marathon 2022 he set a new Official world record for the marathon distance with a time of 2.01.09 in the second edition of the shoe – Alphafly Next 2.
So, Nike's fastest shoe, the shoe Eliud Kipchoge sensationally broke the marathon mark in 2 hours with, has been improved and further developed by Kipchoge himself: the new Nike Air Zoom Alphafly NEXT% 2!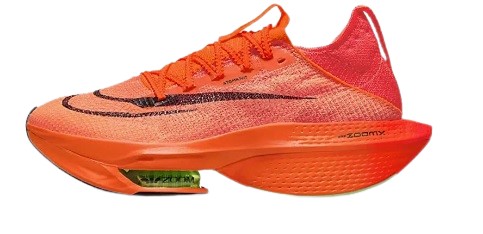 How is the new Nike alphafly 2?
As with its predecessor, the Nike Air Zoom Alphafly NEXT% 2 features a thick yet lightweight outsole. It also makes it a bit high. This gives you the optimal combination of comfort and speed.
Carbon fiber plate
The full-length carbon fiber plate provides a kind of forward-rolling feel that makes you want to take the next step. It gives you a propulsive feel and helps you transition smoothly through your stride. Both the forefoot and the heel offer slightly wider bases for a stable platform, so you can also get through turns on the athletics track with confidence.
Full-length ZoomX foam
The shoe features Zoom Air units and full-length ZoomX foam that delivers Nike's highest energy return and cushioning system, adding more bounce to every step. A thin rubber outsole improves traction and allows for even more ZoomX under Zoom Air cushioning. The extra foam not only adds more bounce but also helps improve the transition from heel to forefoot.
Comfort when needed
Full-length ZoomX foam provides an ultra-light and responsive run. It's built for speed but also provides cushioning to stay fresh even on the late kilometers of a marathon. It provides comfort where you need it.
Nike Alphafly 2 – Stability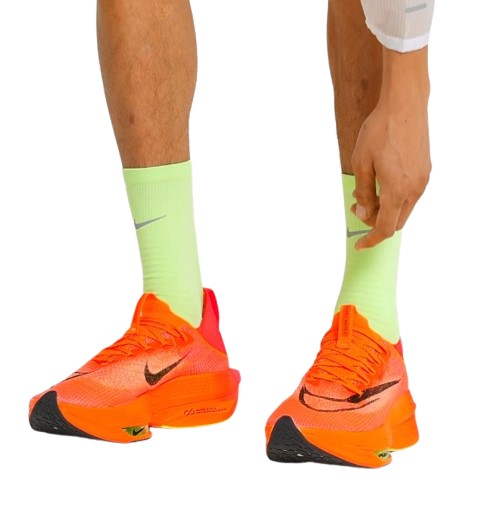 Alphafly Next% 2 has good improvements in stability. The shoe uses geometry and sidewalls in a more efficient way than the previous version. The forefoot is widened and lengthened to become more cohesive with the midfoot. Also added is a bit more ZoomX foam above the air cushion and streamlined sidewalls through the midfoot.
It gives a more secure feeling when transitioning from heel to toe. The upper also seems to have some improvements in stability as well. The new Atomknit 2 seems a little more cohesive with fibers that don't stretch quite so easily.
However, there is still some instability with the soft and bouncy nature of the midsole, but the integration of sidewalls, sole flare, and improved geometry seems to work well with the platform itself. It also has a wider heel than previous versions so going around tight corners is no problem in the Alphafly 2.
Nike Alphafly 2 – Fit
The Alphafly Next% 2 has Atomknit 2 as the material for the upper. The AtomKnit upper is a further development of the well-known Flyknit upper. AtomKnit is just stretched further and steamed.
It's particularly an improvement in breathability, but also in its ability to reduce water absorption. The mesh upper fits well to the foot and still has some features from the first model. The upper feels like it has a little more natural reinforcement in the new model with the fibers being a little tighter woven and more resilient to stretch.
The material also feels a little less synthetic compared to Atomknit 1. The heel and midfoot are normal width with the forefoot being normal to slightly wide. The heel is curved backward which allows some better space for the Achilles and has some padding at the top to prevent irritation.
Overall, the dimensions are done pretty well and the added sidewalls with midfoot widening on the platform make for a more comfortable midfoot than the previous version too.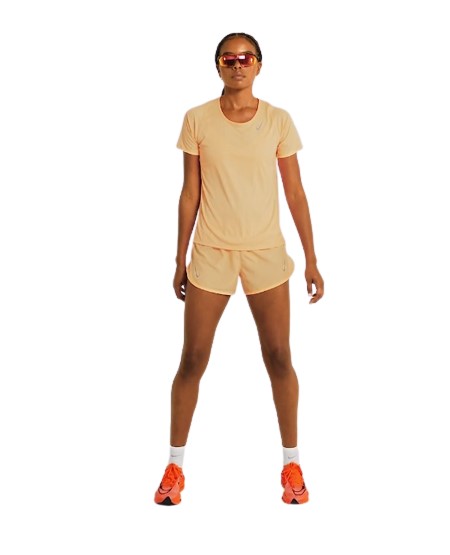 Nike Alfafly Next% vs Nike Alphafly 2
The Nike Alphafly Next% 2 is a new generation of race shoes and a continuation of the first version. The Alphafly Next was a racing shoe preferred by many but also avoided by many. The shoe was developed by Eliud Kipchoge but is a little bit on the heavier side.
It provided good responsiveness with ZoomX, a carbon plate, and the Zoom Air pods in the forefoot. Alphafly 2 is firmer and more stable but it has lost some bounce and energy return so it doesn't have as much long-distance comfort.
It also has a snugger, more narrow-fitting upper so you might need to size it up. Alphafly 2 also has more focus on sustainability and being eco-friendly. Most people who have run the first km in the shoe, with versatile running, seem it's a really good race shoe.
Often, however, you have to get used to the height of the shoe and It's a stable and bouncy race shoe for longer distances such as the marathon. For half-marathons and below, some will prefer another shoe such as the Nike Vaporfly, which provides better propulsion. Alphafly can perhaps be called a fast comfort shoe.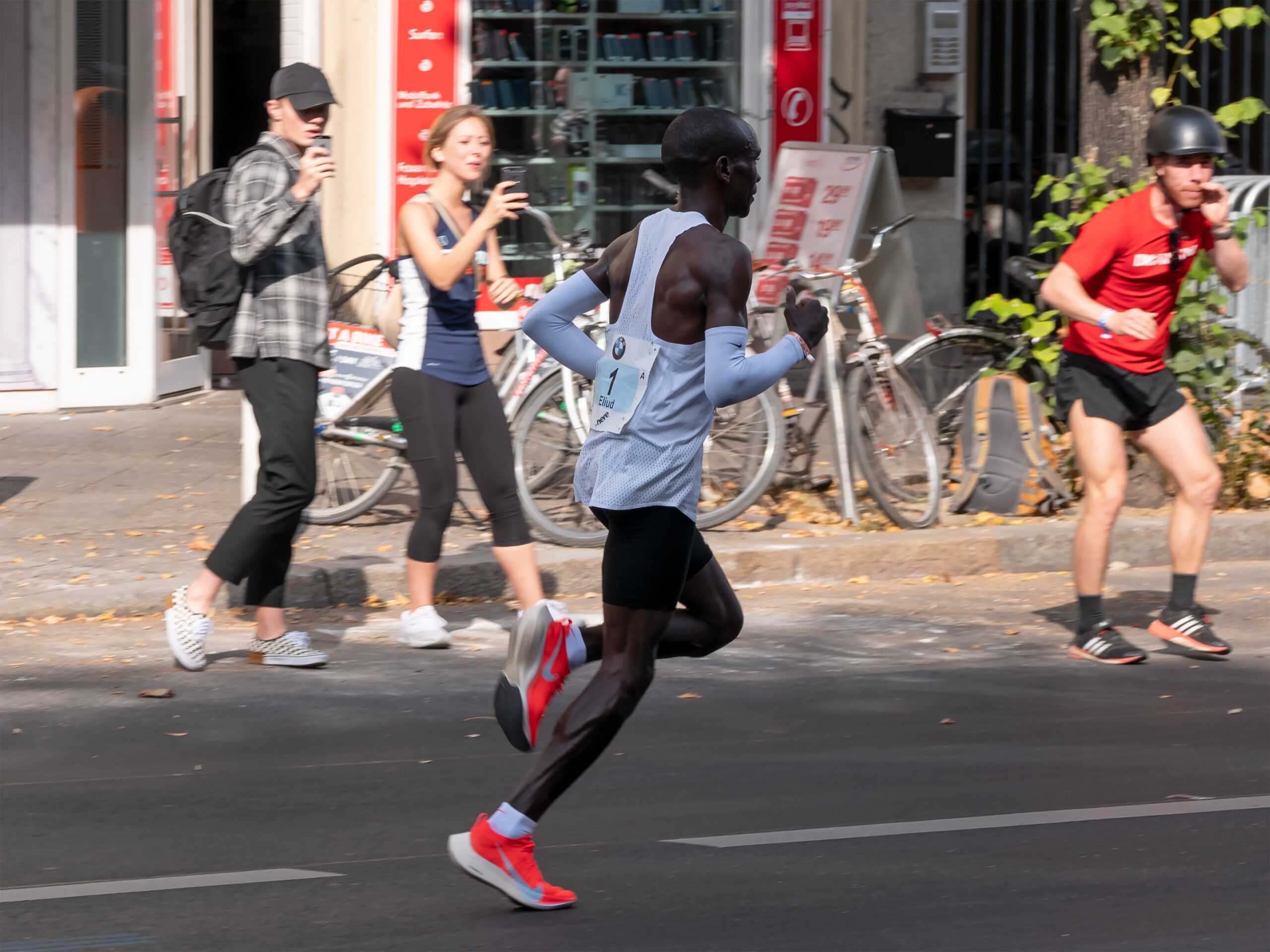 Facts About Alphafly NEXT% 2
A Neutral running shoe
Heel drop of 8mm, the predecessor had 4mm. So a doubling.
227 grams for size 9 men – a light shoe
There is around 600 km in the shoe – depending on how you wear the shoe.
Racing shoes built for longer distances
The new model is made with a wider heel, which makes the shoe more stable than its predecessor Alphafly Next%.
Carbon plate built-in
There are two Zoom Air units in the forefoot
Full-length ZoomX foam creates a Nike shock absorption system with the highest energy return and adds more cushioning to every step.
The Alphafly 2 upper is made from lightweight and breathable AtomKnit 2.0
PROS
Quieter ride than the previous version
Higher durability than the previous version
A stiff forefoot allows for quick transitions.
Efficient rocker geometry
High level of stability
CONS
Narrow midfoot which digs into your arch
Heavier than the first version 1
Maybe Overpriced
Check more by clicking on the images here: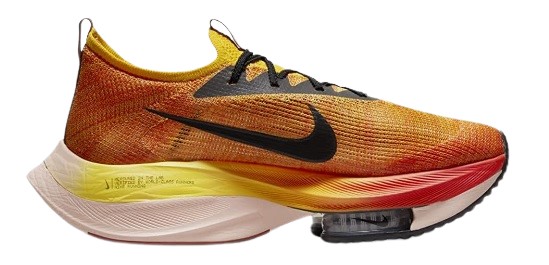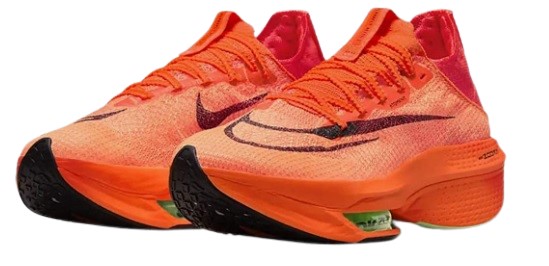 Women's Air Zoom AlphaFly Next% 2 – Total Orange/Black
Final Thoughts
The Nike Alphafly Next% 2 is a great running shoe, designed for narrow-footed runners and runners with high arches since it has a very narrow midfoot. The shoe is best suited to short, fast-paced runs.
This new version has been updated with a new, improved Atomknit 2 upper, a more durable, flatter outsole, and a wider, more stable midsole. But the Alphafly Next% 2 is a racing shoe with some decent stability elements. So, you can easily go for a marathon and half marathon.