You can walk as a supplement to running training, recovery walks, or simply because it's wonderful to go for longer walks. Fresh air in the lungs in the sunshine, and nature right here and now! Regardless of whether it takes place on the pavement, in forests, on country roads, or along the beachside. But which walking shoes are the best? We look at that in easy way to get in shape using reliable Keen walking shoes.
When hiking up in the mountains or out on the hiking trails, there is one type of shoe that is designed for this purpose – the hiking boot/shoe. The next question is what should you wear when you go for a walk with the dog, along a harbor quay, or take a long walk in your neighborhood in the evening?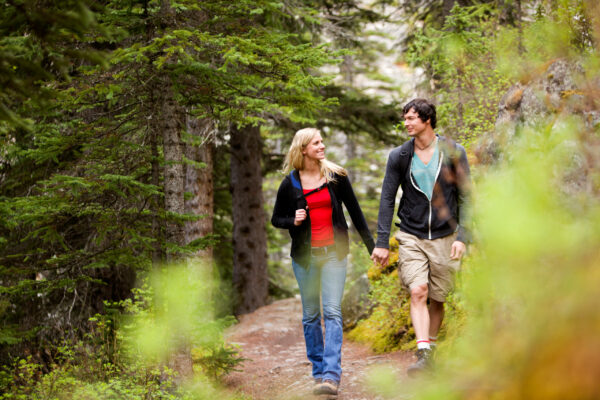 My walking story
Earlier in my running career, when I didn't have time to run according to a running program or had a minor running injury, I was out on longer walking trips as supplemental training. I often walked on different terrains alone or with my girlfriend. So, I had to find the right footwear for my walking.
Since I'm a runner, I don't have trouble with my joints when I walk on flat and hard surfaces. But if there is no proper cushioning in my shoes, I'm often sore under the forefoot behind the toes. I made my experiences along the way about which shoes are best for the purposes I had for my walks. This is what I want to share with you below.
Walking shoes vs Hiking shoes?
Some brands make a distinction between walking shoes and hiking shoes. But basically, it's about the fact that both models are shoes that are designed for walking. Then they can be adapted to different types of terrain. Asphalt /pavement shoes often have a more toned-down sole and more cushioning. We can call this a walking shoe.
The Best walking shoes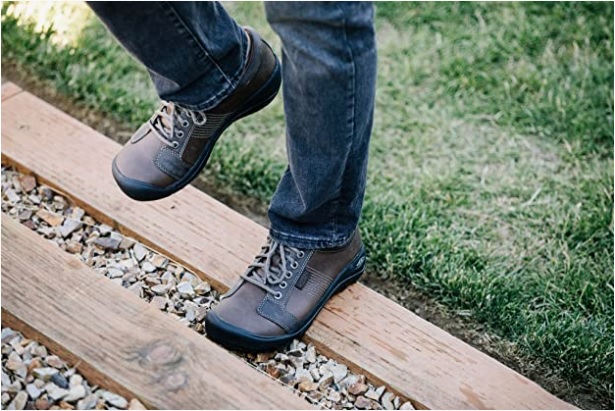 Many walking shoes have a lot of cushioning and stability so you can walk and handle asphalt, concrete as well as light terrain. If you have too little cushioning in your shoes, you can get sore joints or often be sore under the forefoot the day after the walk. It's the same principle as when you run in 'bad' running shoes – there is simply an extra load on the body.
The hiking shoes
Hiking shoes are also a type of walking shoe that is adapted to varied, soft terrain and where you may have to make the path yourself or wear a light backpack. These models can have a coarser sole pattern to get a good grip on the ground and a waterproof GoreTex membrane, as this kind of environment often is wet.
The coarser the pattern on the sole of your shoe, the better grip it provides on the surface of the path or in uneven terrain. On the other hand, if you walk a lot on asphalt, you should be most interested in a shoe with proper cushioning.
Which walking or hiking shoe should you choose?
How much cushioning you need is partly determined by the terrain, but other factors also play a role. If you e.g. Weigh a lot, you often need more cushioning. The heavier you are, the more load it puts on your body, as your feet carry heavier body weight. If, on the other hand, you are a little older, it may be extra stability you need. Below are suggestions for what you should choose in relation to your purpose:
For forest walks – choose a shoe with a lot of stability.
For walking on asphalt – look for a shoe with a lot of cushioning.
If you weigh a little more than average or have a heavy backpack – then cushioning is a high priority.
If you are older or have unstable ankles – look for a pair of robust walking shoes.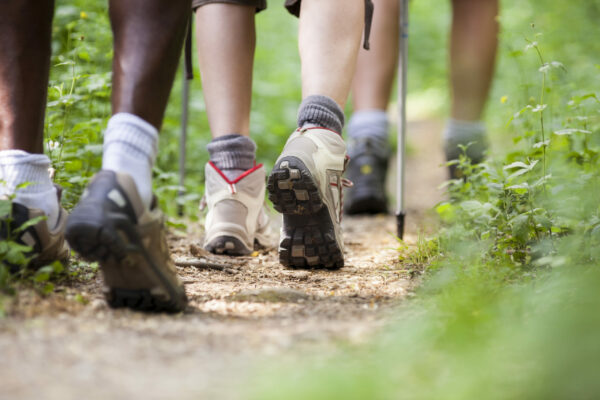 Best Walking Shoes vs Best Hiking Shoes?
A running shoe is too soft to walk in, but it is a benefit with a certain flexibility. The difference is that you need more cushioning in the heel because you put more pressure on the heel when you walk than when you run. You should not prefer a hiking boot, as it is far too stiff and goes too high up the ankle, and often you feel the pressure from the support here, which can squeeze the lower part of the leg with every step you take.
A pure hiking shoe is significantly stiffer in the sole and upper. We can say that everything is 'extra' compared to a walking shoe – you get both more grip and stability.
When you hike, it's often even messier and random terrain, and you also have more in your backpack.
You weigh more with a backpack than usual and therefore slide more easily. So stability becomes even more important here. A hiking shoe is a mix of two extremes – the soft running shoe and the stable hiking boot.
KEEN Walking Shoes
A Keen shoe generally has a wider toe box compared to most other shoes because it ensures comfort and breathability. This extra wiggle room is important if you are on your feet all day, walking, or working. Many Keen shoes also feature adjustable elastic lace closures to accommodate different foot styles and ensure a perfect fit.
To support your choice of walking shoes we have chosen two models great for walking below. A model for men and one for women:
KEEN Men's Austin Low Height Leather
The modern lace-up is made for urban exploration, with water-resistant leather and durable arch support. With removable footbed adds cushioning in all the right places. Weighing 15.3 oz / 433.7 g (per shoe), made with durable, lightweight canvas and featuring a breathable lining, the KEEN Men's Austin Leather Shoe is built off KEEN's traditional wider footwear form.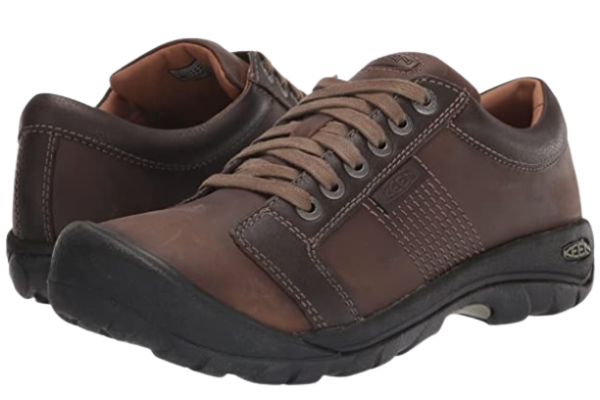 Specifications
Rubber sole
FIT & COMFORT: Compression molded EVA midsole insole provides unparallel comfort right out of the box while the lace system provides a snug fit
STYLE: Classic oxford lace design makes the Austin perfect for anything occasion from the office, a night out on the town, or just going on a walk; Professional looks with outdoor.
TRACTION & SUPPORT: Made with a non-marking rubber outsole so that you leave no trace indoors; The metalogical footbed design is anatomically engineered to provide excellent arch support and cradle the natural contours of the foot.
MATERIAL: A premium canvas upper with a breathable mesh lining to keep your feet cool and comfortable all day long.
CARE TIPS: Gently brush the shoe with a soft bristle brush or hand towel to remove loose dirt and debris; Stains can be treated by lightly rubbing a gum eraser in a circular motion over the location and lightly brushing afterward; Tough stains can be treated with vinegar and water
KEEN Women's Presidio Shoe
A waterproof take on the sporty oxford, with a leather-and-mesh mix for breathability and versatility. The cushioned footbed and supportive midsole combine for heel-to-toe comfort. Easy to put on and take off. Simple lace design provides the freedom needed to step in and take on the day in casual comfort.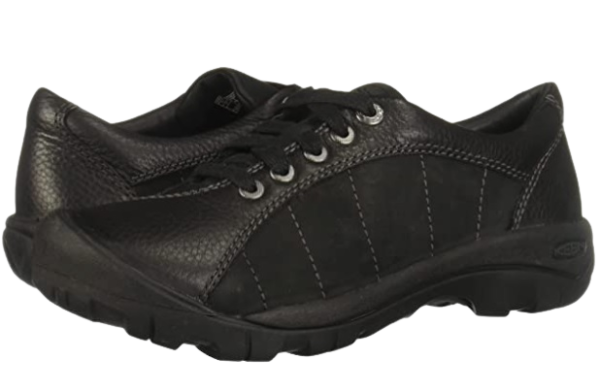 Specifications
Fit: True to size.
100% Textile and Synthetic
Rubber sole
CONSCIOUSLY CREATED: Environmentally Preferred Leather; Tanning leather is a dirty process; That's why KEEN sources hide from Leather Working Group certified tanneries that use processes to reduce chemical use and the impact on watershed
COMFORT: Cushioned collar reduces irritation and discomfort around ankle area; Removable dual density footbed with arch support for long lasting comfort
TRACTION: High traction rubber outsole provides superior grip in slippery environments; Non-marking rubber outsoles leave no trace or imprints indoors
DESIGN: The leather walking shoe for comfort lovers; Sneaker like fit and function for ultimate versatility
CARE TIPS: Gently brush leather with a soft bristle brush or hand towel to remove loose dirt and debris; Tough stains may require a leather cleaner.
Final Thoughts
A walking shoe is versatile and for flat hard surfaces and light terrain. If you find the right model, you can use it all year round. You can also choose a hiking shoe with GoreTex, which you can use in autumn. With a wool sock in it, it even works in winter.
If you have a tendency to become very warm, it's better with a shoe without waterproof membranes. Most walking shoe models are available with or without membrane. A durable membrane usually raises up the price, but it's usually worth it.
I hope you get something out of this post. If you have any questions about the topic or want to leave your own Personal review, please leave a comment below.
Does KEEN make a good walking shoe?
KEEN has very good and popular shoes for walking. If you find the right KEEN model, you can use it all year round. A Keen shoe generally has a wider toe box compared to most other shoes. This feature promotes comfort and breathability. The low price and great capable design have been appreciated since KEEN started in 2003. Foot support and comfort are top priorities.