Running on trail routes and keeping your feet stable and protected. In Asics Gel-Venture 7 Men's Running Shoes – Great Versatility, you'll experience why these trail running shoes from Asics are a good choice. The shoe is built for performance with enhanced grip, cushioning gel and good comfort at an absolutely affordable price.
It includes some of the Japanese brand's flagship technologies, such as the ultra-resistant AHAR rubber and the silicone-based Gel cushioning system. The shoe is straightforward, best for less technical terrain and an excellent choice for those who want to start with trail running.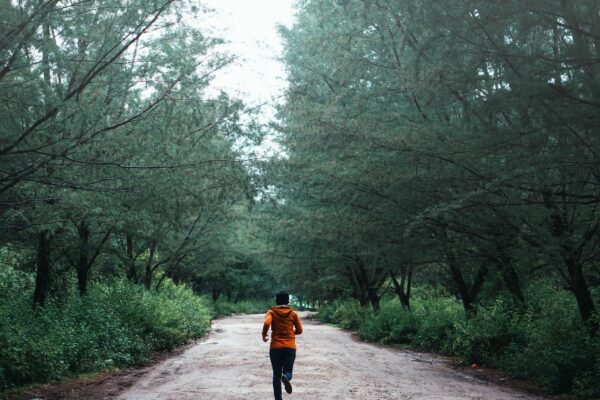 Asics Men Gel Venture 7 – Development
Stability on unpredictable surfaces is a main purpose for choosing trail running shoes. Trail Running in particular can put a strain on your feet and joints, so it is essential to select running shoes that specifically target the kinds of trail running you choose.
Asics have invested heavily in the development and innovative technologies that match the runner's style and need – whether it is GoreTex water protection for running in mud and snow, or their unique GEL™ absorbent silicone to take the shock out of running on hard surfaces.
According to Asics, their GEL™ technology and EVA midsole in the Gel-Venture 7 shoe are made for athletes who love to run outdoors. GEL™ technology in the rearfoot area of the shoe provides shock absorption where you need it most, while the ORTHOLITE™ sockliner provides an additional layer of cushioning underfoot. It even molds to the shape of your feet, making each run even more comfortable than the last.
Asics Men Gel-Venture 7 Designed For a Neutral Running Style
Asics GEL-Venture 7 has wide size options for both men and women. Male runners or hikers can choose from a standard fit (D) and an extra-wide one (4E), while females have the option to go for the standard fit (B) or the wide (D).
Foot Type: Normal size arches
Push Off: There is even distribution from the front of the foot.
How your foot contacts the ground: The foot lands on the outside of the heel, then rolls inward (pronates) to absorb shock and support body weight.
A Special Sockliner
The ORTHOLITE X40 sockliner is an industry standard inside the shoe. When you put your foot down into the shoe, you probably do not avoid becoming aware of this. But Asics has also made a layer of adhesive down under the sockliner.
The adhesive is mild so, you can still remove the insole, but it holds the insole in place when you take the shoe off or on. This feature is very important because it holds the insole in place when you run the trails, and lands in unusual foot patterns that often will twist a normal insole around. It was designed to deliver long-term cushioning. Because of its form, the fit and feel of the inside of your shoe will be consistent.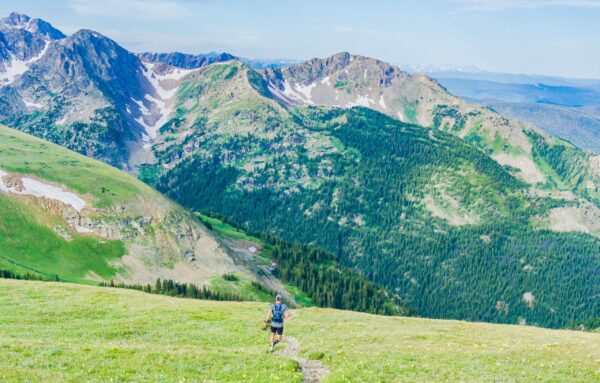 Gel Venture 7 Stability
Asics GEL-Venture 7 is constructed in a way that offers enough support to a decent amount of flexibility on the forefoot. However, because of its rigid construction, the heel and the arch hardly flex at all.
Since you land on the heel first, it promotes thus a stable landing. If you combine that with a wide forefoot platform, you have a trail shoe that could be higher up on the list when it comes to stability.
Gel Venture 7 Durability
The rubber on the outsole is called AHAR, which is short for ASICS High Abrasion Rubber. The AHAR is made from reinforcing materials combined with the same substance used to make car tires and we all know that car tires are very resilient.
The sole has about twice as big an abrasion resistance compared to regular outsole materials. So don't be surprised if it takes a while to notice signs of wear and tear on the bottom of the Asics GEL-Venture 7.
Gel Venture 7 Traction
The outsole offers great traction on dry surfaces that aren't too technical. The rubber composite used in its construction is a bit hard which does it difficult to mold the running steps to a more uneven environment as more flexible types of rubbers.
The shoe still holds tight when you run trails on dry rocks, but when the rocks are wet, traction is less. So, in wet and muddy conditions, it doesn't perform as well as other and more specialized trail shoes.
it's an excellent shoe on basic trails – for short to mid-distance runs. Thus, it fits perfectly for the new trail runner. Gel-Venture 7 feels mostly like a regular pair of Asics shoes with added traction. This could be the reason why the Asics Venture line of shoes is pretty popular for trail runners since you get something very familiar.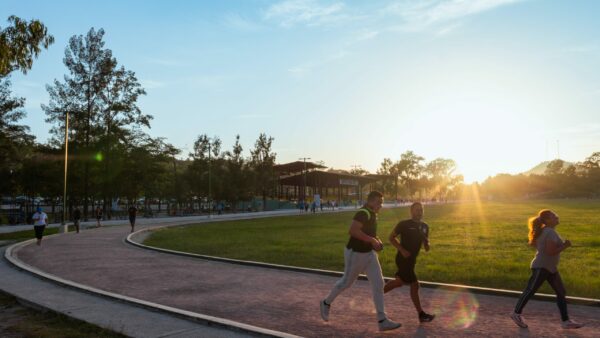 Comfort & Fit
The toebox on the Venture 7 is a bit narrow in the men's model. It's a comfortable shoe, lightweight, and has a good grip on varied surfaces like gravel paths, forest roads, and even some technical qualities on dry surfaces.
It may not have most of the supportive features for a long-distance trail run nor the grip like ex. the Salomon Supercross. But Most of all Venture 7 has a beneficial price to the performance – it's not easy to beat that!
Since the insole is removable, you can use custom insoles and easily insert them inside the shoe. Runners with e.g., flat feet, arthritis, plantar fasciitis, who have been using medical orthotics can easily insert them into the GEL-Venture 7.
Asics Men Gel Venture 7 Technology
Outsole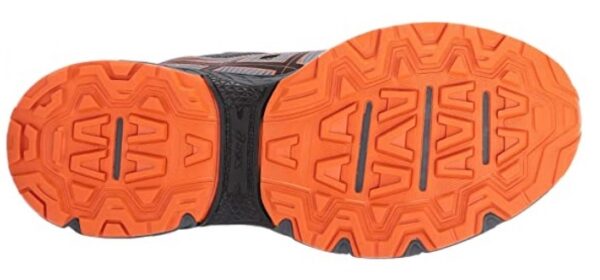 The outsole of the Asics Gel-Venture 7 uses AHAR rubber for durability and flexibility. The sole is designed with multi-directional V-shaped lugs that offer a great source of traction. It keeps the running shoe in good condition even for longer periods and ensures smoother transitions with each stride without excessive wear.
The inverted studs promise maximum traction during the trail. These offer excellent grip both uphill and downhill on most types of surfaces. They have an important role, especially on uneven ground and steep slopes.
Midsole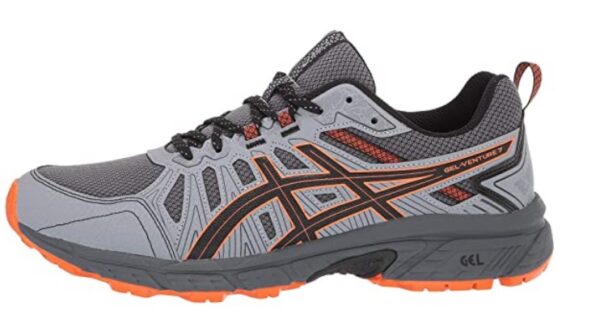 The sturdy EVA midsole doesn't get the weight savings of FlyteFoam but does provide good support at a reasonable weight. The midsole of this Asics trail shoe features the GEL cushioning system in the heel which provides maximum shock absorption as well as a smooth transition.
In addition to guaranteeing to cushion, this element provides excellent energy return which should provide more pleasant running sensations. The Gel technology is based on a layer of classic EVA foam. The Asics Gel-Venture 7 also features a premium removable foam insole that provides personalized comfort.
Upper Part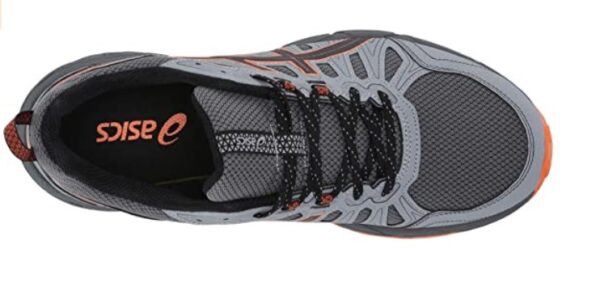 The upper of the Asics Gel-Venture 7 translates to a synthetic mesh. It is made of flexible and durable materials and guarantees a good level of breathability for a well-ventilated run.
The mesh is flexible enough to adapt to the natural flex of the foot throughout the run. The breathable fabric lining inside the shoe guarantees better air circulation and a healthy environment.
A fleece collar and tongue equip the Asics Gel-Venture 7. These elements provide additional comfort to the foot and improve the fit. The shoe has also a traditional lacing system with durable, semi-elastic laces. The lacing system holds effectively the foot in place while running.
The Asics Gel Venture 7 is a solid versatile budget trail shoe that does the basics straightforwardly without taking risks. The solid construction and simple design make this shoe a good choice for many trail runs and hikes.
Is ASICS Gel Venture 7 good for overpronation?
ASICS Gel Venture 7 is a trail running shoe designed for a neutral running style. So, the shoe isn't targeted for overpronation, but it can be used for that running style, because of the good support material within the shoe, which increase stability.