Many people prefer a cloudless sky when they go for a run. But what if it rains – how do you choose the best rain gear for runners? As with ordinary rain gear, there are more or less waterproof clothes. As a runner, you should also consider what kind of training you want to perform in the rain. Depending on the training type, there is a big difference in which running clothes are best suited. We'll look at your opportunities in this article.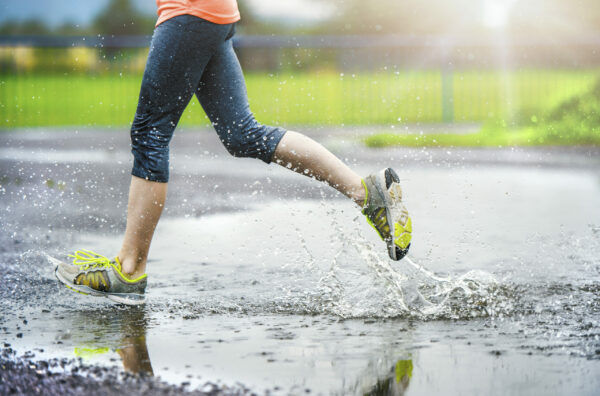 The weather is unpredictable in most places in the world and you'll never know exactly when it'll rain. Especially in the spring, autumn, and winter months, it can be a great benefit to have a good set of rain gear as protection against rain. However, you cannot be sure of rain during the summer months but it's not so cold.
In general, there are many types of rain gear and the different brands name their materials something different. You can get rain gear with buttons and rain gear with a zipper. You can get long raincoats and short jackets.
You can even get both anoraks and ponchos that keep you dry. You can get rain gear with reflectors that are excellent, even if you cycle or go outside when the sun has not risen yet etc.
If you don't choose the right rain gear, you can get both wet and sweaty on the body, as the moisture cannot really get away anywhere. Neither should it feels like you have a plastic bag around your body – then it's like running in a greenhouse.
The best rain gear for running wicks away moisture and prevents chafing and blisters. And remember It's not running in the rain itself that makes you ill. However, the lower body temperature that you get from running in the rain can make you more likely to get ill.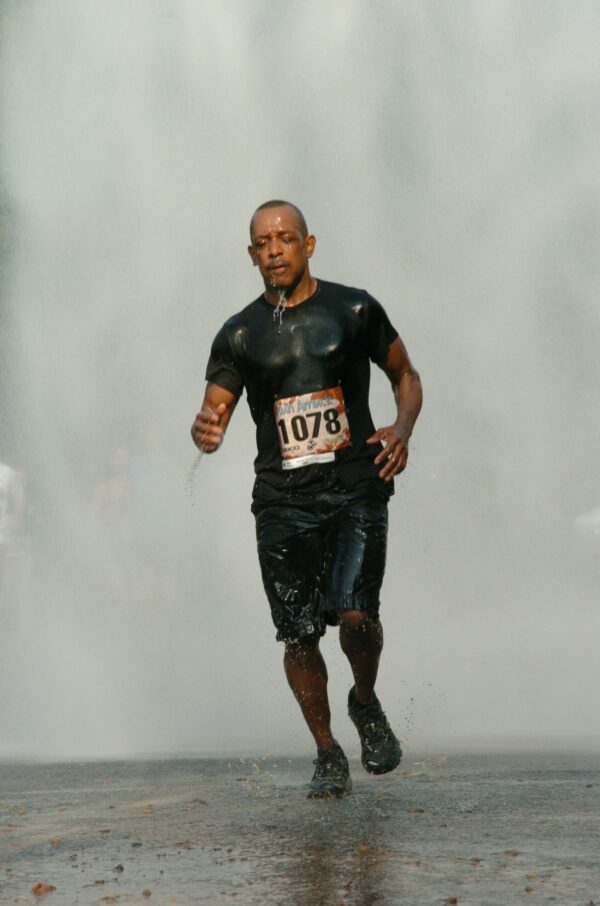 How To Choose the Best Rain Gear?
As a starting point for your best rain gear, you can use these criteria:
Purpose

There is a difference in price and quality when it comes to rain gear. Therefore, it is a good idea to clarify your need before you go searching for the right rain gear. If you need a set of rain gear because you are going to the annual DHL relay race with your work colleagues, the expensive rain gear may not be necessary.

Best Rain Gear for High Intensity Training
Do you need to run intervals or tempo runs? A tempo run is a run of relatively high intensity, which will mean that you produce a lot of heat. If you put on a lot of clothes for this type of training, you will get too hot after a very short time.
This also applies to intervals however; we have to consider that long breaks between the intervals can mean that you can get cold especially when it rains a lot – here it's a good idea to have an extra layer to put on the upper body during the breaks.
Generally, for high-intensity training, it's a good idea to put on gear, so you have it a bit cold in the beginning – then it will usually feel really well short after you get started. If possible, you can take an extra layer on the upper body during the warm-up and when you jog after finishing the intervals – and lay it down during the intervals.
Best Rain Gear for Low Intensity Training
Low-intensity training could be recovery runs, an easy jog, or on your long slow runs (LSD). On these runs, the low intensity means that you do not produce nearly as much heat as at high intensity, and therefore you need to make sure to wear a little extra clothing.
In addition, there is also a greater risk that you will run too fast during these training sessions if you get cold or it rains due to the low intensity.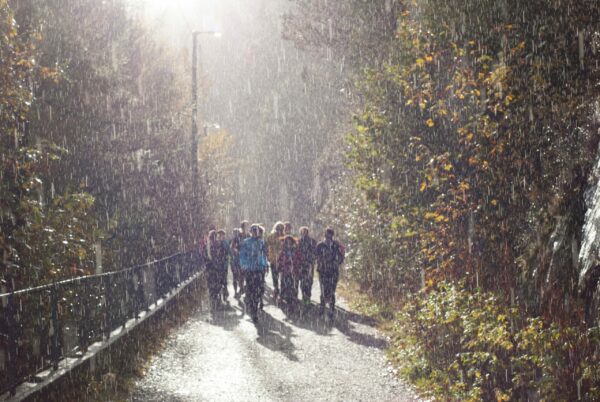 Maybe you know it. You put on the rain jacket, get out in the rain, and after only a very short time you are "boiling" with heat, and sweat trickles out on the inside of the jacket.
When this happens, it is because the rain jacket is not breathable enough. Breathability is an expression of a material's ability to let water vapor escape away from the body. To feel comfortable in rain gear, and actually stay dry, good breathability is important.
Breathability can be measured in different ways and therefore it can be difficult to compare.
The trick is to find rain gear that is both sufficiently waterproof and sufficiently breathable. Cotton has very high breathability, while e.g., nylon or polyester has lower breathability. But by running with cotton gear, you get soaked and cold in rainy weather.
To achieve optimal breathability, the outer layer of fabric in the rain gear must be properly impregnated. In this way, the rain can be kept away from the membrane, which often is in waterproof gear, and which must ensure that the moisture that occurs on the inside of the clothing can get out through the fabric and away.
Material

In general, Rain gear comes in two different types. Either they are made of polyester or they are made of polyurethane. Polyurethane is also called rubber raingear in the old days.
Polyester is a breathable material, but it does not have the same quality as polyurethane when it comes to waterproofing. Polyurethane is very waterproof, but not nearly as breathable. If your jacket is only made of rubber, you will feel as if you were in a greenhouse.
Your rain gear should be able to give off heat when using it in active situations. Therefore, you should think about whether it's breathable. When you run, your body naturally produces heat that needs to be removed away from the body.
And a rubber rain jacket is going to be an obstacle here. The heat will be under the jacket and you will often become very sweaty when you are active in your rain jacket.So, when you need rain gear for running, you should use breathable polyester, which i.e., ski jackets often are made of.
Waterproof
Today we can "categorize" Rain Protection. It can vary from water-repellent to water-resistant and waterproof:
Water-repellent equipment repels water from the surface of the material but is not designed to keep you dry for a longer time.
Water-resistant equipment resists the penetration of water, but there are limits to how much water and for how long it can be kept out.
Waterproof equipment is thoroughly tested and approved and keeps you dry in all kinds of weather. Waterproof products generally have sealed seams and special zippers to prevent water from seeping in.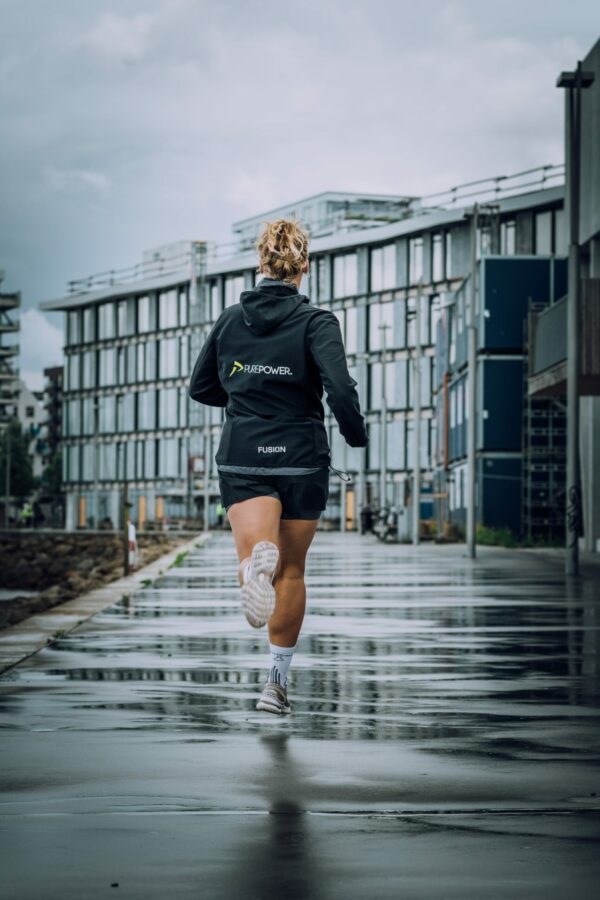 Water-resistant products are ideal if you want to train in moderate rain because most water-resistant technology allows internal moisture to get away while still protecting against rain – and breathability is important when you sweat in the rain.
Completely waterproof equipment keeps you dry but isn't so breathable. Look for details such as ventilation holes zippers under the arms or mesh material.
Use Water Column Pressure to Support Your Decision
The term Water Column Pressure is used to denote the amount of pressure of water that is required in order to penetrate a given fabric. So, the water column pressure is an expression of how waterproof the clothes are.
The water column pressure is measured in mm, and the higher the number, the more waterproof the clothes are. So, to navigate in this context you can use Water Column Pressure.
In most jackets, you can find a number on how high the water column pressure is. The higher the number, the more water the jacket can withstand before you get wet.
Water Column Pressure:
A jacket with a water column pressure of 2000 mm is water-repellent, but not waterproof
A water column pressure of 4000 mm is good for light rain
6000 mm is ideal for heavy rain for a short period or light rain throughout the day
8000-12000 mm can withstand heavy rain for several hours and a little rain throughout the day
A water column pressure above 12000 mm can withstand heavy rain over a long period of time
Also pay attention to whether the rain gear should be able to withstand greater wear on e.g., knees and other exposed areas. In that case, it may be good to go for rain gear with a high water column pressure.
Running In Rain Gear – Best Practice
With the right running gear for rainy weather, you can run comfortably without getting cold or soaked by the rain. The three most important products here are the rain jacket, rain pants/tights, and t-shirt:
Runner's Rain Jacket
The right jacket can make the difference in whether you come home soaked or dry. Look for a jacket that gives you protection from both water and wind, and has completely closed seams and pockets that keep your electronic gear dry.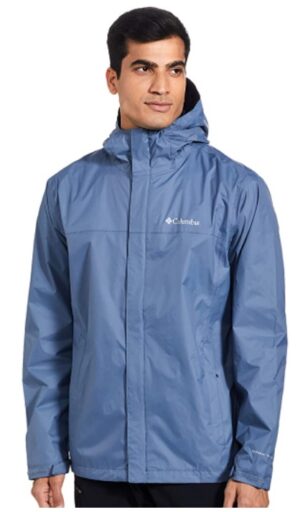 The jacket must also be breathable and sweat-transporting, so you can stay dry inside. And look for one with a hood so you can keep the rain away from your head and neck.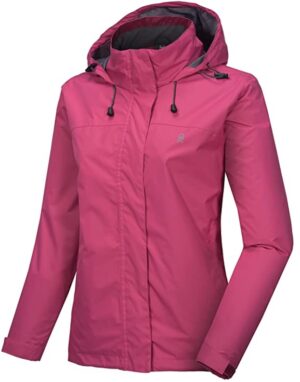 If it is cold outside, choose a jacket with synthetic insulation. Synthetic insulation keeps on the heat even when it gets wet. You can also choose to wear a breathable fleece jacket under a waterproof outer layer, depending on the temperature and what is most comfortable for you. Running gear today is in general very effective if you choose synthetic materials.
Below you can see what considerations you should consider before choosing Rain gear – from light rain to heavy rain.
Light rain
You need gear that is light and Water-repellent. Look for jackets designed to keep you active and dry in wet weather. A breathable jacket will do this job. You can choose one that suits your style and that provides enough warmth for the season.
Persistent rain
You need gear that keeps you dry when the weather doesn't, use Water-resistant gear. Choose a jacket that protects you from rain and wind without being annoying. You need an anorak or running jacket with a durable barrier against wind and rain.
Some running jackets can be folded into a bag, making them perfect for unpredictable weather. If you have your electronics with you, make sure that the pockets in your jacket are secure. And if it gets cold, you can put on a Tech Fleece sweater under the rain layer.
Heavy rain
You need gear that is waterproof and provides complete protection from rain and water. Look for a jacket with a solid GORE-TEX membrane, which allows sweat to evaporate without water entering. And then it's just getting out in the rain.
Pants/Tights For Running In Rain
Where shorts work well for light rain in hot weather, water-resistant pants or tights will keep you dry and prevent skin irritation when it rains more. Below are a Men's Compression Pants Series designed for all weather and seasons.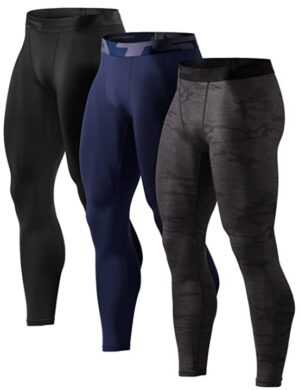 Water-resistant ripstop material gives you the most protection against the rain, but if you feel more comfortable in a pair of leggings, choose a pair of Dri-FIT leggings rather than a pair in cotton.
Cotton holds on to the water and gets heavier, so you get cooled off and cold. The high-performance microfiber construction materials enable moisture to evaporate faster from the surface of the material.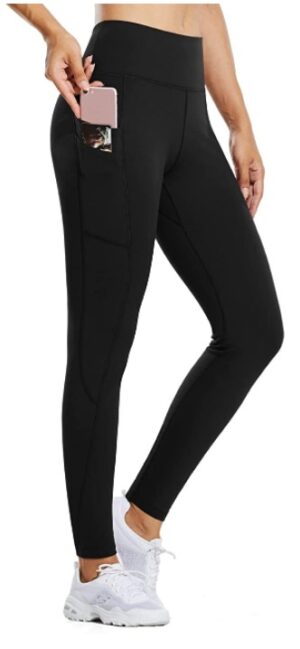 Moisture-Transporting T-shirt
It's your jacket's job to keep the rain out, but it's your T-shirt's job to transport sweat away. Together they will keep you dry and comfortable. Ex. Nike's Dri-FIT T-shirts are designed to keep you dry and are available in a wide range of colors and models.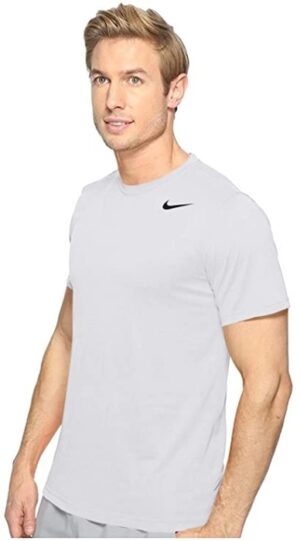 For colder weather, you can choose a long-sleeved T-shirt or put on a fleece sweater and then a running jacket if you want extra warmth.
If you take a closer look at the technical specifications, you will sometimes be surprised at how many details a product has, even when making relatively simple T-shirts – as shown below.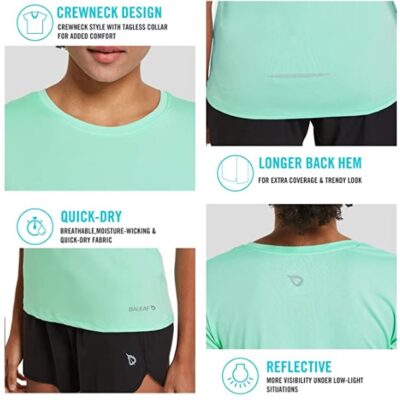 Final Thoughts 
Depending on the conditions, activity and personal preference, the right waterproof running gear for you will vary.
If you are doing high aerobic running, then you will want something more lightweight and breathable. Products such as eVent and Pertex Shield technology are recommended for those looking for higher breathability ratings at a fraction of the weight.
If you need a good all-season all-rounder for activities like walking or easy runs then a softshell will serve you well. Bridging the gap between fleeces and waterproof jackets, softshells offer water resistance, breathability and warmth at a fraction of the weight. Whether you need a lightweight outer layer or a breathable mid-layer softshells are excellent in-between for your runs.
If you are going to run outside in more extreme conditions, then a hardshell with increased waterproof capabilities is a good solution. This will use a 3-layer construction with a durable face fabric that will be very resilient in a wide range of conditions.
I hope you got something out of this post. If you have any questions about the topic or want to leave your own Personal review, please leave a comment below.
Is it OK to go for a run in the rain?
Yes, It's OK to go for a run in the rain as long as you wear the right rain gear. Using the layer system, you can wear synthetic and breathable materials such as a wind- and rainproof jacket. Then you can put together a proper outfit according to the temperature and wind conditions.