The best training shoes to cross training for runners are versatile and flexible, so you can switch between your opportunities in relation to the types of cross training you choose. From fitness to strength training to team training without having to change shoes. Reebok nano x1 Is an excellent choice here.
Cross training shoes should have relatively flat feet. Then you can use it to stand firmly during strength training and not feel on unstable ground when doing squats in the rack. But it should also be flexible and ergonomic enough to be able to run, jump and dance. The all-round training shoes you need for CrossFit and more.
Workouts With Reebok Nano X1  
In workouts from functional training to powerlifting to running, your body moves in different ways based on your activity. For optimal performance, you need shoes that move with you, keeping you supported and comfortable through side-to-side strides, speed changes, and sudden transitions.
Reebok offers a variety of training shoes for whatever workout you perform. Each kind of workout routine requires adapted training shoes. Weightlifting demands shoes with an optimal heel-to-toe ratio and a locked-down feel that support your technique etc.
In cross training, you need shoes like the Nano X1, specifically designed for the kind of lateral movements and powerful jumps that cross training demands.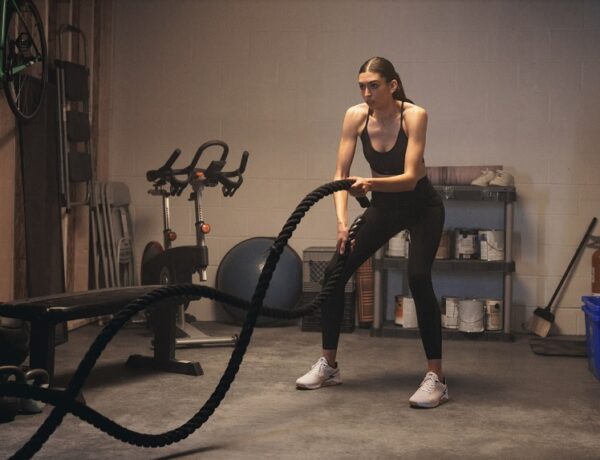 Improvements In Reebok Nano X1
Reebok is with Nano X1 on the 11th iteration of the Nano, a shoe that has become well-known and used much in the CrossFit world. The Nano X1 is one of the most comfortable training shoes you can have on your feet in your cross training sessions.
It has a robust wedge heel, solid support and stability for both weightlifting and other dynamic exercises in the fitness center. The fit is excellent with a good heel grip and plenty of room for the toes to wiggle and the foot to work.
The Nano X1 provides better stability than a regular training shoe or running shoe. You feel good contact with the floor with your heels and can really get the power out through the body in the training.
The Reebok Nano X1 is also suitable for a lot of vigorous CrossFit movements, as they have better shock absorption than other traditional training shoes.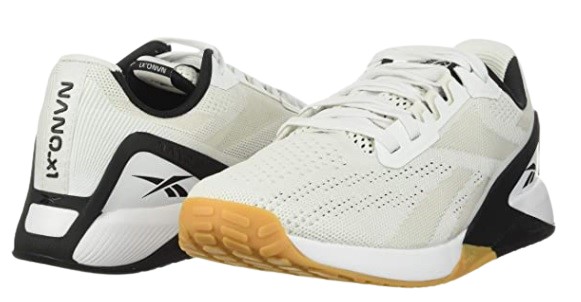 Reebok Nano X1 And Weight Training
The Reebok Nano X1s are less suitable training shoes for lifting heavier weights. Here, of course, it also depends on the individual's training level and body weight. But if you're doing heavy lifting exercises such as straight sets or supersets, a flatter, more minimal shoe is a better idea. But There's not so much cushion that you'll feel unstable during squats in a rack
So, for lighter exercises with high volume, they are good. But if you choose heavy weights in repetitions with weight-lifting movements, it is better with a more suitable shoe for just this purpose.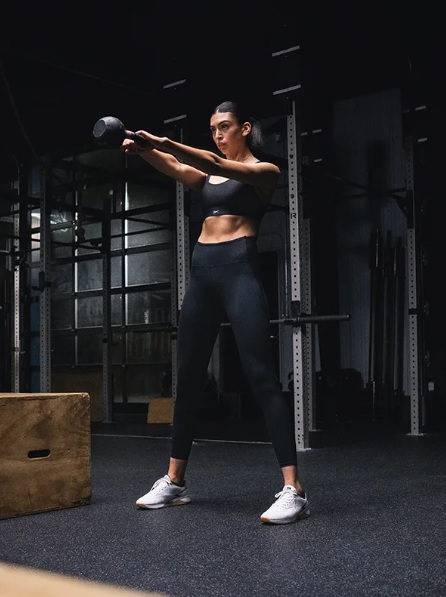 Reebok Nano X1 For CrossFit
If there is something that Nano X1 is good for, it's functional fitness. The shoes are true cross-trainers. They are versatile and smooth for even the most demanding CrossFit exercises.
Whether your workout is about box jumps, rope climbs, dumbbell snatches, lunges, or handstand push-ups, you'll find that the Nano X1 provides proper stability, support, shock absorption, and durability.
Reebok Nano X1 Women
Nano X1 is a versatile training shoe, you can use for training in the park and for bodyweight exercises at the campground. These cross-training shoes take you out of your routine and help you make fitness training effective and fun wherever you are.
Floatride Energy Foam in the forefoot gives you a lightweight feel and responsive ride. The raised lugs provide better traction on any surface.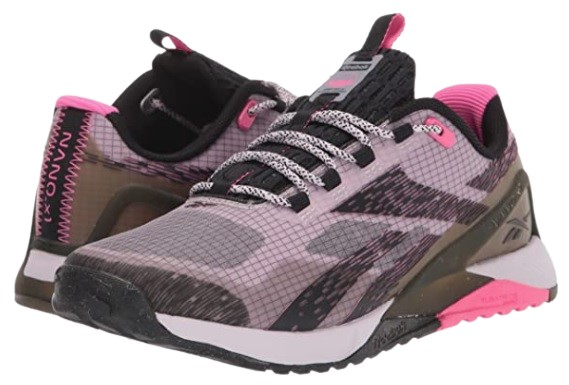 Technical details
Textile upper
Lace closure
Rubber sole
Women's Workout Shoes: Boasting a lightweight feel and a responsive ride, our workout shoes for women make fitness, indoors or out, fun
Premium Construction: Our workout sneakers for women come equipped with a comfortable stretch ripstop upper and durable rubber outsole with lugged tread for added traction on any surface
Efficient Foot Support: Our women's athletic shoes feature a stabilizing EVA midsole and lightweight, resilient, ultra-responsive Floatride energy foam cushioning
Optimal Performance: Enhanced with a stabilizing heel clip, these ultra-versatile trail and gym shoes for women allow for quick lateral movement
Signature Style: The ultimate gym and trail running shoes, these CrossFit shoes for women offer signature Reebok branding, powerful performance, and intense traction ideal for your daily workout
Several color choices
Reebok Nano X1 Cross Trainer Unisex
A versatile Cros training shoe made for flexible workouts. These  Reebok training shoes are built for more demanding workouts. A woven Flexweave® upper is lightweight but able to take a beating.
Floatride Energy Foam cushioning in the forefoot provides a responsive feel for running or double unders. A heel clip adds stability for quick lateral moves.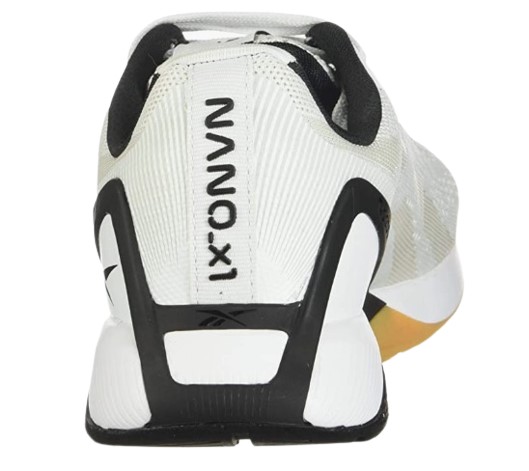 Technical details
Rubber sole
Versatile Workout Shoes: Workout the way you want – this combination of training and running shoes enables you to jump, climb, and do kettlebells exercises
Comfortable Fit: Floatride Energy Foam provides lightweight, responsive cushioning for these running shoes while maintaining the performance and stability of training shoes
Stabilizing Foot Support: Enhanced with a shock-absorbing EVA foam midsole, these athletics shoes are ideal for high-intensity workouts, CrossFit, cardio, lifting, climbing, and running
Built For Speed: The sleek shape and ultra-stylish design of these lightweight workout shoes for men and women
help you crush your workout goals and feel good about what you're wearing too
Soft & Durable Upper: These iconic training shoes for men and women have a Flexweave knit upper that's breathable yet durable, with integrated support for multidirectional movement
Many color choices
Reebok Nano X1 Pros and Cons
These shoes are probably the very best shoes if you just need a pair of training shoes with sufficient options for a wide range of physical activities. They are durable and sufficiently stable, yet cushioned and supportive Price range provides a great value compared to others of the same type.
Pros:
People who do traditional CrossFit-style workouts
People who enjoy more cushioning in cross-training shoes
Training for anyone who wants an all-around shoe for multiple activities
Cons:
Heavy weightlifting
People who prefer less cushion in a cross-training shoe
Distance running
Final Thoughts
Shoe manufacturers design and produce shoes for specific uses. So it's obvious, that there are activities for which shoes are designed specifically. Running will always be more natural and comfortable with running shoes.
Competition weightlifting will always be more effective and comfortable with lifting shoes and so on. However, if you need cross training shoes, you won't regret buying the Reebok Nano X1.
What is the Reebok Nano good for?
Reebok Nano X is a well-renowned favorite that is used much in the CrossFit world. the Nano X is specifically designed for the kind of lateral movements and powerful jumps that cross training demands. It's a versatile shoe good for both weightlifting and other dynamic exercises.