The fastest running shoe ever made is from Nike, it was directly launched as the world's fastest running shoe. The Nike air zoom alphafly next is probably the most hyped running shoe ever and was literally the running shoe that lay down the world. So, if you want to try Nike Air Zoom Alphafly Next% the most powerful running shoe ever made, you can start by reading this article…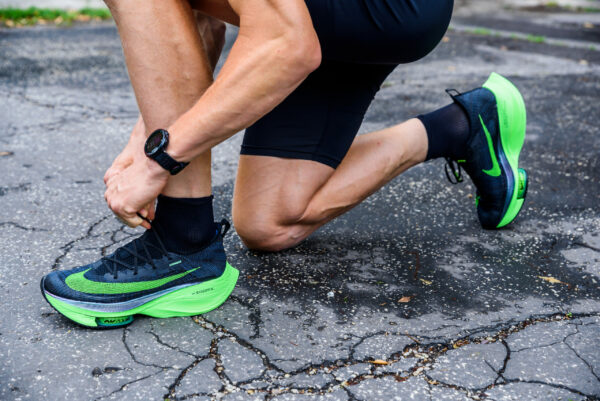 Nike Air Zoom Alphafly Next And a World Record Day
It happened on an October day in 2019 in the Austrian city of Vienna. The streets this day for this special event buzzed with anticipation and hope. On this very day, an African runner lined up with a set-up of support runners and the clear purpose of running a marathon faster than 2 hours, which was a total wild proclamation. We are of course talking about the African marathon runner Eliot Kipchoge and his prepared world record proclamation.
Eliud Kipchoge ran on this day in an unofficial world record time for the Marathon distance. He was the first runner in the world ever to get under 2 hours. A completely insane achievement. But what spectators and other people might not have noticed at first glance was the media stunt that Nike chose for this very day.
They had equipped Eliud Kipchoge with a prototype of their very latest running shoes, which Eliot himself helped to develop by testing and describing improvements and updates during the long running period that he performed with this prototype. The shoe became the long-awaited replacement for the Nike VaporFly Next% that the world already knew about.
Nike AlphaFly Next Can Revolutionize The Running World
As the euphoria around the fantastic time subsided, experts, journalists and other professionals began to evaluate this. And what is the runner's most important tool? Of course, it's his running shoes. And here everyone was surprised by what they saw – and this is how Nike Zoom AlphaFly NEXT% was born.
From here, the attention around this new running shoe would never end. It simply shut down the Internet, so to speak.
It turned out relatively quickly that this particular running shoe from Nike would revolutionize the running world, not only with the physical ability but also in relation to the framework for how running shoes could be designed and used in official competitions.
Everyone now started talking about Nike Air Zoom AlphaFly NEXT%. What a running shoe it was, and what it was that made it so unique and fast. What is this for a shoe, what can it do, and who can afford to buy it?
Nike Alphafly Next Was On The Edge Of The Illegal
The running shoe that Eliud Kipchoge set an unofficial world record with in October 2019 was a prototype from Nike. These are facts. But what's more exciting is that these facts created the basis for a change in the law around competition running shoes.
According to the new rules regarding running shoes which were adopted per. 31.01.2020, it is no longer allowed to participate in official competitions with prototypes. This means that a competition runner can thus not gain an advantage over others.
The shoe must have been available to everyone for a minimum of 4 months. In addition, rules have been added regarding "auxiliary plates in, for example, carbon" in the sole and then the midsole must not exceed 40mm – as some of the main things.
So, Nike Alphafly Next also became the running shoe that changed the rules but today the shoe is available to everyone and in newer versions like Nike Air Zoom Alphafly NEXT% Flyknit. The next question will be…
Is Nike Air Zoom Alphafly Next Something For Me?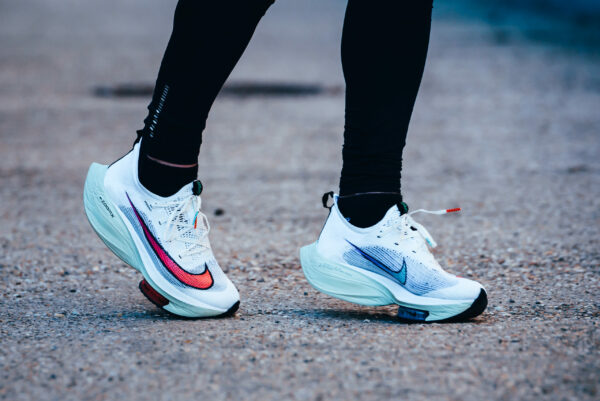 Well, Nike air zoom alphafly next was developed with trials, errors, endless tests and changes by Eliud Kipchoge himself – which means a world-class Competition long distance runner, you can check the documentary here. This also means that the shoe is optimized for experienced long-distance runners.
The Nike Air Zoom Alphafly Next% is thus more aimed at the elite runner or super-exerciser who has very good control of the running technique in particular. Because it's a shoe that places great demands on the entire musculature, running technique and level. So maybe it's not a running shoe that everyone will be able to feel comfortable with.
Nike AlphaFly Next is created for records
The shoe is very suitable for experienced runners not only for Eliud Kipchoge, who of course set an unofficial world record in the shoe. Because if you are really committed, keen, and work intensely to improve your own PR at for example the 5-10k or the half marathon distance, then the Nike Alphafly NEXT is the shoe you need for the project.
 Nike Air Zoom Tempo Next
The great alternative to Nike AlphaFly Next. If you want to feel faster – and actually run faster – in your daily training and at official competitions, then the Nike Air Zoom Tempo Next% is a more obvious shoe. Whether you have a lot or a little running experience. Nike Air Zoom Tempo Next can thus be used by all runners regardless of experience. While Alphafly Next% is the ultimate racing shoe for experienced runners.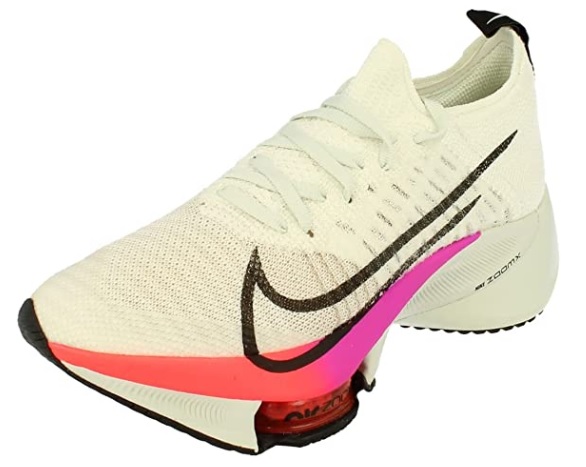 Tempo Next is an excellent alternative, mostly because the control is just far better in these shoes for the inexperienced runner. Tempo Next% will therefore in this case be an obvious "record" running shoe. It brings out the best in you because it provides speed, protection, stability and good durability.
In addition, Tempo Next has a resilient and durable outsole compared to Alphafly Next% and a full rubber coating on the entire outsole, in contrast to Alphafly Next% which only has partial rubber on the outsole. This of course means that a bit of weight is added to Tempo Next%, but that is also what makes the shoe more durable. And perhaps more importantly, it provides a much better grip on the surface.
Nike Zoom AlphaFly Next Specifications
The Nike Alphafly NEXT% is a medium-width running shoe that fits true to size and the toe box is also medium width. The mid arch section can feel narrow, but this could be a part of Nike's design to ensure they're on top of the fastest running shoes on the market for as long as possible.
Nike zoom alphafly next Cushioning
Nike's pebax cushioning, ZoomX, is the foam used in the midsole. And there's a lot of it. Today it's standard for Nike's Road racing shoes, a full length carbon fiber plate is sandwiched between the two layers of ZoomX.
There's a also nice slab of ZoomX in the forefoot above the carbon fiber plate. Below the plate, however, Nike changed things up from the Vaporfly model. Right above the outsole, Nike placed two large volume Zoom Air bags.
The Zoom Air in the Alphafly Next% doesn't disappoint. It's bouncy and returns most of your energy. This was a solid improvement from the Vaporfly and gives a lift in the Alphafly speed training. The more you're on your toes, the better the Alphafly feels. The addition of the Zoom bags encourages you to get up on your toes and run faster. And that's also the purpose when running long distance road races.
Nike zoom alphafly next Traction
The Alphafly Next% traction is really excellent. The rubber fully covers the forefoot except for a small cutout in the middle to save some weight and it doesn't slip. Nike has really got secure traction on this super shoe. On the heel, the camouflaged rubber coverage on both the lateral and medial sides is completed well for this model type. And the rubber used is also nice and adapted. In terms of the outsole's grips excellent on every surface, it's perfect.
Nike zoom alphafly next Upper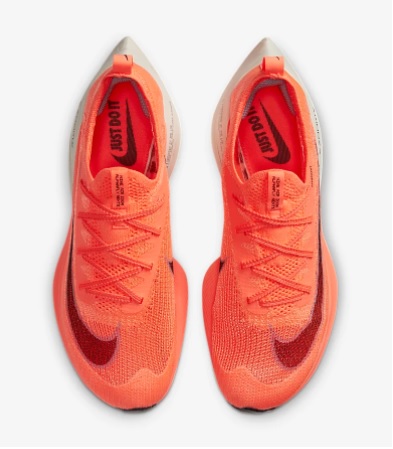 The upper on Alphafly Next% is made of Atomknit, which is Flyknit that's been steamed and stretched. It's coarser and less stretchy than Flyknit but still fits well. It doesn't absorb much water on the long runs
Nike zoom alphafly next Fit
The Atomknit upper is shaped like one big sock. This fit may be tight for people with wide feet or high insteps, but Nike has thought of that. The designers have made tongue and heel pull tabs to assist in sliding on the shoes. The knit quickly breaks in and stretches to provide the 1:1 fit that knit shoes are known for.
The Alphafly Next fits true to size but is a bit wider than its predecessor. Also, The heel and forefoot on the Alphafly are wider than the same areas on the Vaporfly model. The midfoot and arch area are very snug but that seems needed to support the sock-like fit.
Final Thoughts
It can get quite difficult to only use these running shoes for race days because it feels so great to run all types of training sessions in the shoes on "all days". Because whether it's easy races, threshold races or speed races, Alphafly feels good on all of them.
What sets Alphafly apart from other carbon shoes is that it is much more padded and stable, so it blurs the boundaries between the different shoe types and actually feels as if you are not wearing them when you run in them. So, Alphafly is a true all-rounder.
You can use them for 5k, 10k races, or for a half or full marathon. Alphafly is really suitable for a wider range of especially experienced runners and with this running shoe, Nike has managed to get even further ahead of the pack. The other brands have a lot to catch up with. 
It turned out relatively quickly that this particular running shoe from Nike would revolutionize the running world, not only with the physical ability but also in relation to the framework for how running shoes could be designed and used in official competitions.
Are Nike Air Zoom Alphafly Next worth it?
Yes! Nike Air Zoom Alphafly Next is a game-changer distance shoe, with a premiere on the feet of the first runner under 2 hours on the marathon a classic historical distance. It's an incredibly well-engineered running shoe developed and tested again and again by the marathon world record holder Eliud Kipchoge himself.