Back in 2010, the first version of the Saucony Kinvara get into production. Since then, it has been through a lot of updates, most often based on experienced runners' suggestions for improvements. Saucony Kinvara is still a lightweight running shoe, really suitable for fast runs and personal records. Thus, Saucony Kinvara has now for many years done it really well for many runners.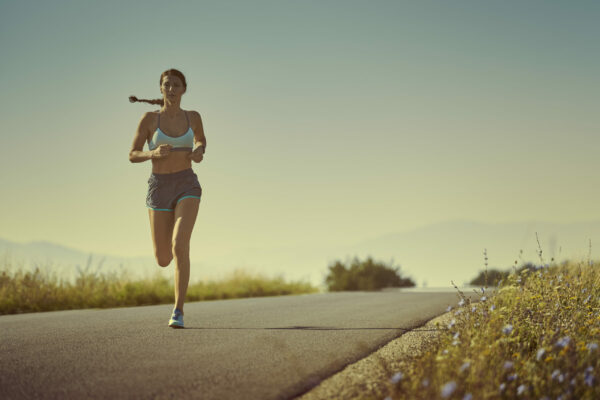 Saucony Kinvara Updates
It would be pretty extensive to go through all the updates over time but to name a few crucial it could be that the Kinvara 9 is equipped with a full-length EVERUP top sole. It both helps to give you a fantastic landing and a good take-off after each step.
But at the same time, you are also assured that the pressure every time you land is distributed over a stable and larger area. It raises your comfort and support in the shoe so you really feel it.
And as so often before, this running shoe from Saucony has a soft and flexible upper that fits close to the foot, and is breathable in an effective way.
All these small effective updates are something that also helps to increase comfort. Because if there's one particular word to put on the Saucony Kinvara 9, it's comfort. Super nice running shoe with many good properties.
Saucony Kinvara – Saucony's Flagship
The Kinvara has long been Saucony's flagship shoe and for good reason. Ex. The Kinvara 11 is true to form and continues to provide lightweight, high-performing comfort for neutral runners. Minimal updates improve the functionality of the shoe and give a premium feel on even the short easy runs.
The low stack 4 mm drop EVA is firm enough so the Kinvara 11 still feels fast. The formula gives the shoe a smooth feel through your stride's transition. It's a shoe that can be used for regular training and racing, it will be difficult to find a better shoe for the price to match that.
Saucony Men Kinvara 12 running shoe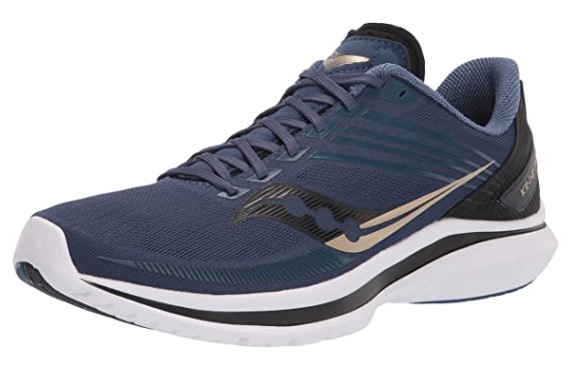 Like the previous versions, the Kinvara 12 is lightweight, versatile and feels good on any and every run, from easy recovery runs to long threshold training sessions. It performs well as a daily trainer, speed trainer, and long-distance running. Version 12 is ideal for neutral competitive runners with a fairly efficient comfort.
So, the 12th version of the Saucony Kinvara doesn't deviate in any major ways from the Kinvara line: it's still a supremely reliable, lightweight and responsive shoe that can handle the longer runs.
If you appreciated the Kinvara 9, 10, or 11, you'll probably like Kinvara 12, as well. The most loyal Kinvara devotees will be able to detect a slightly firmer run and a barely-noticeable reduction in the weight of the upper.
Overall, the Saucony Kinvara 12 is an incredibly light and neutral running shoe. A mass training shoe for the trained runner and a running shoe for intervals, tempo runs and competitions, for the less trained runner. Depending on which runner you are, the purpose can be specified, but it's actually a shoe most people could get really good pleasure and benefit from.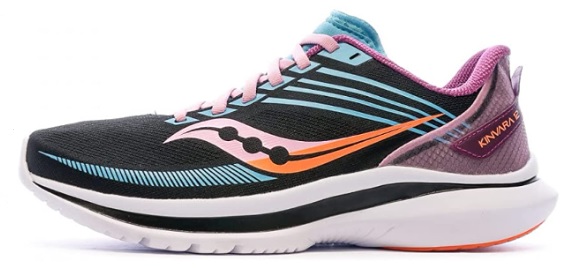 With this version 12, it also starts to get more interesting with upper and midsole…
Upper in Kinvara 12
When you look at the shoe, including the upper, it seems as if they have saved on the materials. The upper is super thin and light, but it actually does not behave that way. The shoe is actually really comfortable to wear.
Part of the comfort is also in the width because the shoe is a little wider than other models from Saucony, such as Saucony Endorphin Speed. The extra space in the width is nice to use when, for example, running long runs in the summer when the foot raising a bit.
The heel cap is not completely soft, and therefore provides a bit more stability, so you do not have to be completely neutral in your running style for using the shoe. You just have to be a little more careful with the long runs if you are a pronounced pronation runner.
Midsole in Kinvara 12
Since the drop in the shoe is only 4mm,  it can for some runners feel as if you almost fall backward, as normal shoes otherwise have a drop of 10-12 mm if not more.
But when you start running, you more easily understand the intention behind it. With the shoe's low drop, it pushes you a little forward on the foot in the landing, so you have a better chance of avoiding a heel landing.
The sole is made of Saucony's PWRrun material, which is relatively soft and spongy, but not nearly as fragile as their PWRrunPB material, around which the entire Endorphin collection is built. This makes it better for mass training than e.g. Saucony Endorphin Speed.
When it comes to the aesthetic part of the Kinvara line, I personally think the Saucony Kinvara 12 also is beautiful. That is one of the reasons why I initially became interested in knowing more about this version. You can also choose from many different colors for both men and women.
After reading some information about the shoe, I expect a lot from Kinvara. One of the things that impressed me from the start was the shoe's PowerGrid heel, which helps stabilize the foot and absorb shocks from the surface. At the same time, it provides a very smooth and comfortable run.
Inside the shoe, you have a very secure fit, with memory foam in the heel, which adapts to your foot and remember. It is therefore not surprising that many runners are enthusiastic about this shoe.
Saucony Kinvara 13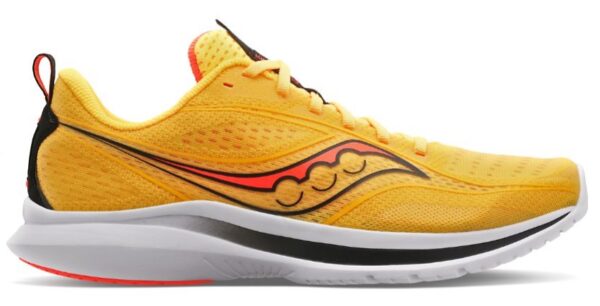 Kinvara 13 is an excellent choice for the runner who is looking for a light and flexible shoe that provides a fast-paced running experience. The model is suitable for all types of pace training, competition and even mass training for some runners as well.
Lightweight running shoes with a relatively low stack height are rarely seen today. There is more demand for bounce and propulsion and that is understandable.
But in order to get down and get in touch with the ground. Working with the technical aspects of running, feel that it's ourselves who create the momentum, then we have to be grounded. Kinvara 13 helps us with that – without compromising on comfort.
The Kinvara 13 model is possibly the most classic lightweight shoe on the market today and offers the perfect mix of low weight, stability, and responsive shock absorption. These qualities have made the model a recurring favorite among runners of all levels.
This year's version is the lightest ever thanks to a new upper with less padding and improved breathability. The midsole consists of PWRRUN and the top sole of PWRRUN +, which together provide responsive shock absorption.
In combination with a 4mm drop, the runner gets the opportunity for an efficient and powerful take-off with maximum energy yield. In addition, the FORMFIT construction creates a fantastic fit around the entire foot.
The top of the midsole is anatomically foot-shaped like a cradle and encircles the foot for better support around the heel and heel pad. From above, the foot is hugged in a comfortable and stable way using a malleable, seamless mesh reinforced with a stabilizing 3D-printed structure around the midfoot.
The upper part consists of recycled material to reduce our organic footprint. The EVA outsole with zones of durable XT900 rubber has been updated for lower weight with both speed and good grip.
Technical spec:
Category: Neutral
Shock absorption: PWRRUN midsole and PWRRUN + top sole
Drop: 4mm (28.5 / 24.5)
Weight: Men 205g
Outsole: EVA and XT900 rubber
Other features: FORMFIT fit
Final Thoughts
The Kinvara 13 should be well received this year, especially by runners who don't relish the feeling of maximally cushioned shoes with an excessively bouncy profile. It will certainly be appreciated by runners who are looking for a more affordable shoe that's versatile enough to tackle different types of runs.
Runners who liked the Kinvara at any point over the past many years are bound to like the Kinvara 13. It can still be a daily trainer or a high pace shoe for faster training sessions. You might find the Kinvara 13 less appealing than you did in the past.
Because running shoes as a whole have evolved a lot with many new opportunities and there are many new models out there that are more specifically suitable, cushier and more durable – you simply have more choices today.
So, One of the bigger questions will thus be, what happens next with the Kinvara. Will the Kinvara 14 be welcomed into the modern world with Saucony's super-lively PWRRUN PB midsole foam and its SpeedRoll geometry?
Time will show that but for now, the Kinvara 13 remains a reliable everyday trainer that's as light, comfortable and versatile as it has always been.
Is Saucony Kinvara good for long-distance running?
Saucony Kinvara is a lightweight running shoe, really suitable for fast runs and personal records. Kinvara 13 is an excellent choice for the runner looking for a light and flexible shoe that provides a fast-paced running experience. The model is suitable for all types of pace training, competition and also long-distance running.