Using bose sport headphones for running or cross-training with your favorite music in your ears will make your training more effective, fun and motivating. Music can become a crucial factor when fatigue sets in. Performance improves when you listen to music during running – it's proven! Bose Sport Earbuds for runners are a great choice here.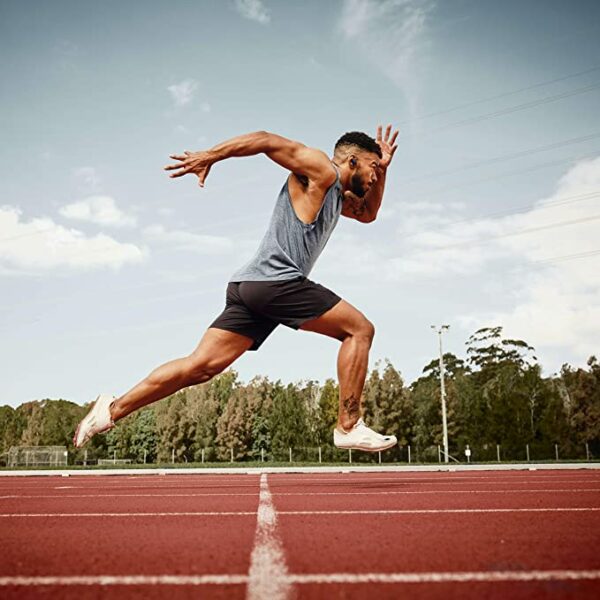 It has been proven in a study that your training performance can improve by as much as 15 percent when you listen to music in headphones. So get music in your headphones if you want to get more out of your running training.
When you use headphones for running or training, it's important that they fit so well that you don't notice them, and at the same time give you good sound. But which ones do that?
Best headphones for running – which are the best for me?
There are several reasons to use wired earphones. First, you don't have to worry about keeping them charged. Wired earphones also allow you to connect them directly to the treadmill in the fitness center so you can use them and watch TV while running.
But if you've ever tried to pull out an earphone by accident because your arm caught the cord, you probably understand the benefit of the wireless solution. Thanks to Bluetooth®.
You can let the music play and keep your mobile phone in your pocket or in a Smartphone armband around your shoulder while streaming podcasts and music. With today's innovation, you don't lose sound quality when you skip the cables.
It's very popular to have your mobile phone in an armband that you fasten around your upper arm. Here you can easily grab your phone during a run or training. It also works well with a running armband for both wireless and non-wireless headphones.
True wireless earbud headphones
True wireless in-ear headphones are simply two earphones (earbuds) connected exclusively via a strong and reliable Bluetooth connection. Over the past years, the true wireless category has become a very popular choice among athletes and runners in particular.
True wireless in-ear headphones especially suited for runners are the Bose Sport Earbuds, which are designed for training. With a comfortable fit, exceptional sound quality, and solid water resistance, the Bose Sport Earbuds are preferred among athletes. In fact, Bose Sport Earbuds are designed with athletes in mind.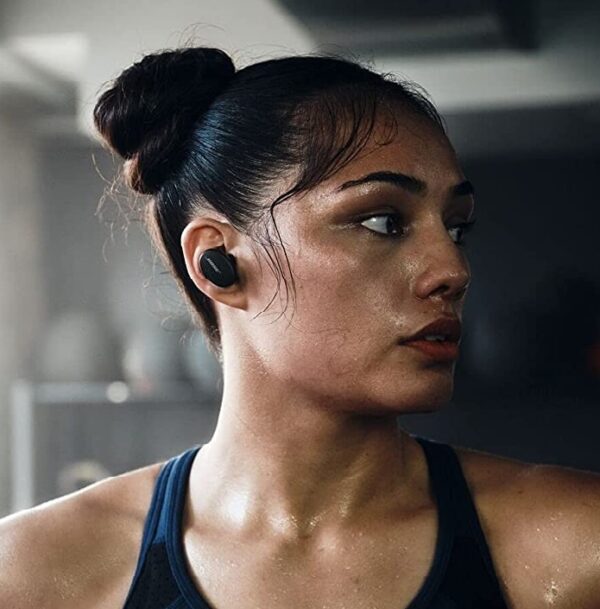 Bose Sport Earbuds
Fit
The fit can vary greatly in headphones for running, so there are some things to consider. When choosing headphones, you should think about how your headphones will feel after a few kilometers. Will they move or gnaw? Also, look at the weight of the headphones – lighter can feel better when running longer distances.
Since people's ears vary greatly in shape and size, it's important to find the right earplugs that fit you best. Bose has spent many years measuring the variation in the size of people's inner ears. They have created unique earplugs based on everything they have learned.
Every surface that touches your ear is made of soft silicone and not hard plastic, so the earphones feel good in your ear throughout your training. A tight, secure fit also ensures that you get that big bass sound to power you through the last mile.
Sizes and design
It's an umbrella-shaped earplug that fits great in your ear. Its function is to stay in place no matter how much you bounce up and down while running. The tip has a unique shape that creates a gentle seal in your ear and keeps it in place.
It also helps improve sound quality. Bose provides headphones with three different pairs of ear tips in sizes S/M/L, so you can choose the one that feels best to you.
All Bose running earphones feature an innovative wingtip design and are available in multiple ear tip sizes, and there's another reason why Bose Sport Earbuds feel so secure in your ears: their compact design. Although Bose's new sports earphones are almost identical to their SoundSport Free, they sit 40% closer to the ear.
It makes the earphone look more elegant on your head – and feel more secure in your ear. For this type of earphone, this means that the longer an earphone sticks out, the more pressure it puts on the attachment wing, and the less stable it will feel in your ear, even when you're wearing it correctly.
Durability
Bose Sport Earbuds are well-made and water resistant. The earphones are of course backed up by the Bose brand, which is known for its durable products that last for many training sessions. Their IPX rating, which shows how resistant an electronic device is to water, is 4 out of 9, so they can withstand sweat and rain.
Even during long runs, the earphones work properly and stay securely in place. But since they are not completely waterproof, Bose Sport Earbuds do not get max. points for durability.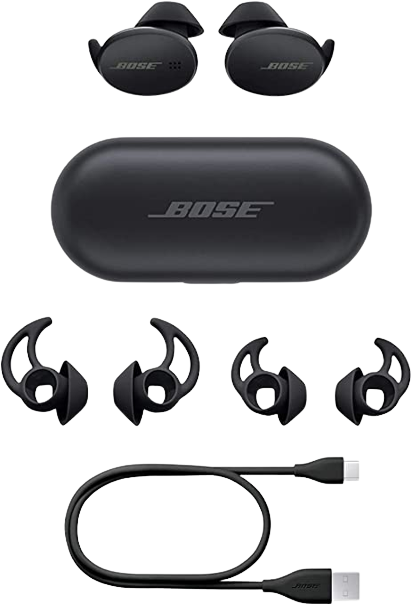 Bose Sport Earbuds – Battery Lifetime
Your music should last longer than your training. Around-ear headphones often have plenty of battery life, but many runners find them too bulky to wear for running. And while in-ear sports headphones have a smaller size, it comes at the expense of the space needed for a large battery.
If your music gives you the extra boost you need to reach beyond your limits, your headphones can't suddenly run out of gas before you do. So pay attention to how long they last per charging when you use them and how easily they charge when you're not using them.
Bose Sport Earbuds provide up to five hours of battery life per charge and that's enough time for the average person to run a marathon! In the same way, as you recover after a run, you can give the earphones a break in the included charging case. When fully charged, the case can give you two full charges with up to ten extra hours.
Bose Sports Earbuds – Adapt Them to Your Training Routine
Different training routines require different kinds of earphones. It's easier to stick to a training plan when you have a good buddy to push you. And no training companion is more reliable than a pair of headphones. Bose Sport Earbuds are easy to set up quickly. You simply pair them with your mobile phone.
As soon as you plug them in, the earbuds announce the device they're paired with and the battery level. After that, it's just a matter of putting on music, adjusting the volume, pausing music and answering a call using the touch controls, which are very responsive. The wireless connection is good.
The charging case is also very user-friendly, as it is easy to open the lid and slide the earphones into place. Unlike many other charging cases that only have one battery indicator light, the Bose Sport Earbuds charging case has five lights that indicate their current battery level.
Bose Sport Earbuds For Your Best Training
Bose Sport Earbuds are designed from the ground to fuel your training sessions with lifelike sound and a secure, comfortable fit. Patented technologies ensure that your music sounds clear and balanced, no matter how loud you turn it up, while the earphones' streamlined design means they sit snugly against your ears.
And regardless of whether you train for a long time and how much you move, the earplugs do not hurt your ears. You can get ready to beat your personal bests, again and again.
Bose Sport Earbuds with StayHear™
Bose Sport Earbuds are available with StayHear™ Max ear tips in three sizes, so you can find the size that's just right for you. All surfaces that touch the ear are made of soft silicone and by distributing the pressure evenly across the ear, the earplugs do not put extra pressure on the most sensitive parts.
At the same time, the unique umbrella-shaped tip and the long, flexible wing keep your Bose Sport Earbuds securely in place – without the use of an ear hook – no matter how much you shake your head or jump up and down.
Bose Sport Earbuds have a capacitive touch surface. On the right earpiece, you tap twice with your finger to play or stop music or answer calls.
Bose Sport Earbuds and Spotify
Spotify Tap™ playback allows you to access Spotify quickly and easily. Simply tap the left earbud twice with your finger to return to the music you were listening to. Double-tap again to get a new playlist based on your listening history.
You can repeat this step until you find something you like. Set your shortcut to "Spotify" in the Bose Music app to enable this feature.
Get Bose Sport Earbuds
True Wireless Earbuds. They sound bigger than they look. The proprietary acoustic port design and premium, high-efficiency drivers inside Bose Sport Earbuds deliver big sound from a small acoustic package — pushing you to go one more mile or one more interval run.
Bose Sport Earbuds feature a capacitive touch interface, which lets you tap an earbud to play or pause music, accept or reject phone calls and more. The StayHear Max tips have a unique umbrella shape and an extended flexible wing that keep your Bose Sport Earbuds securely in place, no matter how much you move.
They're also durable and water-resistant, so they can stand up to even your longest, most sweat-inducing runs.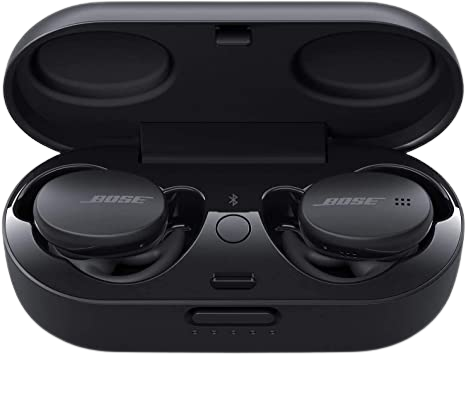 Engineered for your best training. Bose Sport Earbuds are true wireless Bluetooth earbuds designed to energize your exercise with acclaimed lifelike sound and a comfortably secure fit. Get ready to beat your personal best, again and again.
I hope you get something out of this post. If you have any questions about the topic or want to leave your own Personal review, please leave a comment below.
Do Bose Sport Earbuds fall out when running?
Since people's ears vary greatly in shape and size, it's important to find the right earplugs that fit you best. Bose has spent many years measuring the variation in the size of people's inner ears. They have created unique earplugs based on everything they have learned. So, music sounds great and the Bose earbuds stay in place during all kinds of exercise.