Maybe you think that it has become too demanding with the weekly running plan – the work pressure has become too high on a daily basis, or other priorities make it too stressful to run. A really good alternative to running is to supplement or completely replace running – maybe just for a period, to try something else that fits better into your current plan. Skechers Women's Go Joy Walking Shoe can support you in your new decision with walking as cross training.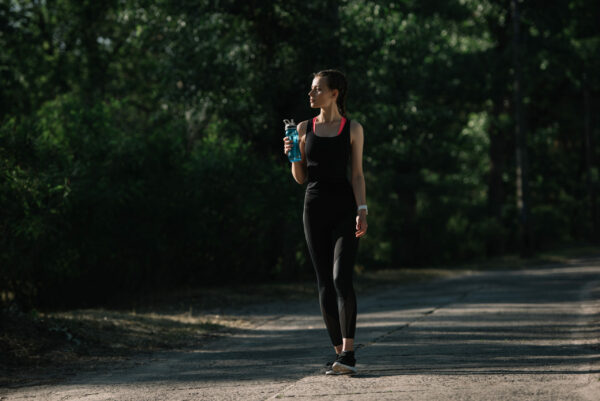 Walking vs Running?
Walking makes you strong and fit. Most of us hardly believe it. You can lose weight, boost both fitness, mood and endurance, and all you need to do is walk at a good pace. That is why walking is the ultimate exercise hit that gives bonus to your health.
By walking with low intensity for more than 30 minutes, your body will over time and repetition, combust a larger and larger proportion of fat during the activity – your weekly walks in the future. The body works in such a way that it automatically switches to fat combustion to save on carbohydrates and instead consumes from the largest energy depot – fat.
By walking you loads the body, but not so hard as by running, and it rarely causes injuries because you load the body minimally. Therefore, walks are particularly effective if you have knee or back injuries, are overweight, or need to get back in shape after e.g. a pregnancy.
In addition, a walk as cross training at a proper pace is just as effective as running in terms of keeping your blood pressure and cholesterol levels down and avoiding diabetes.
What Is The Benefit Of Walking
When you walk as exercise, you lower the amount of the stress hormone cortisol in the blood. It will increase your mood and make you more clear-headed and motivated.
In many situations, walking can be a better form of exercise than running, when you e.g. performs a lot of interval training because it can increase the level of stress hormone in your body. You don't need that if you are going through a tough period where you already are under pressure, for example at work.
Cardio training can also increase your appetite, so your weight increases. And if you train a lot, hard interval training can actually reduce your muscle mass. So, walking can also be a way to regulate your running training and keep the body in balance.
Walking in nature or other open areas will of course give you other kinds of experiences for your mood and soul too.
Walking as Fitness Training
But you cannot 100% completely drop other cardio training and only practice walking as your primary form of training. If your goal is to improve your fitness level, you need to increase the pace.
Depending on your starting point and your current shape, walking can be an excellent form of cardio training. But it requires you to increase the speed. And if you are already in good shape, it requires interval work at a high pace and, for example, running, to achieve a definite improvement in your fitness.
You can test it yourself by using a treadmill in the fitness center. Try to vary your walking pace by increasing and decreasing "speed" on the control panel as well as raising/lowering the treadmill.
In that way, you can experience what it takes for you to maintain a high walking pace and whether it will give you the desired load or not. Use a heart rate monitor to make it even better. Can you keep up a walking pace of 60 – 70 %  (HRM) without shifting to running?
The same goes for your strength. Because even if you get more endurance from walking, building muscles requires that you also put strength training on the program – otherwise they won't be challenged to get stronger.
On the other hand, walking is an optimal form of exercise as cross training or if you haven't had the opportunity to exercise for a while. If you in some way are weak, recovering from an injury or have been ill, walking is a good way to get back in shape for everyday challenges. But otherwise, it requires strength training to get stronger.
Skechers Shoes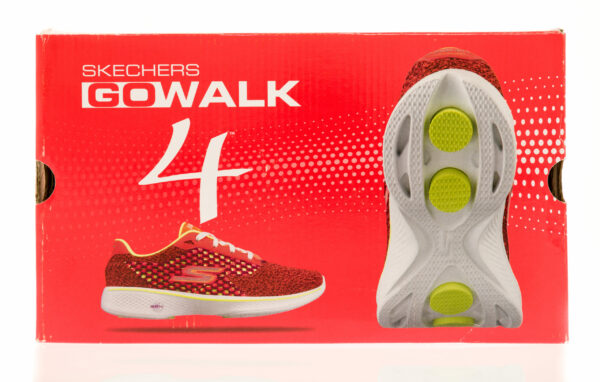 Skechers is an award-winning and global brand, Skechers design and develops lifestyle and performance products in footwear, clothing, and accessories for women, men and children. They are mainly known for their style, innovation, quality and high comfort.
The footwear from Skechers gives your feet good cushioning when you walk and stand a lot during your working day. Some of their models are also excellent as walking shoes for other purposes – such as cross training for runners.
Skechers Shoes Women
There is a quote that says that if you give a woman the right pair of shoes, she can conquer the world. Shoes are an indispensable part of a woman's style and complete her outfit. That's why Skechers offers timeless women's shoes for all occasions.
Skechers has a great variety of comfortable shoes and boots that support the foot throughout the day – and night. If you need a pair of shoes for active life, they offer a range of shoes that relieve your foot through all your activities.
Any self-respecting woman never compromises with her personal shoes. Whether you need footwear for the golf course, the run, work or the walk, they have models for all needs in various hard-wearing materials. Good durability ensures you a shoe that maintains its quality for many years into the future.
So of course they also have a shoe for walking – also for longer trips as we will explore below.
Skechers Women's Go Joy Walking Shoe Intro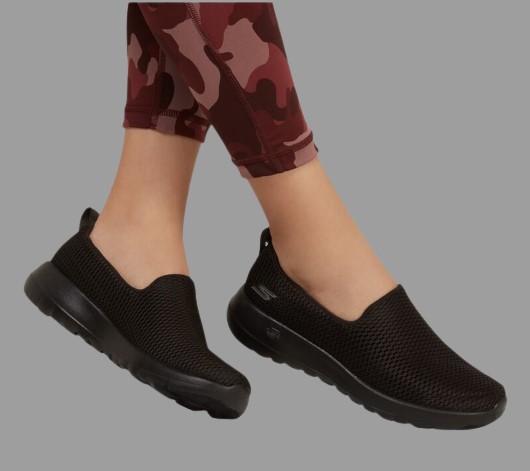 GO WALK Joy is a simple lightweight slip-on shoe. This shoe is perfect for walking. The sole is shock-absorbing, which means that shocks to the knees, hips and back are reduced. In addition, it has technologies that give you special support on the longer walks.
You hardly notice that you are wearing it and it gives you a very effortless walk and the stability under your feet ensures that you are led in your own personal walking style.
The insole is a breathable Goga Mat insole, which Skechers claims gives the feeling of walking on a yoga mat all day long, regardless of the surface. So, a Woman looking for a comfortable walking shoe with great support and a sleek design can turn to the Skechers GOwalk Joy.
Skechers Women's Go Joy Walking Shoe Specs.
With the Skechers women go joy, you will very likely rediscover the joy of walking in total comfort with the Skechers GOwalk Joy. With the Innovative and highly responsive 5GEN midsole design and advanced mesh textile upper with Skechers Goga Max insole, you will be ready for the biggest and most advanced walking experiences ever.
Key features
Lightweight, responsive 5GEN® cushioning
High-rebound Goga Max® cushioned insole
Ortholite® comfort foam insole layer adds long-term cushioning and high-level breathability with 5% recycled rubber content
Design details
Breathable athletic engineered mesh upper
Pull-on comfort walking design
Arch support: Neutral
Flexible traction outsole
Soft fabric lining and padded collar, 1 1/2-inch heel height
Machine washable
Skechers® logo detail
Shaft measures approximately low-top from arch
Lightweight /Cushioned
Closure: Slip-on
Weight: Woman 149 g
Skechers Women's Go Joy Walking Shoe – Fit
Do you have a normal or wide foot? Skechers has developed different fits in their shoe range.
Classic Fit
Classic Fit is for you with normal-width feet – it's Skechers' completely traditional fit. With Classic Fit, you get their most popular fit, which ensures comfort all day. If your feet are normal-width, but still need well-being and comfort, then Classic Fit is the right fit for you.
Relaxed Fit
With Relaxed Fit, the focus is on your toes to be free and have air. Therefore, the shoes with Relaxed Fit are designed with a wider construction both in height and width, which gives more room at the toes and forefoot (toe-box).
With Relaxed fit, it is the same size as Classic Fit around the heel, so your heel is kept in place, while there is extra space for your toes without the shoes being tight and irritating during the day.
Wide Fit
Do you need extra space for your feet? Then the Wide-Fit fit is perfect – it is made for you with a wider foot. The shoes with Wide Fit have a wider fit both around the forefoot and the heel than with Classic Fit.
Hereby you are guaranteed more space around the entire foot if you choose Wide Fit. With Wide Fit, it is easy to get your feet into the shoes, and it ensures that your feet get the space and well-being they deserve.
Skechers Women's Go Joy Walking Shoe – Features
Stroll with joyful comfort wearing Skechers GO WALK Joy™ – shoe. This sneaker style feature has a breathable athletic mesh upper, responsive 5GEN® cushioning, and Goga Max® cushioned insole for added comfort.
Interior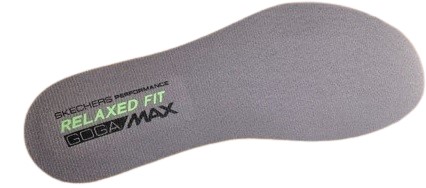 Skechers Goga Max® insole for next generation cushioning and support, which provides good comfort – like walking on a yoga mat.
Upper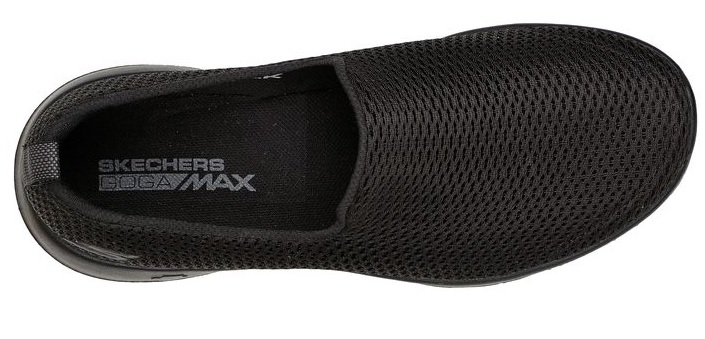 Using nearly one piece of mesh fabric throughout the upper also increases breathability.
Outsole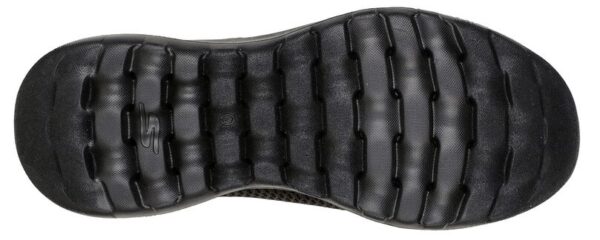 Integrated outsole pattern for easy walking comfort. With GOGA Pillars, which provide shock absorption for every step.
Midsole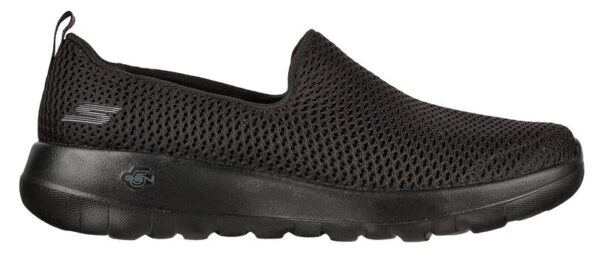 Innovative and highly responsive 5GEN® midsole cushioning. which provides comfort and good shock absorption
Heel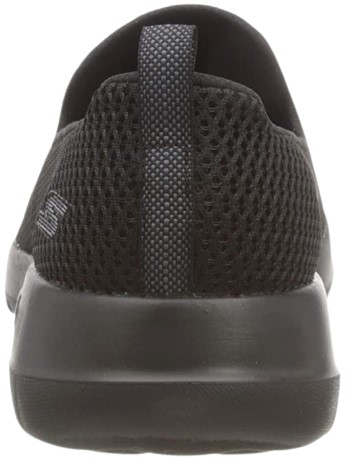 There is a 'strap' in the heel top, and the heel is suitably high and braced for good and comfortable foot movement.
Pros and cons
Pros
Highly breathable

Very durable outsole

Comfortable for all-day wear

Fits the foot closely

Easy to put on and off

Weight
Many color choices
Cons
A warning that some users give is that the exposed foam gets a bit slippery on smooth wet surfaces.
Why You Should Buy Skechers Women's Go Joy Walking Shoe
Skechers GOwalk shoes give you certainty when walking, provide comfort for every step and make your walks a pleasure. They will support you well as a break from running from time to time.
The GOwalk Joy would be a worthy addition to your shoe rack if you prefer an easy slip-on to the traditional laced sneakers. Choose this shoe if you need a comfortable walking shoe for long walks and traveling, you wish a simple yet elegant design from Skechers.
So, Women looking for a comfortable walking shoe with great support and a sleek design can turn to the Skechers GOwalk Joy.
What are the benefits of Skechers go walk?
Skechers has technologies in GO WALK that give you ultimate support and shock absorption on your walks. You can get both lightweight shoes that are easy to jump in such as slip-on shoes and also lace shoes. You get a breathable shoe that ensures your feet a good 'indoor' climate on your long walks. In addition, the shoe has a classic design and is available in different colors.