Trail running gives an extra boost to your metabolism and your mood. You get more energy and it's thus a really good investment of your time when you want to get in shape, raise your standards and at the same time get nature experiences. In The 5 best trail running shoes for women in charge, we look at your trail run opportunities. When time is short, it's tempting to stand over, but it's only yourself you burn off!
Best Trail Running Shoes For Women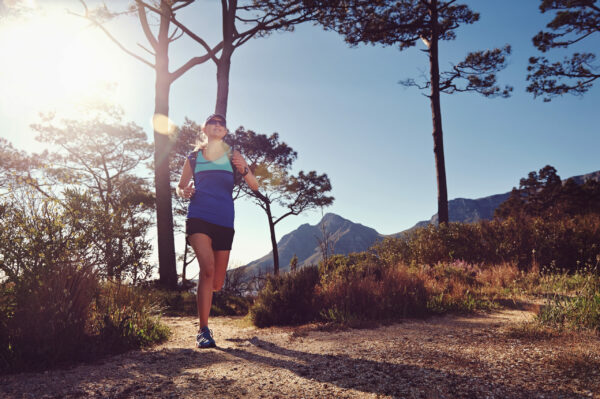 Trail Running In Terrain
Whether you are a dedicated trail runner, fanatic, or road runner who wants to swap the sidewalk and roads for uneven muddy terrain and dirt, a good pair of running shoes will make all the difference. Your trail shoes will take you through all sorts of muddy, root-filled and rocky trails, so it's important to find a pair that suits your particular needs. 
Trail Running Surface
Running in terrain becomes easier and more fun with a pair of trail shoes on your feet. Trail shoes differ from regular running shoes in several ways. For example, the fit is extra important when choosing a pair of trail shoes.
When running in mud and on wet forest trails, you need to be able to feel the surface under your feet properly so you can adjust your stride. Therefore, it is important that the feet sit properly so you don't move your feet around in the shoes, as it reduces the feeling with the surface.
There is a big difference between the flat, hard surface in the city and the uneven, often soft terrain that the forest offers. You should therefore set different demands on your running shoes, depending on which surface they are to be used on.
Shock Absorption And Technical Aspects
How much shock absorption and how rough the sole you should choose depends on which surface you choose to run on. If you run on softer surfaces, you do not need as much shock absorption as if you are on longer runs on gravel roads.
A sole with a coarser pattern is optimal for you who run off-trail in the terrain, as it provides maximum grip, while a sole with a slightly smaller pattern works perfectly on larger trails. Trail shoes can also be both soft and hard. In general, a softer shoe provides more grip and feel.
Many trail runners know that you get sore feet. Therefore, many trail shoes are equipped with a drainage system, which means that the water that enters the shoes quickly runs out again. It's also a benefit to run with a pair of socks in functional material, which dries quickly to prevent blisters!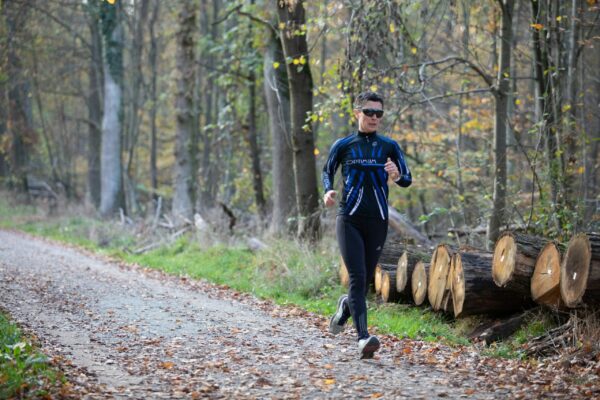 Below are short reviews of 5 different trail shoes that make it easier to choose the perfect shoes for your trail runs:
ASICS Women's Gel-Venture 7 Running Shoes
This Trail shoe is less technical and very affordable with decent protection and great stability. Its rigid construction offers a lot in the form of underfoot protection with
modest flexibility in the arch and heel. The forefoot is excellently protected with a good layer of EVA high-density foam padding.
Equipped with a less aggressive outsole, it performs safely in sloppy terrain but is better suited for dry trails with sand or dirt. With two size options and a super low price at least compared to the rest of the options out there, this shoe gets a remarkable mention.
If you are beginner who wants to try trail running, or if you prefer a more rigid, less protective shoe for less technical terrain, this cheaper option should be considered. It comes with synthetic and mesh upper in an athletic style trail running shoe with a closed toe Lace-up entry for a secure fit, Padded collar and Heel pull loop.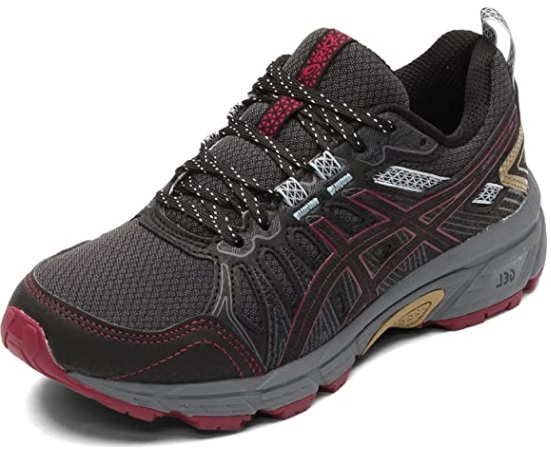 Saucony Women's Peregrine 10 Trail Running Shoe
As many of us know the Saucony brand is Based on performance, innovation and style with a goal of creating compelling footwear and apparel. The Saucony Peregrine 10 is no exception. The shoe has great value and is one of the most versatile shoes out there doing well for feet of most shapes and sizes. They fit for many miles, hiking, running, different specific tracks and snow-covered trails.
The Women's Peregrine 10 can boast of having a transformed outsole that sheds mud and latches onto the most challenging trail surfaces. This shoe will fit any woman that's eager to get on the trail. It comes with EVERUN top sole in full length, PWRFOAM mid sole and good flexibility. Peregrine is therefore also suitable for running on gravel and asphalt. The RUNDRY upper part transports moisture away in the best possible way.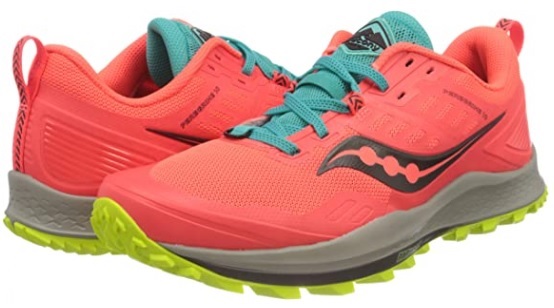 New Balance Women's Fresh Foam Arishi Trail V1 Trail Running Shoe
This widely used Fresh Foam Arishi Trail shoe for women with new technology has several improvements and is well prepared for the trails. This women's shoe has soft comfort and versatile performance with features like a toe-protective reinforced toe tip to protect the toes from rocks and dirt. In addition, it has sewing material on the upper side which keeps the fit light.
This shoe has a cool-looking appearance that also provides efficient performance with reliable tractions. Den har AT Tread technology that is utilized for the outsole unit. This layer is meant to shield the base of the midsole from the abrasive nature of the surfaces. It also has gripping lugs that act like clamps on uneven ground, but they have ends that are flat to help with road traversals.
Encourages energized lifts with the New Balance Fresh Foam Arishi Trail midsole made of Fresh Foam. This technology runs the whole length of the shoe, shielding the foot from impact shock during the landing phase and encouraging energized lifts during the toe-off part.
The sides have a pattern of shallow craters that can enhance the perception of bounciness. It's like the NB Fresh Foam 1080 series. The shoe has a sockliner made of ethylene-vinyl acetate (EVA) located just on top of the primary shock-absorbing unit. This feature is made so that the foot can encounter a soft surface to rest on. It can be removed or replaced with a new one if you wish.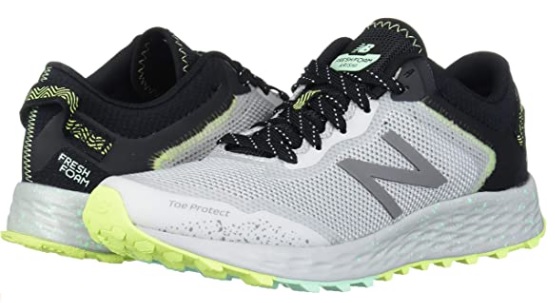 ALTRA Women's AL0A4VR7 Lone Peak 5 Trail Running Shoe
The shoe is excellent for runners who don't require additional arch support due to its zero-drop design and the shoe has also undergone extensive testing. The Altra Lone Peak 5 is one of the best versions there have been here for a long time.
With its foot-shaped design and well-cushioned underfoot, the Altra Lone Peak 5 stands out as a great shoe for long trails. The most recent version includes an improved stone guard, additional padding in the midsole without the weight being increased, and an upper that should be more durable. This popular shoe has long been a favorite of many runners and is frequently used because it's designed for safe comfort.
The shoe is excellent for runners who don't require additional arch support due to its zero-drop design and the shoe has also undergone extensive tests. The Altra Lone Peak 5 is one of the best versions there have been here for a long time.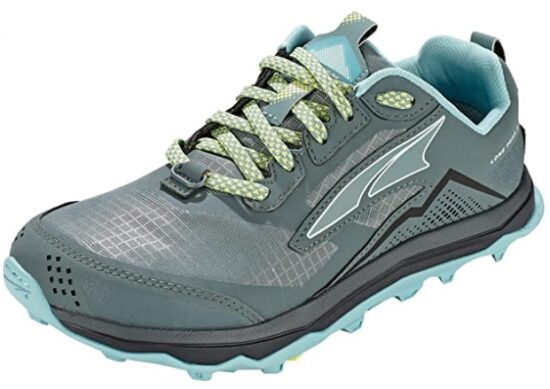 Saucony Excursion TR14 Women's
This shoe is very suitable for trail runners who have neutral pronation and is for easy runs. For Off-road and on-road adventurers in varied terrain as the next hiking or trail activities. The Saucony Excursion TR 14 has a new cushioning system that provides the trail running shoe its rebounding quality and encourages efficient energy return for speed.
A specific mesh that generates an adaptive fit around the foot for optimal security, preventing any slippage also in more demanding outer positions. Supportive overlays are welded on the upper unit to keep the foot locked in place. The perforations employed by the textile also enhance the in-shoe comfort felt by the runner. The strategic placement of tiny holes promotes airflow for an odor- and sweat-free ride. 
Saucony Excursion TR 14 is a lightweight shoe and as a supplement to the mesh upper of the Saucony trail running shoe are the synthetic overlays. These are extremely light and adhere to the featherlight construction of the platform, which impedes drag. We could say that this shoe is performance-ready on a budget.
It's loaded with top-notch technologies specific for trail runs, and still, this outdoor running shoe maintains a sleek and simple look. If you are looking for traction, impact-absorption and sturdiness, you can find them in this lightweight, affordable trail shoe.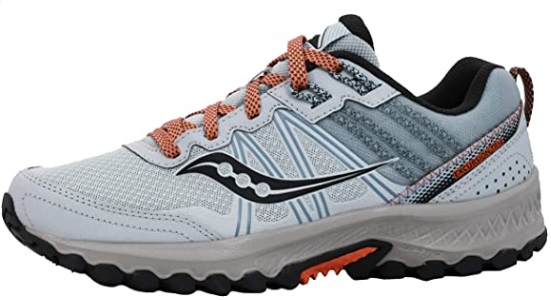 Final Thoughts
As you see, you can get started with fun and challenging runs in the woods and other Nature areas by using trail shoes. The best trail shoe for you is about how you want to run and the surface. So look for trail shoes that give you the best conditions for running in hilly and uneven terrain.
So, turn up the fun and challenging runs in the woods that provide effective training for the body and increased well-being. The best trail shoes are more resilient, generally heavier, and above all specially designed for the purpose. After starting your trail running journey you can also start looking for the best trail routes out there.
I hope you get something out of this post. If you have any questions about the topic or want to leave your own Personal review, please leave a comment below.
How do I choose trail running shoes?
Decide what kind of trail surface you mainly want to use them for. Ex. is it for muddy, root-filled, wet, or rocky trails? Then you can choose a trail shoe with a sole pattern (grip) and technical aspects that are optimal for your trail run. In general, a softer shoe provides more grip and feel.