Fitbit Charge 5 reliably tracks your workouts and other sports activities. Whether you are running, cycling, swimming, or working out in a gym, the tracker is ready to follow as your coach on the wrist. It has 20 different training modes for your favorite activity. When you try the new advanced Fitbit charge 5 fitness tracker bundle, you get a built-in heart rate sensor that measures your heart rate and heart rate zones directly on your wrist.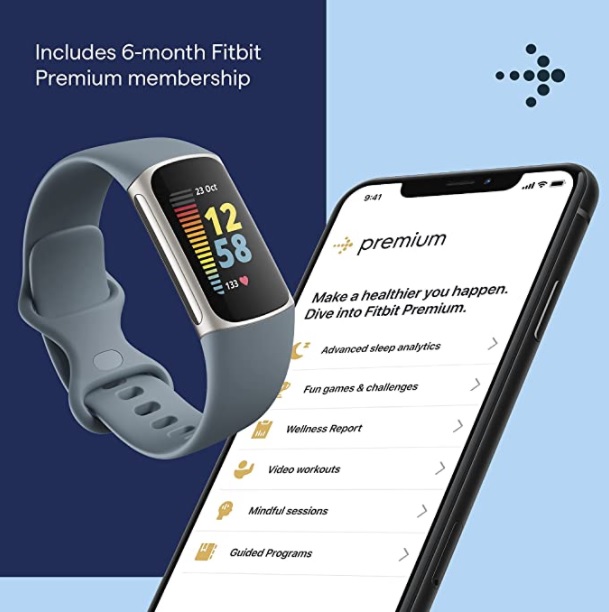 Fitbit Charge 5 Fitness Tracker Bundle – Design
Rounded design and a color screen – Fitbit's Charge 5, is the latest fitness tracker from Fitbit, and Fitbit's Charge 5, is the company's latest fitness tracker. It comes with a major design change in the popular Charge family since the first Charge HR, which came on the street in 2015.
Charge 5 is more slim compared to what has defined the Charge trackers earlier. It has a more rounded look, is more distinctively, looks smoother than it did before and is the first with an AMOLED color screen.
The Charge 5's screen is also about 10 percent larger than the Charge 4's and can achieve up to 450 nits of light against the Charge 4's 200 nits (Nits is a unit that measures brightness in terms of area). This means that the screen is easier to see when you are outside.
Fitbit charge 5 Cabinet
You can also choose to have the screen on all the time – which means you do not have to wait for the screen to light up just to see the time. You can actually clearly see the display/screen on a sunny day. Previously with the Charge 4 that was rather difficult.
Charge 5 has a Cabinet of stainless steel and a polished finish, as well as a good fit on the wrist which gives a modern, minimalist look. The design also expresses a lot that it's a tracker we have here.
It's narrow – not wider than the strap that holds it to the arm, and the display itself is elongated, and thus there are restrictions on the dials you can find for it. Most of them show the time, and then some summary of your daily activity.
So, the dials are fine and look ok, but there are not so many you can choose from – if that is important for you. The Tracker is waterproof up to 50 meters, which means you can use it in the pool, in the rain, on the beach, and other places.
Fitbit Charge 5 Fitness Tracker Bundle – First Impression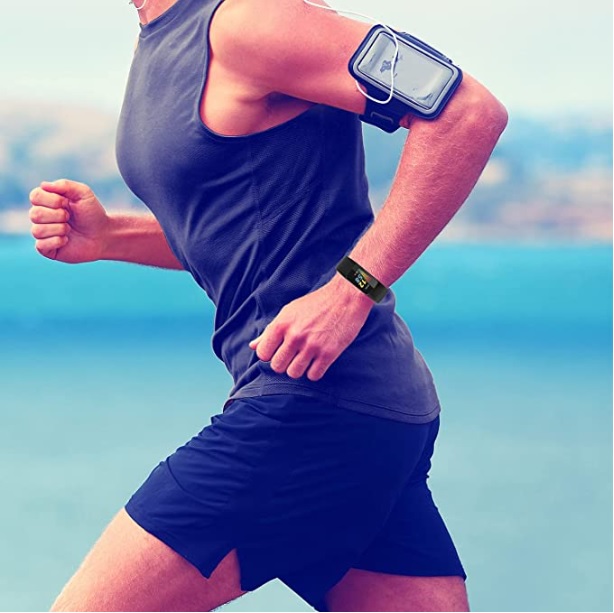 Where Charge 5 does really well is when it comes to tracking your activity and keeping track of your health. It measures very precisely what you do, it has a good detector when it comes to heart rate measurements.
So your training becomes reliable, and it is reasonably accurate when it comes to tracking your sleep pattern, where you over time can check your recovery status and plan your training from it.
The device uses automatic training recognition so you don't have to activate anything manually. The activity tracker also tracks your pace and distance precisely and in real time thanks to the built-in GPS.
It shows your training intensity on maps through its smartphone app. Swimmers in particular will appreciate the measurement of laps (lanes), distance and pace.
Fitbit Charge 5 Review of Your Training Supporter
In addition to being an excellent running supporter, it's your reliable friend for pretty much any other activity that can be measured today. You have the tool to make the best possible decisions for your body, your mind and your health.
So, you can run and set new goals by having hundreds of guided training sessions, a gallery filled with up-lifting mindfulness sessions as well as the training features you already know such as Active Zone Minutes. Your motivation and progress can be boosted a lot with Fitbit charge 5 on your wrist.
According to Fitbit, you meet their most advanced fitness & health tracker with tools like an on-wrist ECG app for heart health, EDA Scan app for stress management and much more. They also have a Support page with a great overview.
Fitbit Charge 5 As Your Health And Training Coach
Charge 5 has pretty much all the same features as Charge 4 in terms of sports and fitness tracking. It was largely a lateral move from one device to the next, rather than an increase in features (or loss of features).
However, the most important aspect of Charge 5 from a sports and fitness aspect is that you can actually clearly see the display/screen on a sunny day. Previously with Charge 4, it was quite difficult. Below are some of the most useful features for your health and training.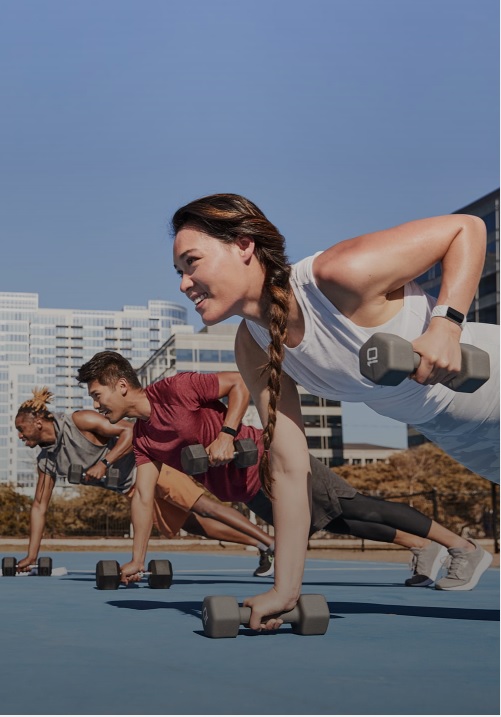 Daily Readiness Score
It will give better results to find a good balance between training and recovery rather than running all the time and maybe getting an injury due to overtraining.
With a Daily Readiness Score from Fitbit Premium, you will know what is best for your body. Every morning you get a score in the Fitbit app based on your activity level, your sleep and your heart rate variations.
You also get a personal goal for the day plus recommended training or recovery sessions, depending on what your body needs for that day. As you get in better shape, your results and your daily goals are adjusted.
EDA sensor (electrodermal activity)
You can enjoy the freedom to improve your mental and physical well-being anytime, anywhere. With regular EDA sessions on your Charge 5, you'll learn to understand where your body responds to stress over time, then you can begin to build a mindfulness routine and take steps to improve your mental well-being.
Start a personal mindfulness routine with the help of your EDA app. Clinical studies show that a mindfulness practice such as Meditation is effective in relieving stress.
Stress monitoring score
Get control of your stress. With a daily stress monitoring score, it becomes easy to find out if your body is showing physical signs of stress. A high score? You show fewer signs of stress, so keep it that way! A low score? You need to change some things and find a better balance such as meditating or going for a walk.
High and low heart rate notifications
Your heart rate is a key indicator in relation to your health in general and your training condition in particular.
If e.g. your resting heart rate is too high in the morning when you wake up compared to your normal "morning heart rate" you are probably getting into overtraining. So, get notified when Charge 5 detects that your heart rate is either above or below normal.
Fitbit Charge 5 with Built-in GPS & Heart Rate Accuracy

See pace and distance in real time without the phone using the built-in GPS when you run, hike, bike, or anything else, and then get a map of your training route in the Fitbit app. If your phone is nearby, Charge 5 will automatically connect to your phone's GPS to extend your tracker's battery.
After your training outdoors with GPS, you can check your training intensity map in the Fitbit app and hereby check your pace and your heart rate zones along the way, so you can find out where you have trained most effectively and other notifications.
HRM 24/7 with PurePulse
Track your calorie consumption and optimize your training with continuous heart rate monitoring with PurePulse, then see trends for your resting heart rate and your cardio training level (VO2 Max) in the Fitbit app.
With Active Zone Minutes, you can get the desired results with every single training. Active Zone Minutes uses your heart rate to guide you to your desired intensity level – and helps you keep it there. It'll raise your motivation too.
Cardio training
Find your maximum VO2 – a measure of how well your body uses oxygen when you train. Keep an eye on your score and see improvements over time.
With Oxygen Saturation monitoring (SpO2), you can also keep an eye on SpO2 – the content of oxygen in your blood – to find out when there are indications of significant changes in your general state of health.
Monitoring of skin temperature
Stay informed about your body using Charge 5 and nightly monitoring of your skin temperature. As your temperature varies from your starting point in your Health Metrics dashboard, you become more aware of potential signs of changes in your body.
Sleep pattern, menstrual cycle, room temperature, potential fever or even your bedding can cause these changes. However, this feature is not available in all markets. Large changes in ambient temperature can also adversely affect your skin temperature monitoring.
Health Metrics Dashboard
Check and Track SpO2 – the oxygen content of your blood – as well as heart rate variations, changes in skin temperature and much more.
The Health Metrics Dashboard and the measurements on this dashboard are not available in all countries and this feature should not be used for the diagnosis or treatment of medical conditions and should not be used for medical purposes. The purpose is to provide you with information that may help in monitoring your health condition.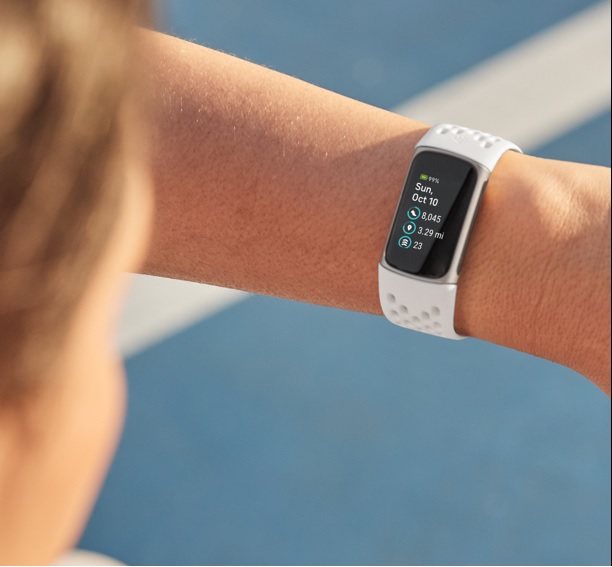 Fitbit Charge 5 Sleep Tracking
Fitbit Charge 5 tracks your steps and training, which provides a good motivation to get in shape or stay active. But when you wear it to bed, you can gain unexpected insight into your health thanks to a feature called Sleep Stages.
Your Fitbit can calculate your heart rate variation while you sleep, and the device uses this data to determine what stage of the sleep cycle you are in ex. light, deep or REM sleep.
You do not need to enable any settings; your Fitbit automatically tracks your sleep. However, you must carry the device for at least 3 hours at a time, which means that Fitbit does not track when you take a nap.
When you sync these data to the Fitbit app, you'll see how long you slept, what stage you spent the most time in, and how it compares to your own benchmark and with other people in your demographic.
These data may be surprising: You may find that you do not get as much sleep as you thought you did. You can also find out what happens when you e.g. have trained too hard or too light.
So, the Charge 5's sleep tracking and features will be accurate and useful for improving your sleep cycle. It tracks interesting data like the time spent in your sleep phases (deep, awake, light, restless and REM), your heart rate, and estimated oxygen variation – which can be a sign of breathing challenges while sleeping.
Ex. Restless sleep indicates that you moved in your sleep, like tossing and turning. If your device doesn't track heart rate, you can see your sleep pattern in the Fitbit app.
Final Thoughts
Fitbit Charge 5 is probably the best fitness tracker today. Although the Charge 5 is slim and compact, the tracker keeps an eye on most things.
As you know now, it of course counts your steps and maps your training with the GPS, it measures your heart rate, measures your stress level with an EDA sensor, monitors your sleep pattern and will in the long run also contain ECG information and calculate a so-called "Readiness Score".
The latter should help you understand the patterns of your training, sleep and otherwise in combination give you the optimal conditions to be active. You can use Fitbit Charge 5 manual for more detailed info.
Is Fitbit Charge 5 the best fitness tracker?
Fitbit Charge 5 is probably the best and most comprehensive fitness tracker. Fitbit Charge 5 reliably tracks your workouts and other sports activities as your coach on the wrist. The tracker keeps an eye on a lot of things, with the best features - ready to support you.
fitbit charge 5 fitness tracker bundle
$128.95
Pros
Excellent companion mobile app
Sleep tracking and sleep score
Supports mobile payments
Up to 7 days of battery life
Cons
small screen size
Clock faces aren't customizable
Limited exercise shortcut list