The great Garmin forerunner 245 music for training is a new and improved version of the extremely popular Forerunner 235 running watch. The Forerunner 245 Music is a light and elegant running watch, which is the perfect choice whether the goal is to run 5 km. for the first time or to set a new record for the marathon distance.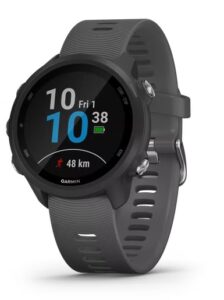 The Forerunner 245 Music has got pretty much all the excellent workout features and even some of the music features from the Forerunner 645 Music. They also got some features from the Fenix 5-Plus series as well as some brand new features, so all in all this is a brand new watch for a very advantageous price, seen in relation to how much it can!
The Garmin Forerunner Series
Is the series from Garmin which is primarily aimed at the runner. Garmin has a motto that if you want to train like a runner, then a Forerunner watch is for you. The series possesses many things and functions. And that's what makes it so attractive.
Because it is not only GPS watches for professionals that are manufactured. They also make watches that are perfect for the exerciser who may not have quite the same requirements as the top athlete.
Garmin Forerunner 245 music is Great for Multisport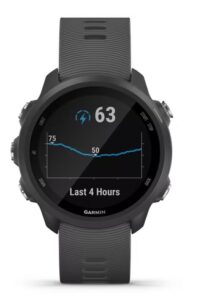 The Garmin Forerunner 245 is more for multisport. Probably the only thing that should keep people from calling the Garmin Forerunner 245 a multisport watch is the fact that we can not make this automatic switch and comparison between sports like e.g. Triathlon.
But then you can use Physio TrueUp which in the short version means that you can use several compatible devices during training etc.
Then it all comes together in one file/workout. The Garmin Forerunner 245 has added so many cool details that it would be wrong to just call it a running watch. There are lots of excellent features for both those who want to cycle and swim.
Garmin Forerunner 245 Music – Improved Race Predictor
If you've had a Garmin watch in the past with the Race Predictor feature, you have probably wondered about the super optimistic running times that Garmin believes you should be able to perform.
In the past, Garmin has just taken as a starting point age, gender, and VO2-max, and calculated what you should be able to perform on the half marathon and marathon. However, it has always shot right next door, at least with everyone I know.
If you can run a very fast 5k, Garmin assumes that you can perform similarly well on the marathon distance completely without having the necessary kilometers in your legs to be able to keep a high pace for such a long time.
The Garmin Forerunner 245 Music has got a new and improved version of the Race Predictor, which now ALSO takes into account your basic form, ie the number of kilometers you have trained.
It provides a far more realistic picture of what you will be able to accomplish over longer distances. There is no doubt that the race calculator today in the Garmin Forerunner 245 is upgraded perfectly.
Garmin Forerunner 245 Music – Major upgradings
Strength training plans (Fitness):
You can create and follow strength training plans on the watch. Make them via Garmin Connect, and load them up to the clock. Great feature and super easy.
Better screen resolution in general:
It is only an advantage that you can see better and more. And so the pixel update of the screen on the Forerunner 245 is a welcome move.
Color display (General):
Nobody bothers to see black and white. It's now also a long time since it's been on. But overall, the colors of the screen seem very nice.
Sunrises and Sunsets (Clock Features):
It may seem crazy to pull out a feature like this when looking at many other technical features of the Garmin Forerunner 245. but when you are a hunter, it is with sun and and sunsets a significant factor, so it is actually a feature there used part of many.
Pulse OX sensor (Sensors):
The advanced heart rate measurement via the wrist. This is the version where oxygen saturation in the blood is also measured, and based on this, data on your well-being can be displayed. Not a feature everyone uses, it sounds smart, but can not say how accurate it is.
The function is probably more reserved for people who move in the heights. And the oxygen saturation can only be measured when standing still, so the night is an obvious choice.
Connect IQ – personalization (Smart features):
The app where you have the opportunity to personalize your watch. You can, for example, download your own dial to the watch, and in that way get the information you want.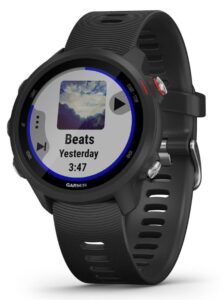 Find phone/watch (Smart function):
It's just smart if now you should be so unlucky not to be able to find phone and or watch.
Garmin Connect connection (Smart function):
We will not fail to mention this feature. That's the basic essence of why I think Garmin's watches and other devices work so well. Easy to use and gives you a great overview.
Sleep monitoring (Activity function):
The watch keeps an eye on sleep mode. And come up with optimization suggestions based on this data.
Recovery recommendation
When the watch knows your training data, your sleep habits and everything else. Then the Garmin Forerunner 245 can come up with pretty accurate recovery recommendations for you after training. It is important to recover. This is where you get better and stronger.
Point to point navigation (Outdoor):
You can get help with navigation.
Back to start (Outdoor):
Should you be so unlucky as to get lost. Then there is a back-to-start function. Then you can always find back.
Tracks (Bicycle):
You can compete against your own activities. Nice if you want to measure if you have improved.
Running Training Plans 
As with strength training plans, you can of course also throw running training plans into the clock. Then it all just becomes much easier and more manageable.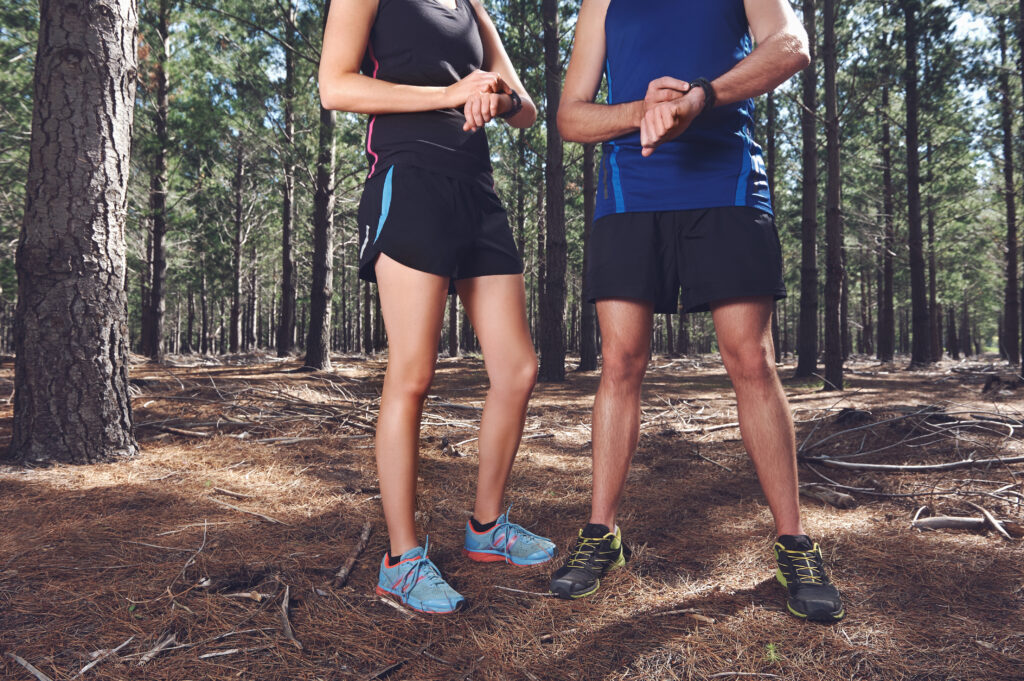 News in the Forerunner 245 Music Compared To The Forerunner 235
Built-in music player for Spotify, Deezer, or MP3 files with space for 500 songs
Wifi
Running Dynamics
PulseOx oxygen saturation sensor
New Elevate V3 heart rate monitor
24-hour battery life with GPS
Registration of stress
Better display with 240x240pixel (before 215×215)
Body Battery
Route navigation (with bread crumb tracks)
Garmin Coach (free training plans from Garmin Connect)
Pool swimming workout mode and drills
Strength training with counting repetitions and sets
Configurable "lap" banner
Compatible with Bluetooth sensors
Compatible with Garmin Varia lights
Galileo GPS system
Accident detection / crash detection while cycling
Assistance function – send alert to contacts
UltraTrac mode with longer battery life
Training load, status and effect
Better prediction of finish times in races
New and better ways to configure data pages
Garmin Forerunner 245 Music Is Essentially A Running Watch
As the list shows, this is more of a brand new watch, more reminiscent of a Forerunner 645 Music than the Forerunner 235 in features – just at a lower price.
The Forerunner 245 Music is still essentially a running watch. It has added more excellent running functions, measurements and training functions, which make it possible to use the watch for more serious and targeted training than before.
But the Garmin Forerunner 245 is not just a running watch. It has got super good functions for both cycling, swimming and indoor training, so it must eventually be described as a multisport watch. And it's also qualified as the best running watch for the price?
The Garmin Forerunner 245 Music has added a bead of excellent training features that have so far been unseen in a running watch in this price range.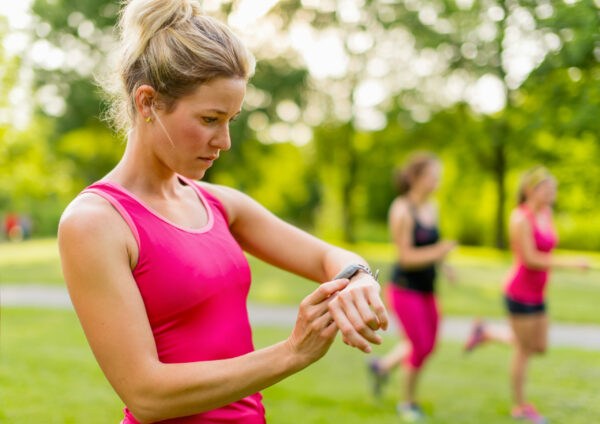 Garmin Forerunner 245 Music in action
The Garmin Forerunner 245 keeps track of your training status and keeps track of whether you are in undertraining, overtraining, or just maintaining your current fitness level. The watch comes with recovery recommendations after each training session so you can optimize your recovery.
You can go even more in-depth and see more about your training effect. It tells you something about which parameters of your physique you improve during each workout – aerobic or anaerobic base.
All data is collected in a training load which gives an overall conclusion of the last 7 days of training and tells how you have performed and what can be improved.
As something new, the Forerunner 245 has become even better at calculating your current shape level and progress through VO2max. The watch has started to take heat and altitude acclimatization into account when assessing your VO2max.
With Running Dynamics, optimizing your running style and running economy has never been easier. Running Dynamics requires the use of a sensor that supports this data – it can be the HRM-Run or HRM-Tri heart rate belts or the Running Dynamics Pod.
Running Dynamics measures these 6 data:
Running cadence – steps per. mine.
Time with ground contact
Time with ground contact right/left balance
Step length
Vertical swings – measures the height of the "jump" at each step
Vertical ratio – the ratio between the stride length and the vertical fluctuation
Running Dynamics provides a good insight into your running economy and is a super cool feature for the runner who loves data.
Music player with Spotify, Deezer and MP3 files!
With the Garmin Forerunner 245 Music, you can leave your mobile at home and still hear music on the go. The clock has room for 500 songs.
You can sync your offline playlists from Spotify or Deezer via the built-in WiFi in the watch or by simple connection with the USB cable. If you do not use streaming services, you can also transfer your MP3 files to the watch through the Garmin Express program.
The watch is compatible with all Bluetooth headphones (not included).
More safety and security than ever before!
The Garmin Forerunner 245 running watch features the all-new Assistance feature. It allows you to send a message with a warning and your current position to a number of pre-entered contacts with a single touch of the clock. It creates greater security when running alone in that you can always get help if you have an accident.
Garmin accident detection, first introduced in cycling computers, has also found its way into the Forerunner 245. It is a feature that can detect if you crash on your bike and can then automatically send a message with the position of the accident to friends or family. In that way, you are safer on the roads if you are out alone.
Last but not least, the watch includes LiveTrack, where you can share a link to your live position during running, cycling and other activities with friends and family.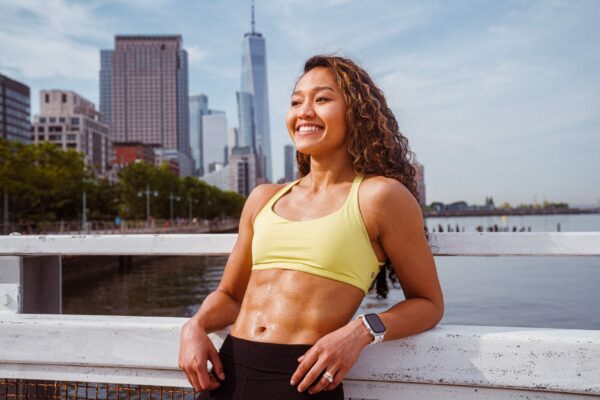 Garmin Coach Training Programs Directly on The Watch
With Forerunner 245 Music you can download free training programs from Garmin Coach made by professional trainers. There are training programs for all levels based on what goals you have with your run.
When you download a Garmin Coach training program, you will be guided through all training sessions and intervals directly on the watch.
In addition, you can design your own training plans and synchronize them with the Forerunner 245 watch, which will then guide you through the run.
Activity data with measurement of stress and energy level
The Garmin Forerunner 245 is certainly not just a sports watch. It is also very suitable for everyday use, where it offers an activity meter and a wide range of smartwatch features such as weather forecast, calendar and smart notifications.
The Forerunner 245 features Garmin's most advanced activity tracker to date. The clock naturally counts all the current data such as the number of steps, distance, calorie consumption and sleep monitoring.
In addition, the watch also measures heart rate throughout the day, so you can keep an eye on your heart rate and average heart rate. The Forerunner 245 also includes the Body Battery feature.
It constantly tells the body's energy level on a scale of 1-100. The Body Battery number is calculated based on stress level, HRV (heart rate variability – the frequency between each heartbeat), sleep quality and amount, recovery and physical activities performed.
In other words, it is all the physical measurements and activities on the watch that are gathered together into one number, which shows how fresh, clear and obvious you are at all times of the day.
The daily registration of stress tells on a scale from 1-100 how stressed you are. The number is based on HR variability, which is the frequency of each heartbeat. It can be affected by both physical and emotional factors, so functions provide a good picture of the body's current stress level.
Is Garmin Forerunner 245 Music worth it?
Garmin Forerunner 245 Music has it all with tons of great features at a very affordable price. Ex. This GPS and heart rate watch stores up to 500 songs and syncs your playlists from selected music streaming services to your watch. Garmin Forerunner 245 Music combines joy, exercise, and motivating data reading.
Garmin Forerunner 245 Music, GPS Running Smartwatch
$204.99