Garmin Forerunner 45 gps should take the award as the best budget running watch you can get today. In Garmin Forerunner 45 GPS Running Watch With Great Features, You'll experience a watch that has an appealing design and a number of excellent new features such as a heart rate monitor, personal displays, Assistance function, and give you the ability to follow structured training or even entire training plans from your wrist.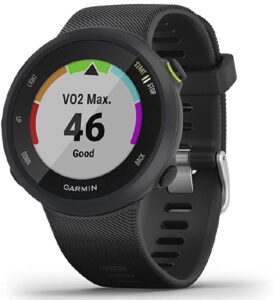 Garmin Forerunner 45 – Two Sizes
The Garmin Forerunner 45 is released in two sizes, 45 and 45S, which have 42 mm and 39 mm screen sizes respectively. Besides this, they are completely identical. The Watch is an upgrade to the earlier and also budget-friendly Garmin Forerunner 35. With a new look, rounded screen, and color display, they look more like a traditional watch. It still remains a solid fitness tracker in particular for runners.
Garmin Forerunner 45 With a New User-Friendly Menu System
One of the major and most important changes compared to the Garmin Forerunner 35 is that the Forerunner 45 has got a new menu system, and at the same time has added from 4 physical buttons to 5 physical buttons. The menu system is now the same as used in the much more expensive Garmin watches. The extra button and the new layout make a huge positive difference. It is far more intuitive and very user-friendly.
Garmin Forerunner 45s is compatible with your smartphone
To get started using the Garmin Forerunner 45, you download the Garmin Connect app to your smartphone. When you open the app, you first need to create a Garmin account, and then you will be guided step by step through the setup of the Garmin Forerunner 45, which is easy and straightforward. The Forerunner has features for your compatible smartphone by using the Garmin Connect app.
Here is a short video Initial Set Up Forerunner 45 
The Garmin Connect app is the place to set up your watch, but this is also where you get all the training and activity data that the Garmin Forerunner 45 collects. Activity transfers, interaction with social media, and training downloads are also included here.

Structure Your Running Training With Garmin Forerunner 45s
A great feature of the Garmin Forerunner 45, and something that sets the watch apart from other smartwatches is the ability to transfer training sessions directly to the watch. And subsequently, be guided through the run – while you run.
If you already follow a training program, you can easily create the individual training sessions in Garmin Connect and transfer them to Garmin Forerunner 45, thereby optimizing your training options.
Interval-based training sessions are good to follow at least once in a while to improve your performance. Garmin's training planner works excellently here. Forerunner 45 ensures that you run the right distance/time and at the right pace – and you do not have to keep track of times, pace, etc. It gives greater freedom to the actual execution of the training.
Along the way when you run, the watch will alert you when there are 5 seconds until the next "step" begins. The Forerunner 45 runs a beeping countdown of 5 seconds. The screen then shows what you need to do now. It's a smart feature that works really well!
In that way, you are sure to run the intervals at the selected pace. So, you avoid completely having to keep track of when there is a break and when to run. You really just have to do what the Watch says.
Garmin Forerunner 45s Run/Go function – Excellent for Newbies
If you are a complete beginner in running, a large part of your training should consist of walking. You can with benefit switch between running and walking on your training route. Under "alarms" on Forerunner 45, you will find a smart running/walking function, where you can enter how long you want to run and how long you want to walk.
When you then start your training, the watch will vibrate and beep when it is time to switch over to running or walking.
Garmin Coach – FREE Running Programs Adapted To Your Activity Level
If you find it too demanding to create training- and running programs yourself, then Garmin has a solution with their GARMIN COACH feature. As I see it, Garmin Coach will be great for the beginner who wants to get started with running training, or more experienced runners who want more structure in the training, and then focus more on the actual execution in practice. Garmin has a team with some of the world's best running trainers, who have designed a series of training programs aimed at the 5 km, 10 km, and half marathons. And you can choose to follow them.
Forerunner 45s Garmin Coach – In action
When you start the first training session, you will be asked to perform a short "Benchmark Run" to give the Garmin Coach a hint about your current shape. Based on this run and your entered information, Garmin Coach then generates an individual training program for you.
The individual adaptation continues. Because after each training session, you have the opportunity to assess the degree of difficulty of the completed run, while Garmin simultaneously assesses how you managed it – and how your shape develops. Based on this, the progression of the training program will be continuously adjusted so it's neither too easy nor too hard but matches your level.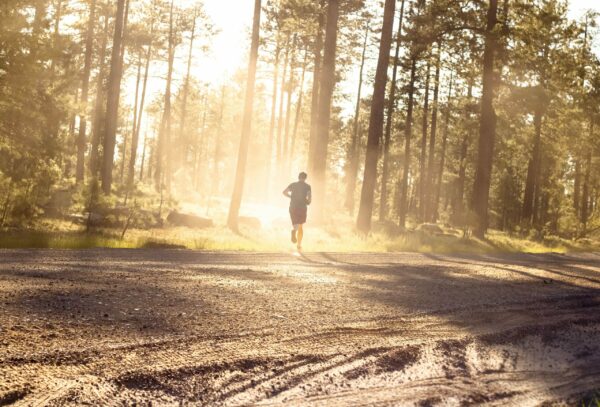 Garmin Forerunner 45 GPS running watch statistics after training 
After a run, a short summary of the run is displayed, including your current VO2max, which is an indirect expression of your shape or your fitness. The watch shows you all the basic information such as time, distance, average heart rate, calories, number of steps, and lap times. It is the most needed info.
When you get close to your smartphone, the run will be automatically transferred to Garmin Connect , and here you can see many more details, study, create scenarios, training zones and statistics!

Garmin Connect
Garmin Connect in general is Garmin's online universe for both computers and smartphones, where all data collects in the cloud, and all activities such as sleep, steps, physical activity, and much more are gathered in a manageable way.
Garmin Connect is more than just a gathering place for data. In Garmin Connect, you have the opportunity to challenge friends and family in disciplines and competitions around the world. Upload your activities to the Garmin Connect app to interact with a thriving online training universe where people can connect with each other and compete – and even share their triumphs via social media.
Some Important Features of Garmin Forerunner 45 

Available In Two Sizes
Forerunner 45S on 39mm and Forerunner 45 on 42mm. The Garmin Forerunner 45 series is the successor to the popular Forerunner 35, but has received a total makeover in both functions and design – and is now also available in two sizes.
GPS + GLONASS + Galileo Satellite Systems
GPS records pace, distance, intervals, and much more, so you have concrete evidence that you control your activities yourself
Color screen and rounded display
It looks impressive on the dial when you switch between the different dial choices – see also the image above.
Interval Training
The watch has a built-in optical heart rate monitor, which can measure the heart rate directly on the arm and it can also be used for interval training. You must set run/walk intervals before starting the interval session. Then you start the timer for running. After the intervals are completed, a message is displayed.
Training planning and programs on the Garmin Forerunner 45
Via Garmin Coach, you can send an adaptive plan to a compatible Garmin watch. Then you can choose a training expert running coach and your race goal, then receive guidance with a free training plan.
Garmin Coach Training Programs.
With Garmin Coach, you always have a personal running trainer by hand. Choose from 3 trustworthy coaches to guide you on your journey: Pt. Olympic participant and bestselling author Jeff Galloway, physiologist and online running coach Greg McMillan, or physiotherapist and running expert Amy Parkerson-Mitchell.
Take the road toward success with the free Garmin Coach Adaptive Training Plan feature.
Garmin Connect IQ Personal Displays
Download custom displays, add data fields and get apps and widgets from the Connect IQ Store.
Accident registration /incident detection
If you do not feel safe, or if your watch detects that an incident has occurred, the Help and Event Detection features can send your location to emergency contacts.
Assistance Function
When an event is detected on your device, Garmin Connect can send your name and location (if available) to your emergency contacts. Your location is determined using our LiveTrack location tracking feature.
Garmin Forerunner 45s Speed/Pace Alarm
The feature makes it possible to have a customized strategy for your tempo/pace, which you can follow on the watch along the way. By custom means, Garmin takes into account increases and decreases on the route in relation to where you need to increase the speed and take it easy. All the time with the goal of hitting your desired end time.
Registration of stress
Find out if you are having a calm, balanced or stressful day. Relaxation reminders will even ask you to take a short breathing activity.
VO2max calculation
To generate a VO2 max. you have to run above 70% of your max. heart rate for 10 min. Outdoors (GPS signal), so the activity is registered by the watch, which then estimates your VO2 max.
Heart rate measurement 24/7 With new Elevate V3 Optical heart rate monitor
Measures the heart rate of the wrist. It's easier to follow the heart rate by simply turning the wrist and looking at the display while running than having to stop the run and measure it manually with two fingers on the wrist.
Body battery
Keep an eye on your body's energy level so you can find the best times for activity and rest.
More sports profiles on the watch
Switch between your training sessions with activity profiles for cycling, treadmill running, indoor running, elliptical training, cardio, yoga and much more.
Waterproof: up to 50 meters (5 ATM)
There are several activity profiles, including swimming and with great waterproof, you can dive with a snorkel without problems with the watch.
The battery lasts up to 7 days in smartwatch mode and 13 hours in GPS mode
You have several options for maximizing battery life, including reducing the time before the backlight goes out.
Final Thoughts
The Garmin Forerunner 45 is a surprisingly well-equipped budget-class GPS running watch. Forerunner 45 has "taken" features from far more expensive Garmin watches. It's primarily aimed at newbies or exerciser who wants to track their running training and daily activities without spending a fortune.
The watch is very user-friendly, and it can do far more than expected from a watch at this price level. So, I think the vast majority of runners actually will have their needs met with the Garmin Forerunner 45.
This is largely due to the fact that the Garmin Forerunner 45, as mentioned, has "taken" a number of features from Garmin watches that normally are much more expensive. The Garmin Forerunner 45 is an affordable running watch that is especially recommended for the beginner and exerciser who wants a relatively simple run.
Overall, we have to say that Garmin with their Forerunner 45 hits the desired target audience. We can really talk about Value for the Money.
Can you wear Garmin Forerunner 45 in shower?
Yes! Garmin Forerunner 45 is Waterproof up to 50 meters (5 ATM), and there are several activity profiles, including swimming and with great waterproofing, you can dive with the Forerunner 45 and snorkel without problems.
Garmin Forerunner 45, 42mm GPS Running Watch with Coach Free Training Plans
$139.00