This post is about Marathon training – and running. There are many types of watches you can use for this purpose and they have many names like sports watches, running watches, heart rate monitors, fitness trackers, activity meters, smartwatches, etc. But to make it simple, we will guide you through how to choose the best marathon Sports Watch, a very relevant tool.
It's about the opportunities, so you can choose the type of watch that fits your needs. Sports watches and heart rate monitors are two sides of the same case, as they are used to measure speeds, distances, calorie burn, and heart rate, which makes it easier for you to optimize your training.
Typically, there will be more functions in a sports watch – for example, a heart rate monitor measured on the wrist – which is why these watches also are more expensive than heart rate monitors.
Sports watches are for the more demanding person or gadget enthusiast who wants even more features. Whether you choose a sports watch or a heart rate monitor, they are both ideal helpers to create better training results.
A Sports Watch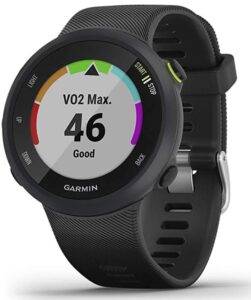 Is a watch that supports you in your sports activities with tailor-made programs e.g. running, cycling, swimming, or cross-country. The most important features of a sports watch are GPS and heart rate measurement.
The GPS feature maps your training routes when running and gives you easy access to pace, average speed, distance, etc. The heart rate monitor continuously records your heart rate and thus gives insight into how hard you load your body.
Some Sports watches have a built-in heart rate sensor and measure your heart rate on the wrist, while others come with a separate chest strap that measures the heart rate. Sports watches are often very sturdy and both dust and waterproof, so they can keep up with an active lifestyle.
A sports watch can give you extra motivation to get out of the door to run and help you train the right way. During the running, you can choose to see your pace, distance, heart rate and other things that you might think useful.
After the training, you can analyze your training online for example on Garmin Connect if you e.g. have a Garmin Forerunner and there is a lot of information available if you are a bit nerdy.
Even when don't run, the sports watch is a useful tool for a healthier everyday life as it can measure resting heart rate, sleep quality and general movement throughout the day.
We choose a sports watch when we primarily want to track and improve our training. If you love looking and nerding with a lot of data, you can choose one of the more advanced models. If you just want to keep a log of the kilometers you run or the routes you cycle, you can choose a cheaper model.
Sports Profiles
Your choice of a watch should depend on which sports you practice. Our purpose is Marathon training but for some of us like myself, I also use my sports watch for swimming and cycling as I can no longer run as much as before.
All sports watches come with some preset profiles tailored to various activities such as running, biking, golf or strength training.
When running, the watch will show speed, distance and time, and when swimming, the watch will also show swim data. Often you can add profiles manually or download other profiles through an app, but it's best to check that the watch fits your sport.
Heart rate Measurement In Sports Watches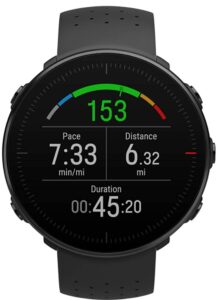 Most sports watches have heart rate measurements either built into the watch as wrist measurements or externally as a heart rate belt. Heart rate training is really something you need as a runner particularly if you're serious about your Marathon training.
You want to measure the intensity of your training, which is necessary if you have a race goal in the future, because you want to manage your training, so you can peak on the day and you don't want to get in overtraining just because it's fun running with high intensity.
Whether you need a sports watch with a built-in heart rate monitor or with a heart rate belt can be a matter of taste. There are pros and cons to both. The technology in the heart rate belt is a bit more precise particularly when you run intervals but a heart rate belt can sometimes sit badly, and be impractical whereas the built-in heart rate monitor is always there on your wrist.
GPS SportsWatch and navigation
With GPS, you can map your training route. You can either use the GPS feature to see where you were, as the route is marked on the chart and analyze your training later. Or you can use the feature live while running to show the way. Some sports watches can show you a complete map so it's easy to navigate in the right direction.
Others show a more simple map where you only see a poor picture of your route and again others just show in which direction you came from and in which direction your starting point is. Choose what suits you best.
Several sports watches also have a built-in barometer that can measure pressure at different altitudes. This can be very smart if you are skiing, climbing mountains or jumping a parachute.
Music player
Some sports watches have the ability to store and play music via Bluetooth. In that way, you can leave your music player or mobile at home when you run and enjoy music directly from your wrist. The quality isn't like a real music player with earbuds, but it can be okay anyway.
Health
In addition to measuring your activities, your sports watch can also help you take care of yourself. Several sports watches can track your sleep and hereby help you sleep better, or help you deal with stress through breathing exercises. Most watches also have an activity sensor that detects when you sit still too long and reminds you to move.
Apps compatibility
When you finish the training, you can relax while analyzing your results and watching your progress. For many, this is one of the best and most motivating things about having a sports watch. Many independent apps can help you get an overview of your training, among the most popular ones, are Strava, Garmin, Runtastic, and Runkeeper.
Several manufacturers also have their own apps, such as Garmin Connect and Polar Beat. Before buying a watch, it is a good idea to check the app's compatibility with the watch and whether they meet your wishes.
Screen and buttons
A sports watch must be easy to operate as you do not have time to make a lot of mistakes with the touchscreen when you run intervals. Therefore, it is better if the watch is operated with buttons as they are easier to reach and operate than a touch screen, which can be cumbersome if you have cold or wet fingers, wear gloves or just don't have time to look down on the watch too long.
The screen itself is limited in size. For that reason, it's more important that the screen is easy to see – even in sunlight. You can usually set different backgrounds who can help you with visibility.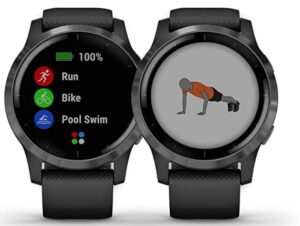 Battery charging
By using features such as GPS and heart rate monitoring will drain the battery, so if you want to use the watch for many hours at a time, such as on a long LSD run, battery life is extra important. However, you can of course turn off these features if you want to save power. For regular training of a few hours, all sports watches have enough battery power.
So, it will be a matter of how often you want to charge it. Also, notes that if your watch is connected to your phone via Bluetooth, either to get notifications about email, calls, etc. or to transfer data to an app, it also has an impact on the battery power.
Type of strap
For training, it is best to use a rubber or silicone strap that can withstand sweat and does not bother or irritate the skin. It will be a good idea if you can try having a watch on your wrist just to feel what is most comfortable for you. The watch has to sit relatively close, to give the best measure of heart rate with the built-in heart rate monitor, so it must sit well.
However, the watch strap can be replaced on many models. So, you can change the strap often if you want. Maybe you want a more stylish metal or leather strap at work or just more colors. Rubber and silicone straps are also easy to clean with soapy water after a particularly sweaty or muddy training session.
Water resistance
Most sports watches are water-repellent, but check the individual product just to be sure. A low IP certification can do it okay with sweat and a run in rainy weather. If, on the other hand, you have to use it for swimming, you need to find a sports watch with higher IP certification.
If you need to use the watch for diving, you need to pay extra attention, as the watch also must be able to withstand the pressure. Also, be aware that the waterproof may vary depending on whether the watch is in salt or chlorine water.
Conclusion
With a sports watch on your wrist, it is easier to keep track of your daily activity level, your training and even your sleep, because the watch measures your movements, your heart rate and a number of other parameters that give an image of your current physique and health.
I hope it's clear that if you are serious about your marathon training it is a must to have a sports watch or smartwatch. To manage your training and progress you can upload every training session and go online to check results, personal records and so on and if you are good at statistical material, you can very likely peak at the right time for a race in the future.
If you are an online shopper like me, I hope you like this post and if you have any questions about Sports Watches or want to leave your own Personal review, please leave a comment below.
How do I choose the right sport watch?
Consider why you want a sports watch. Each sports watch is designed with a purpose. Are you a Swimmer or a runner? Beginner or experienced, or do you need an HRM belt or wrist-based HRM...? Garmin Forerunner 55 is a good choice if you're beginner in running.