Experience the ultimate combination of weight, cushioning, and the BOOST effect. The amazing energy you have always wanted. Examine the technology behind the Adidas men ultraboost 21 running shoes for best comfort and discover how elements like the Adidas Torsion System have been further developed. The new Torsion System is 15% stiffer in the forefoot to give you a more resilient and structured run. It's really something that is experienced as a difference and also makes your daily training more fun.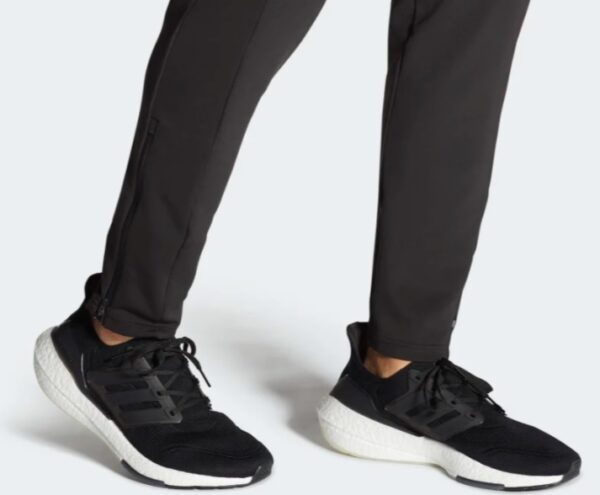 Adidas Running shoe intro
It is said that Adidas earned its position in the footwear and sportswear industry by staying true to what motivated its founder, Adi Dassler. About a hundred years ago, he listened to athletes and decided to make products that met their needs.
Dassler started a shoe company in Herzogenaurach, Germany, in 1924, and he achieved his first success with running shoes shortly after Lina Radke with Dassler's running shoes won a gold medal at the Olympics in 1928.
Jesse Owens repeated this feat in 1936. Dassler's commitment to innovation and performance became a hallmark of the company. He named it Adidas in 1949, making the three-striped brand a well-renowned name.
Adidas is thus today a legendary brand, one of the major players in the market when it comes to sportswear and fashion. The German brand will always be a great inspiration in the sports world. The street culture has also always benefited from, for example, Adidas Originals, which offers cool sneakers and cool clothes.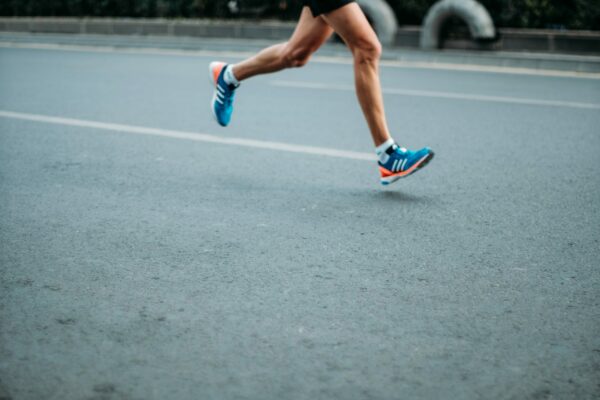 Adidas Boost technology
Adidas Boost technology is a product of the Adidas Innovation Team (AIT) and German chemists from BASF. It was created to reconcile the previously conflicting benefits of e.g. soft and resilient cushioning. At the time, EVA foam was the industry standard in high-performance running shoes.
Adidas Boost has become a light foam material, which is more durable than the previously used sole EVA, and which is cushioning on a level with previous technology. In addition, Boost is temperature neutral. This means in practice that there is no noticeable difference in the properties of the sole when running in e.g. 30 degrees Celsius or minus 10 degrees Celsius.
The Boost material doesn't get hard in cold weather, like other midsole materials. For you, a harder midsole means you are running in a completely different running shoe. Therefore, it is a big step forward in introducing this type of consistency of the material.
Adidas Boost is the common name for the midsole developed by Adidas, which was launched in 2013. According to Adidas' own expression, it became a revolution in the technology used in the sole of running shoes.
For decades, Asics, Adidas, Nike, and a number of other running brands have used the EVA technology – a midsole (Ethyl Vinyl Acetate). In some way, it's incredible that EVA has been used for so many years without competing technologies coming on the scene.
EVA has obviously been developed over time, but there has not really been any significant competition. It's here the Boost concept comes in.
What Adidas boost Means
Basically, the foam boosts your starting point from the energy that is left over when you land after a step. In traditional running shoes, you land and lose a lot of energy, which is lost. The Boost concept means that you transfer this energy to the forefoot from where your starting point takes place to the next running step.
Boost consists of 75% TPU material – a midsole material (permoplastic polyurethane elastomer) and 25% EVA material. The TPU material is basically explained by many small capsules with air. Thus, during running, more energy should be released by this construction than by the traditional cushioning from 100% EVA. The main difference is that Boost consists of a lot of small elements/cells that together form one material – as you also can see in the 30 sec. video below – whereas EVA was one piece of material.
Adidas Men Ultraboost 21 Running Shoes
Upper part
The upper part is made with Primeblue, which is a recycled material that is partly made from Parley Ocean Plastic – i.e. plastic waste that is collected along beaches and coastal areas. It seems positive to see a big brand like ADIDAS take the lead when it comes to sustainability. It gives me a sense that this is something we'll see a lot more of in the future.
The upper in practice is a sock-like one-piece upper, which ADIDAS calls Primeknit +. It is super elastic and sits tighter than in previous versions of Ultraboost. It feels like putting on a sock, and it encloses around the foot in a way that you could almost put it on and run completely without tying the laces if you wanted to.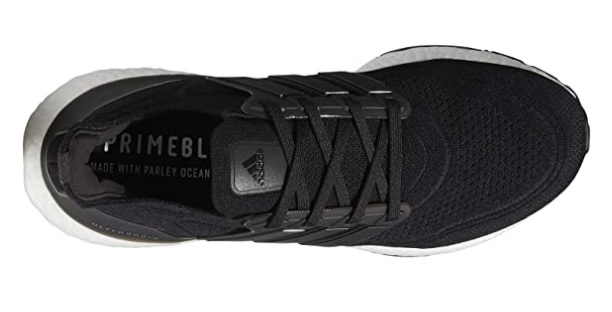 It also means that if you are not a fan of very close-fitting shoes, then you should probably consider a half number more in shoe size.
Midsole
The running shoe from Adidas Ultra Boost 21 is built around some different elements, which makes the shoe one of the most popular running shoes in the world.
The Ultraboost technology sits in the midsole of the shoe and is designed to send you forward using the energy from the foot when you take your running steps. It is a technology that gives you good and elastic cushioning when running.
It's therefore a running shoe you'll experience as easy to run with. Thus, ADIDAS Ultraboost 21 is a neutral running shoe, suitable for daily training and maybe a half marathon from time to time. The shoe gives you maximum cushioning, comfort and is best suited for easy runs, where comfort has top priority.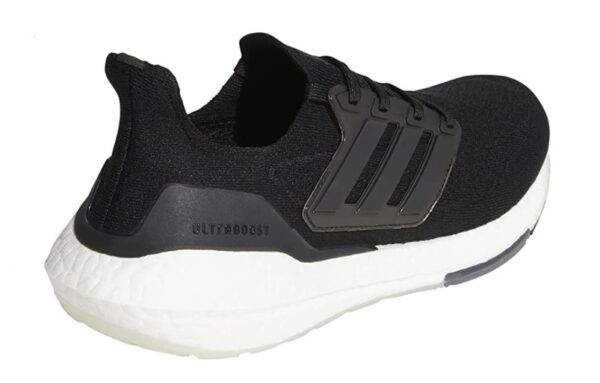 More BOOST in the midsole – Ultra Boost
Compared to Ultraboost 20, Ultraboost 21 has 6% more BOOST material in the midsole. And as for the amount of BOOST, it looks quite different in the heel area than it actually is. This is because the BOOST sole goes up on the sides of the heel and forms a kind of cup around the back of the foot.
So actually the foot is further down in the shoe. With BOOST in the shoe, it is, as always, about good comfort and "energy return". And you really get that in this shoe.
Adidas ultraboost 21 – Torsion system
Another of the new updates is the new design of the shoe's Torsion system. I ran with this technology for the first time in my Adidas Questar in several years, where I also clearly felt the bouncing effect for each running step.
On the Ultraboost 21, it is the yellow plate under the outsole of the image below that gives the soft BOOST sole and the entire shoe a lot more structure, control, and stability.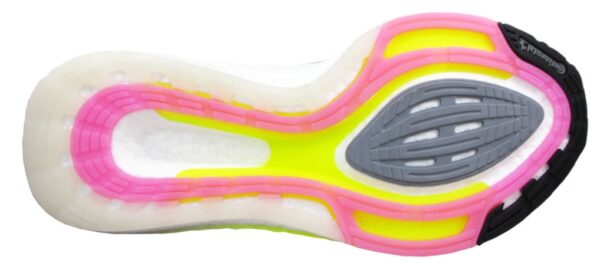 The plate itself is a fairly stiff material, This plate which ADIDAS calls "Linear Energy Push" or just LEP, extends far below the forefoot and thus helps to increase the flexural stiffness of the forefoot by 15%. It should according to Adidas provide a more resilient, energetic, and responsive starting point for the next running step.
Outer Sole
Ultraboost 21 has a durable outsole with Continental rubber (see figure 1 above). The outsole is different than in Ultraboost 20. Adidas has given it the name Stretchweb outsole with rubber from German Continental, which is most of all known for making car tires. So it seems like the durability is on the good side even for heavy runners. The grip on the surface is also pretty good.
Heel
The actual heel thickness is much lower than what you see because the sidewalls have an excessive rise to form a cup around the heel part – the functional midsole height is almost half of what you see.
So, if you're wondering why the new Ultra boost 21 does not feel as soft as it looks, the perceived vs actual midsole height is one of the reasons. Although the rear foot area has revealed Boost foam, the outsole section, which is just below the heel, is quite solid with low flexibility and a secure heel grip.
Adidas Ultraboost 21 Shoes Men – Best For Shorter Runs
The Adidas Ultra Boost is less suitable for very long runs. The reason is that the extreme softness of the sole makes the shoe too lively and unstable under the foot. The shoe will be well suited for shorter and easy runs, where the foot does not require nearly as much support in the sole. It will thus be a superb shoe for daily training use due to its good comfort and softness.
Adidas Ultraboost 21 Technical Features
Sock-like fit
Upper with Adidas Primeknit +
Supportive heel cap
Boost midsole
Weight: 340 g
Drop: 10 mm (heel 30.5 mm / forefoot 20.5 mm)
Stretchweb outsole with Continental ™ Rubber
Primeblue
More product colors
Final Thoughts
Adidas claims that they strive for the ultimate combination of weight, cushioning, and resilience and they have fulfilled this quite well with the Adidas Ultra Boost 21 also with the great "return energy".
The shoe is incredibly comfortable and supple, and offers lots of softness and cushioning in its construction and many types of runners have been taken into account in this shoe.
So if you are looking for a reliable workhorse for daily training that will protect and help you on all your runs, then the new ADIDAS Ultraboost 21 is a great running shoe.
Are the Ultraboost 21 good for running?
Adidas Ultraboost 21, is less suitable for very long runs. The shoe will be well suited for shorter and easy runs, where the foot does not require nearly as much support in the sole. It will thus be a superb shoe for daily training use due to its great comfort and softness.