Running shoes are worn differently depending on the type of shoe, the runner's weight, running style, the hardness of the surface and how often the shoes are used. In addition, it is about which running experience you want from the shoe. Asics Men Gel Nimbus 23 Running Shoes is one of the most resilient and popular choices. In general, it can take some time to find the right running shoes but it pays off because they become your friends.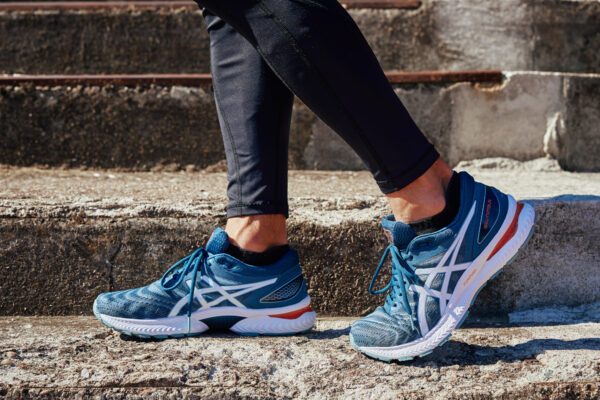 Best Running Shoes
Running shoes must have a good fit because you do not get far in running shoes that do not fit properly. For the vast majority of runners, a wide forefoot that provides space for the toes and a narrow heel cap that holds your heel and ankle tightly in place is a good combination.
Remember that there should be about a thumb width between your big toe and the shoe nose to avoid blisters. Many people find that they need to wear running shoes that are a number larger than their regular shoes.
A good running shoe combines support that reduces the strain on joints and muscles and provides stability that supports your posture. the degree of stability depends on your way of running. 
What to look for:
Price: should not be a measure of quality. There are cheap shoes that are really good especially if you do not have stability problems and do not run so many kilometers a week.
Design: do not buy 'regular' sports shoes. specially designed running shoes are designed for running and they are a must if you want to make it comfortable for yourself and have a good running experience.
Try the shoes before you buy them. Do not just take them on and walk around in the store. Many stores and in particular specialty stores have a treadmill where you can try them out.
Weight: A lightweight shoe may seem ideal but it can also be a quick way to injuries as it does not necessarily provide the support and stability you need in daily training.
Asics Gel Nimbus 23
The Asics GEL-Nimbus 23 is back in the form of a great running shoe for the neutral runner. As always, the Asics GEL-Nimbus 23 guarantees an extremely comfortable feeling when you are out on your run. The model has been that in all the 22 previous models and is even better in this Nimbus 23.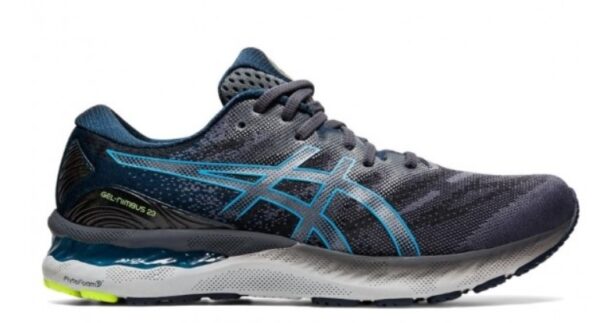 ASICS Gel Nimbus 23 & your running style
What your shoes tell you is: that the foot and ankle rotate naturally when you run but the degree of rotation or pronation varies from person to person. The wear patterns of your shoes indicate which parts come into contact with the surface first. This is called pronation, which can affect your running mechanisms and pose a risk of injuries.
When you look at shoes you will come across a lot of technical names such as Asics gel, Adidas Ultraboost, Nike air, etc. many of them refer to patented padding and stability devices located in the midsoles of the shoes. But you should go up in the overall construction and feel of the shoe, which is far more important.
The most crucial point in choosing running shoes is whether you are a: Overpronation, Neutral, or Supination runner.
Asics Gel Nimbus is one of the most popular choices for the runner with a neutral running style. The comfort is sublime and the durability is really good. It is without a doubt one of the most preferred running shoes among runners with a neutral running style and for daily training. Asics has always been one of my favorite choices as a runner when it comes to running shoes. 
Asics Men Gel Nimbus 23 Running Shoes – Exceptional Comfort And Protection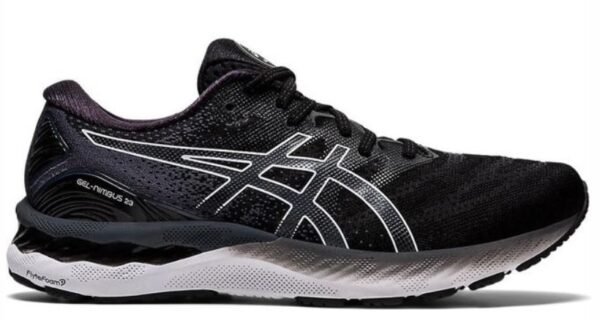 So, are you looking for a running shoe with maximum comfort and protection for daily training? Then the new Asics GEL-Nimbus 23 is an excellent choice for your next running shoe. The shoe has been updated on a number of points so that it i.e., feels softer and more shock-absorbing, more stable, and even more comfortable than the previous versions.
The biggest change is probably experienced under the foot, where there is several improved updates. More GEL has come under the heel, so the shock absorption in the landing phase has been improved.
And the midsole material is now perforated with lots of small holes. Overall, it makes the whole sole a little softer, but at the same time, it's also a way in which Asics can fine-tune the hardness of the midsole perfectly, so you get a very dynamic and smooth foot settlement.
Although it's characterized as a neutral running shoe, the Nimbus 23 is still significantly more stable than competitors such as the Saucony Triumph, New Balance 1080 and Nike Vomero.
It has a firm and very secure hold around the entire back of the foot, and at the same time, it is more rigid and a little less flexible, which also contributes to stability. In that way, the Nimbus 23 is a shoe that, will guide and support you when you need it to a greater extent than many other neutral running shoes.
Asics Gel Nimbus 23 Overview
So, the GEL-Nimbus from Asics has developed over time to be iconic for runners around the world. The Asics Gel Nimbus 23 remains top-class and provides excellent comfort and shock absorption on long runs. GEL-Nimbus 23 has improved stability that provides a more balanced stride that is followed by smoother transitions.
The properties of the GEL-Nimbus 23 provide a softer shoe without compromising on functionality. This version of the Nimbus is again an improved version that offers better support and comfort for distance runners.
Asics Gel Nimbus 23 WIDE Specs.
Wide version for wider feet
Neutral running shoes
Drop: 10mm
Weight: 320g Size 42.5 (US9)
Engineered Mesh upper
TRUSSTIC™ technology
FLOATING FOAM™
ORTHOLITE™ X-55
3D Space Construction
GEL™ TECHNOLOGY
FLYTEFOAM™ PROPELLER
ASICS LITE RUBBER
Reflections
The upper part of Nimbus 23 is made of a new mesh material, which consists of about 20 % recycled fibers. The upper part wraps comfortably around the middle of the foot, but at the same time leaves a really good space out at the toes. And Inside around the heel, the shoe is comfortably padded.
Unlike most running shoes on the market, there is a difference between the men's and women's versions of the Gel Nimbus 23.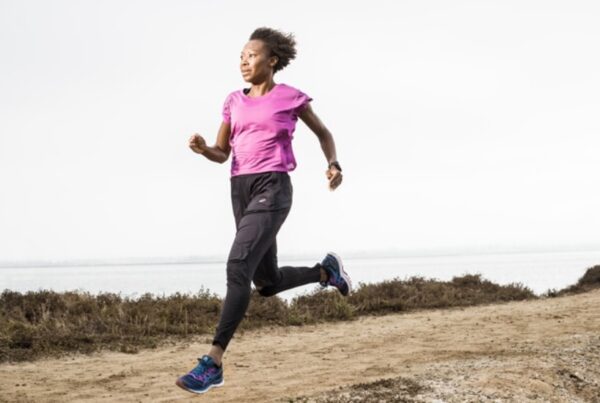 The women's version has a heel drop of about 13 mm i.e., the heel stands (inside the shoe) 13 mm higher above the ground than the forefoot does. In the men's version, the drop is down to 10 mm. This difference means that women's Achilles' tendons get a little more relief due to the higher drop.
The Trusstic system, i.e the small plastic part under the sole, which helps to make the shoe more rigid and stable, is also designed differently on the men's and women's version, and the same with the flex grooves in the outsole. The women's version is also a little softer than the men's version.
Asics Men Gel Nimbus 23 and Previous Models!
All in all, the Asics GEL-Nimbus 23 is a safe choice for daily training.
If you have been satisfied with previous versions of Nimbus, then I am quite sure that you will be satisfied with Nimbus 23. It's at least the best version of Nimbus so far. And even if you haven't run in Nimbus before, this is a shoe that you should consider seriously.
If you want to run faster, then there are better alternatives. But for daily training where the focus is primarily on comfort, the Asics GEL-Nimbus 23 is a safe choice, which ensures you a super comfortable running experience from the first to the last kilometer.
So why buy Asics Men GEL Nimbus 23 Running Shoes?
Asics Gel Nimbus is a great running shoe, so I have chosen the best reasons to buy this shoe.
Asics Gel Nimbus has been around for many generations and has been refined so many times that there is not much more to improve with the technology we know today.
Asics Nimbus is a cheap running shoe – at least online. You can achieve great savings and benefit from it!
It is really one of the heavier running shoes best suited for a lot of training and it's also an advantage for the long-distance runner. This ensures that you avoid most overload injuries.
Asics Gel Nimbus is a cheap running shoe in relation to how many kilometers it lasts. Some running shoes break down after too few kilometers.
Asics Nimbus are excellent running shoes, and if you are a neutral runner who wants the most out of your running training, it is almost a must with a pair of Gel Nimbus.
Is gel nimbus 23 a neutral shoe?
Yes, ASICS GEL-NIMBUS 23 is a neutral running shoe for both men and women. You get excellent cushioning and comfort. GEL-Nimbus 23 has improved stability that provides more balanced strides followed by smoother transitions. The properties of the GEL-Nimbus 23 provide a softer shoe without compromising on functionality.