Running is strenuous and stressful for your knees, ankles, hips, and – especially if you have problems with an old injury, are flatfooted, overloaded, or for example, have a pronation running style. It's therefore often natural with extra stability in your running shoes, and today these stability running shoes becomes more and more common. In the 8 best tips for the choice of stability running shoes below, we look at some of the most conspicuous conditions around stability and cushioning in a running shoe.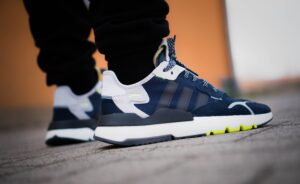 In general, running puts great demands on the feet and joints. By running a 10k your foot hits the ground approx. 6500 times with a weight equivalent to 2-3 times your body weight.
In the long run, it turns into many tons, and when about 80% of all people have problems with the foot position, it is clear that stability and cushioning running shoes when running are important.
What Do Stability Running Shoes Mean? And Who Is It For?
It is for runners who are very flatfooted and who typically fall inward on both ankles and knees. It also means that the shoe has more stability than a neutral shoe. The common denominator for all stability running shoes is that they have some kind of construction on the inside of the shoe, which gives you more stability in the arch.
The amount of stability varies from model to model and from brand to brand and your choice should depend on what you want to use them for and your running style. If you have questions, you can contact a sports shop and ask about the different models in relation to your running needs.
The Best Stability Running Shoe?
Asics GEL-Kayano is a great choice here both for men and for women. It is a really good stability running shoe for you who have a pronation running style. Asics GEL-Kayano 27 is still a top model, which provides more support for runners who tend to fall slightly inwards with their feet and thus overpronate.
The running shoe's pronation support stabilizes and straightens your foot to avoid injuries. It is a running shoe that provides your foot with really good support.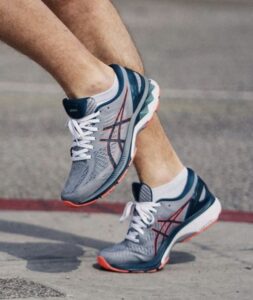 You get great stability with the pronation wedge DuoMax and Trusstic technology, which ensures that your foot does not fall inwards. An external heel cap keeps the heel and lower part of the foot stable and in place throughout your run.
In addition, Asics' GEL technology provides maximum shock absorption for the runner, while in the midsole you will find the excellent Flytefoam Propel, which ensures an excellent return of energy from the shock absorption – so every running step becomes as efficient as possible. GEL-Kayano 27 stands out from others and can be used for both short and long distances if you have pronation.

The Saucony Guide 15 is one of the lightest stability shoes. It offers a protective and stable ride.
Below are some other important aspects of stability and shock absorption (Cushioning) that you should be aware of in your choice of running shoes
The Soft Running Shoe And Cushioning
You have probably tried a pair of new running shoes that feel extremely soft and comfortable. You are convinced that the shock absorption is excellent. Soft shoes have a quick initial contraction. In a soft running shoe, the shock absorption will work initially by landing, but after just a few milliseconds you have utilized the soft shoe's shock absorption potential.
The shock absorption must be even. The material must contract evenly and adapt a lot. If it contracts too quickly, you absorb the rest of the shock with the ankles, knees, and hips. If the material is too hard, you will not get enough out of the shock absorption and your landing will be too hard.
Which Running Shoe Brand Makes The Best Cushioned Running Shoes?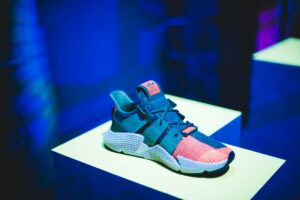 There is no one type of shock absorption that is better than others. When Adidas launches the Boost technology and studies show that the Boost provides the best energy transfer from landing to take off, it doesn't mean that this Boost is the best shock absorption in practice.
Shock absorption is very dependent on:
how compact is the midsole of your shoes
how heavy you are
The heavier you are or the heavier you run the more compact your shock absorption in the midsole should be.
how powerfully you land on the ground
If you run in a soft running shoe, you will break through the soft shock absorption quickly and the rest of the shock must be absorbed from the ankles, knees, and hips.
If you are a very light runner, or you land without a large load, you do not need a compact shock absorption – it will even be damaging.
If you are light, your shock absorption must be softer, as with a hard shock absorption you will not be able to utilize the material sufficiently.
Another important aspect here is shock absorption under the forefoot. The strongest shock comes under the heel when landing, but the foot itself – the entire movement of the foot – to the next take-off takes a longer time and thus puts the sole of the foot under greater pressure over the longest time.
The need for effective shock absorption under the forefoot is therefore important, and it is i.a. here that there is a price difference on running shoes that only have real shock absorption under the heel and those where it is under the heel and also under the forefoot.
Do all Running Shoe Brands Have Unique Shock Absorbtion Materials?
A widely used shock absorbing material is EVA (Ethyl Vinyl Acetate). The material has been used for several decades by almost all running brands. It is a light, stable and flexible material. But you probably rarely hear brands making use of EVA in their marketing. It is obvious. As a consumer, you choose one brand over another based on the differences between the two products.
The brands make unique blend products, where EVA makes up perhaps 95%, ie. the vast majority of the midsole and the rest consist of technology-X, which no one knows what is, and often we cannot find the positive difference that the shoe is claimed to be able to provide. The Boost technology from Adidas also consists of EVA, but of course, the material is not marketed on that basis.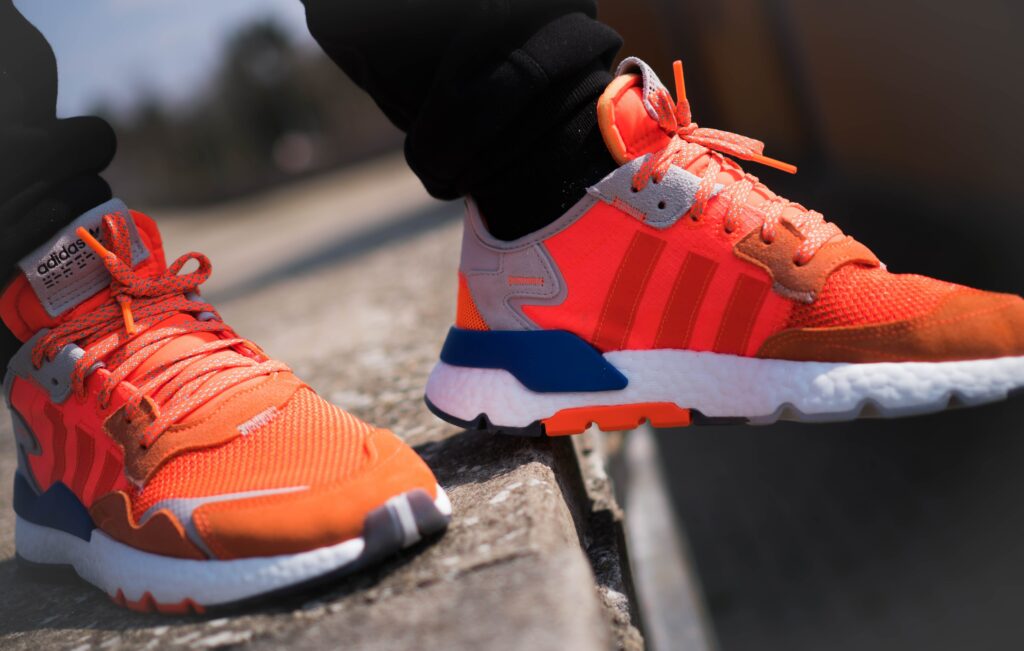 Newbies are the ones who get the most injuries. This is not because they are ignorant about the choice of running shoes, but because a newbie's body is not used to the shocks that are sent up through the body by running.
Because they don't have past experience in choosing the best cushioning running shoes for themselves yet. Bones, joints, and tendons are not yet adapted to the amounts of constant monotonous loads you expose your body to by running.
In practice, incorrect stability (pronation control) is a more frequent cause of injury than incorrect shock absorption. However, the vast majority of running injuries occur because runners do not perform the training correctly.
Most often, the training is too hard so the body does not have time to recover. One thing is that you feel your body is recovered, but something else is whether bones, joints, and tendons are ready for the next load again.
Connection Between Cushioning And Stability In Running Shoes
The need for shock absorption and the need for stability differ from runner to runner. They depend on many biomechanical factors in your body, your running style, your flexibility, your shape, your experience, and several other things. In general, however, when you increase the stability of a running shoe, you lower the shock absorption.
If you have a tendency to overpronate you do not need the same amount of shock absorption since your body has natural shock absorption in the pronation. However, your overpronation needs to be controlled to some degree so you do not end up falling too much inward as this can lead to injuries. But with severe overpronation, a good shoe choice would be New Balance Fresh Foam 860 v12

What Is The Best Amount Of Stability In Running Shoes?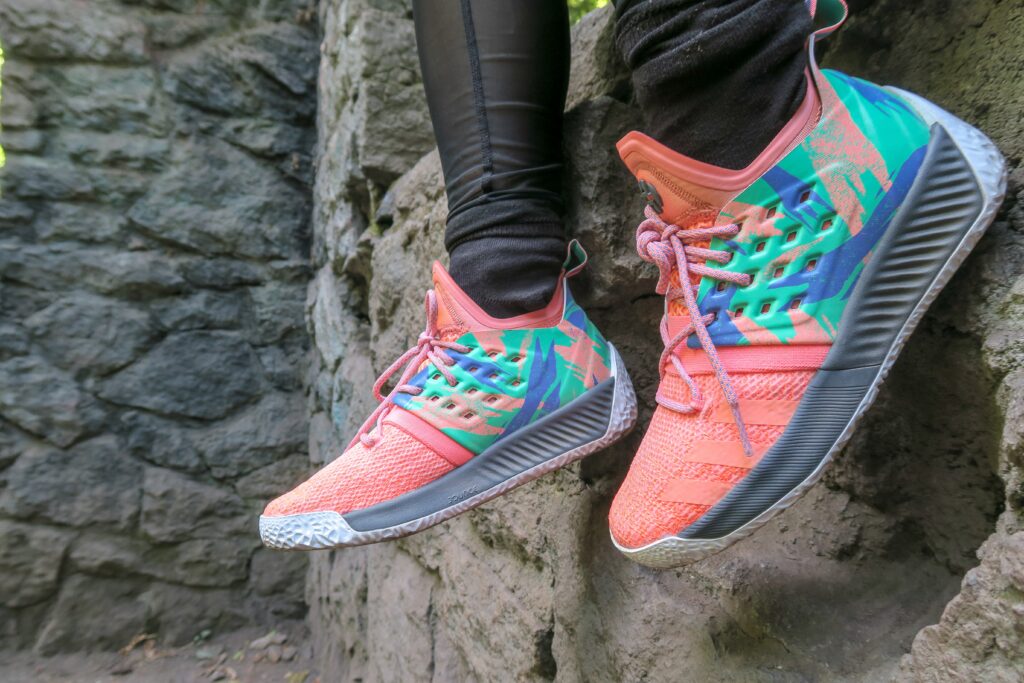 It is individual how much stability that is optimal. Too much stability causes you to overcompensate for the shoe's way of locking your running style. If you overcompensate, the risk of injury increases as you will load the body in a different way elsewhere.
To make it even more complicated, the stability of running shoes does not always have to be located in the same place. Some need a lot of stability in the heel, while others need stability in the forefoot. But if we had to choose the best stability running shoe with max. cushioning in 2022 it must be Brooks Men's Glycerin Gts 19 Running Shoe 


It provides among other things maximum comfort for the easy runs, and this shoe has been one of Brooks' most popular running shoes for many years.
The best starting point to find out your precise stability/cushioning needs is to take a running test, evaluate the results and make the choice from that.
If you have any questions about the topic or want to leave your own Personal review, please leave a comment below.
What is a stability shoe for running?
It's for runners who are very flatfooted and who typically fall inward on both ankles and knees. It also means that the shoe has more stability than a neutral shoe. The common denominator for all stability running shoes is that they have some kind of construction on the inside of the shoe, which gives you more stability in the arch.