When choosing running shoes, the first thing you should do is know your running style. Afterward, it's a matter of finding out what type of race you want to use the shoes for; are you a beginner, is it for marathon training or e.g., intervals or maybe trail running? It is not a good idea e.g. to choose Brooks Men Adrenaline GTS 21  just because they look good or you have heard that they should be the best.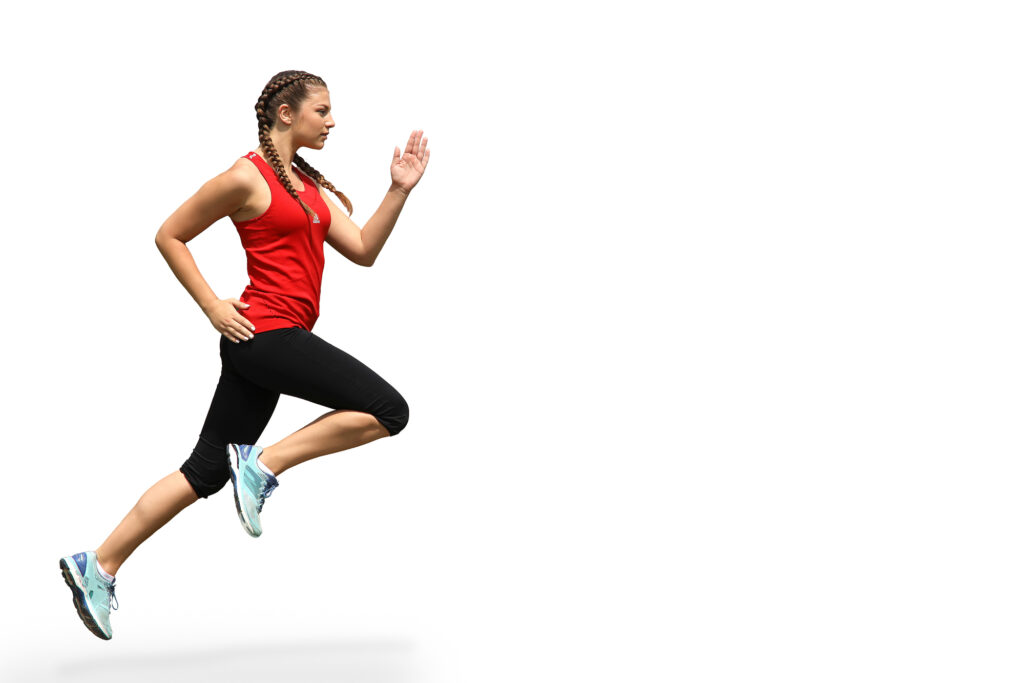 Also when we talk about running style, it's about the way you run because mainly you can have one of three types of feet as the first thing. Your gait can show a pattern of neutral pronation, overpronation, or supination – very precisely.
You can't immediately see which one you have. But you start by taking a look at the sole on your old shoes and see the way you slip on the sole – how is the pattern? That can give you an idea of your running style and the way you run.
Running Style
Neutral pronation: The shoe that fits this pattern of movement cushions the shock when you hit the ground and supports your foot in its natural movement.
Overpronation: This shoe also cushions shock when you hit the ground. But by overpronation rolls your foot too much inward and this roll must be stopped, to control the foot in the most natural performing of contact with the ground to avoid injuries. Brooks Men's Adrenaline gts 21 Running Shoes is mainly in this category – and is often called the runner's pronation favorite.
Under pronation or supination: When the foot under-pronates or supinates it maintains so the run performs on the outside of the sole. In this case, your foot will be controlled so it rolls inwardly as close to the neutral pronation as possible.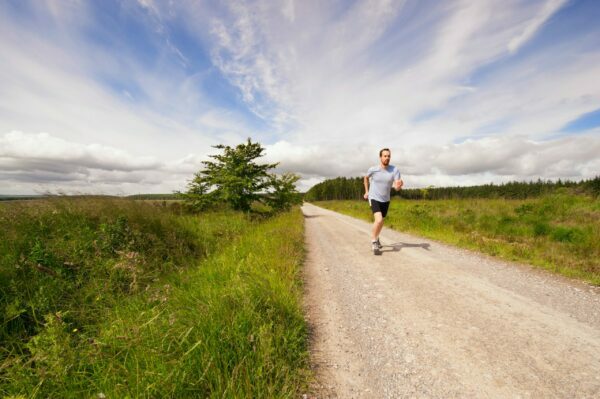 Brooks Adrenaline GTS 
This model is great for overpronation. Overpronation is not 'dangerous', but with the wrong structure of the running training and too unstable running shoes, it can be a dangerous cocktail in relation to injuries, especially if you train a lot and on long demanding runs.
Often, overpronating runners will tend to classic running injuries such as shin splints and Achilles tendon inflammation as well as pain around the knee. It's all types of runners that may tend to overpronate, but there are more women than men due to women's anatomy.
What to look for is whether the running shoe is fitted with a pronation wedge or another braking device on the inside of the midsole and whether it has a fixed heel cap and a secure hold in the upper. The shoes must still be flexible in the heel. It helps to provide a more natural movement.
Today you can have your running style checked on a treadmill in many sports shops.
Brooks Men Adrenaline GTS 21
Brooks Adrenaline 21 GTS compared to predecessors
If you have had previous versions of Adrenaline, then with version 21 you will notice that Brooks has removed unnecessary graphics, logos, etc. in the upper part. It has instead been replaced with a new Engineered Air mesh upper. This solution makes the entire upper lighter, more breathable and provides a stable hold around the foot.
The Brooks Adrenaline 21 GTS for daily training
Adrenaline GTS 21 creates stability, durability and is very comfortable. A great shoe choice that is suitable for many kilometers in your daily training. The shoe provides an excellent feeling of protection even at the end of your long runs. Thus Brooks Adrenaline GTS 21 is one of the best pronation running shoes. 
With GuideRails technology, the support that makes you avoid injuries is precisely provided. Because when necessary, GuideRails guides you and your foot to the most favorable position throughout the run. GuideRails are integrated with the midsole.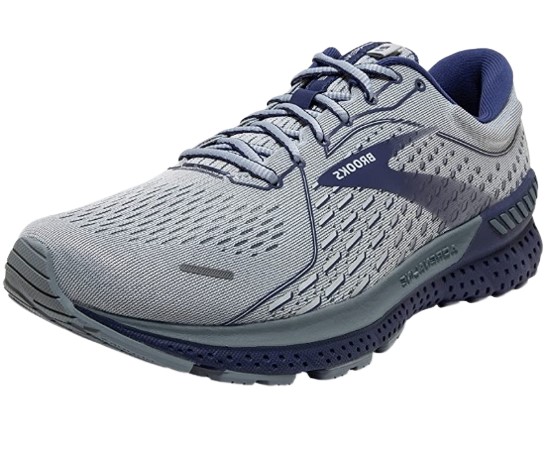 Brooks Adrenaline GTS 21 Road Running Shoes Men
The pronation runner's top model
The shoe is equipped with the intelligent shock absorption system BioMoGo DNA. A system that adapts to the individual runner's weight, speed and stride length. The model gives an extremely soft feeling during your run and, as mentioned, is suitable for your daily training.
Brooks adrenaline gts new great features
One of the new features in the Adrenaline GTS 21 is the DNA Loft midsole now extends from heel to toe so that foot movement becomes easier and more comfortable. The excellent shock absorption adapts to the individual runner's weight, speed and stride length, so you get a soft and comfortable feeling without losing response.
The durability is also top-notch. You can easily run many many kilometers without worrying about the shoe's durability. This running shoe has a mesh upper designed to provide great structure for the foot and a stretchy feel that enhances mobility. In this version, the upper part is even more stretchy than before which provides a better fit.
Brooks Men Adrenaline GTS 21 Overview
The Adrenaline is built on proven technologies that Brooks has tested and adjusted over the years. The Adrenaline and its neutral counterpart the Ghost are Brook's bestselling trainers. The midsole in Adrenaline GTS is made of material that is 100% degradable. Thus, there is no "waste" in this product. The DNA LOFT Crash Pad cushions each footfall and works with BioMoGo DNA to adapt to your every single stride.
Brooks Men Adrenaline GTS 21 Basic features
Type: All-round running shoes
Surface: Solid (gravel, path, asphalt)
Running style: Mild, moderate overpronation
Weight: 295 grams per. shoes (EU 42)
Drop: 12mm
Suitable for: Regular running / Mass training
Upper Part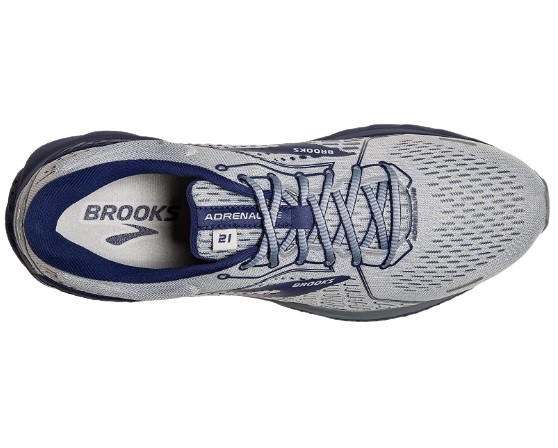 This new Engineered Air Mesh upper hugs the foot for a secure fit while also improving breathability. The upper of the Brooks Adrenaline GTS 21 consists of a breathable 3D-printed mesh material, which ensures optimal grip on the foot and breathability. The heel cap and tongue are padded for comfort. 
Midsole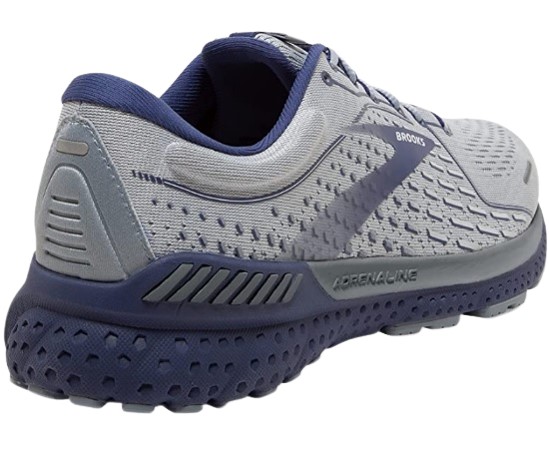 Brooks Adrenaline GTS 21 has got even more of Brooks' soft DNA LOFT material in the midsole compared to the Adrenaline GTS 20. In addition to being nicely soft, DNA LOFT is also responsive and durable.
The inside of the midsole consists of Brooks' BioMoGo DNA, which is an EVA foam that is a bit firmer than DNA LOFT. In this way, BioMoGo DNA also helps to provide stability.
The midsole also has Brooks' pronation support system GuideRails®. GuideRails® sits on both the inside and outside of the shoe and helps to guide both hip, knee and ankle gently through the crotch.
Outsole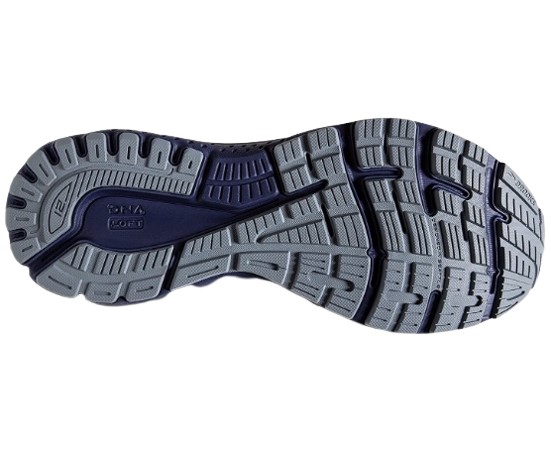 The outsole is reinforced with an extra layer of durable rubber for the best possible durability. the outsole is doing it well on dry roads and loose gravel. It's made with traditional grooves and durable rubber to easily last more than 500K. Brooks didn't reinvent something new with this outsole, and when something works, it doesn't need to be changed.
Final Thoughts
Because of the GuideRails, It is essentially a runner's stability shoe. The GuideRails are a flexible form of correction, so if your foot isn't "out of line", you will not notice they're there. It's great for a runner who overpronates or supinates and it can also work for The neutral runner.
The shoe is equipped with the intelligent shock absorption system BioMoGo DNA. A system that adapts to the individual runner's weight, speed, and stride length. The model here gives an exceptional soft feeling during your run and is perfect for your daily training.
Thus Adrenaline GTS 21 is ideal for people who are new to running and who might not be sure if they need a stability shoe or a person who likes a firm feel and wants a reliable everyday shoe. If you're in the market for a new trainer, this shoe can easily hold a place in any runner's wardrobe. Extra widths are also available and the shoe comes in 10 different colorways.
What are Brooks Adrenaline GTS 21 good for?
Brooks Adrenaline 21 GTS is Brooks' most popular stability running shoe. With GuideRails implemented in the midsole, you get a flexible form of correction, but if your foot is not "out of line" you won't notice they are there. It's great for a runner who overpronates or supinates, and it can work for the neutral runner as well.