New Balance 1080 running shoes are among the most stable and durable running shoes on the market ever. So, it is not without reason that they are among the most popular choices of running shoes. The Fresh Foam midsole was probably what lifted the shoe to new heights when it was introduced. In New Balance Fresh Foam 1080 V11 – Best running shoe for training, we look at why the latest version in this NB serie, which is a neutral running shoe in the top class, can become your best friend in the daily running training.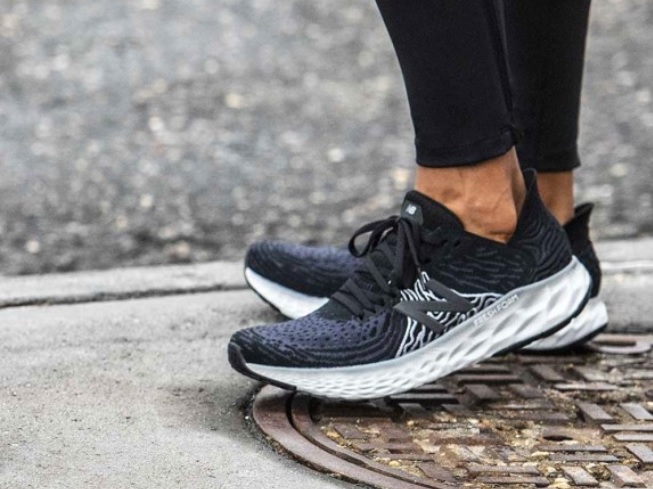 The Fresh Foam material in the midsole has long been among the leading, but in recent years there has been more competition in this area, which has become a science in itself, with the various brands of running shoes who have invented their own material such as Nike air …! Asics Gel …! It is therefore interesting to see how the updates are in the new version and how it works in the large field of lightweight running shoes that are on the market today.
New Balance Fresh Foam 1080 V11 – Running Shoe To daily training
It is a premium running shoe that can withstand running a lot of km. A first-class running shoe. New Balance 1080 V11 can be used for many types of runs such as hard interval training, long runs and competitions if necessary, but first and foremost it's a neutral running shoe for daily training, which as a type belongs to the group of first-class running shoes with luxurious cushioning and a focus on comfort. If you look at other brands, this model has most often been compared to running shoes like Nike Vomero, Asics Gel-Nimbus, Saucony Endorphin Pro and Brooks Glycerin. You can watch the 1080 V11 in action in the NB video below:
New Balance Fresh Foam A Versatile Running Shoe
As mentioned, you get a light and versatile running shoe that can be used for many types of running. It is noticeably lighter than the competitors, you still get very good comfort when you step into the shoe, but New Balance has cut out much of the lining in the shoe. And it is here, and on the rest of the top, that we find the weight savings. 
New Balance states that the heel drop in this latest model is 8mm. It's a good middle thing, between a minimalist running shoe and a more ordinary running shoe for heel landers. The low drop will "force" you to land more on the middle and forefoot and give you a more natural running style, which can also help strengthen the inner muscles of your foot. It is a relatively high-running shoe with good running properties.
The shoe's relatively low weight makes the New Balance 1080 V11 feel significantly faster and significantly more versatile than its competitors. You still get the luxurious cushioning and protection you can expect with this lighter lining.
New Balance Men Fresh Foam 1080 V11 Running Shoes 
Fresh Foam 1080v11 provides luxurious comfort, especially for long runs. It's a soft, plush shoe with responsive Fresh Foam underfoot that matches a perfect partnership with a soft, selectively stretchy knit upper that offers 360 degree comfort for the high mileage. Ultra Heel Technology, hugs the back of the foot for a snug, supportive fit, this men's running shoe wraps the foot in pure comfort.
New Balance Men Fresh Foam 1080 V11
Features
Lace closure ensures a secure fit
Ultra Heel design hugs the back of the foot for a snug, supportive fit
Fresh Foam midsole cushioning is precision engineered to deliver an ultra-cushioned, lightweight ride
Ortholite sockliner for comfort
Synthetic/mesh upper
Technical specification
Terrain Road
Pronation type Neutral
Heel stack height 30 mm
Drop 8 mm
Forefoot stack height 22 mm
Weight (men)  271 g/9.6 oz
Release year 2021
The Upper part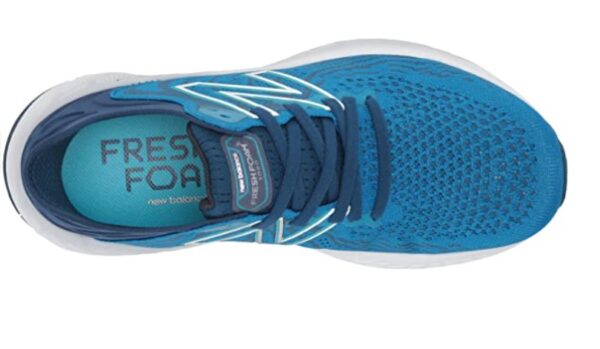 If we take a closer look at the practical changes that have been made, the most important improvement must be this upper part, which consists of New Balance thin, soft but strong 'Hyperknit' which is very breathable and has a little stretch in the material, so it adapts to most type of feet, it has become more flexible in front over the toes and on the sides, the fabric has become a little stronger and it gives a slightly firmer grip around the foot. The design expression is very nicely done.
Midsole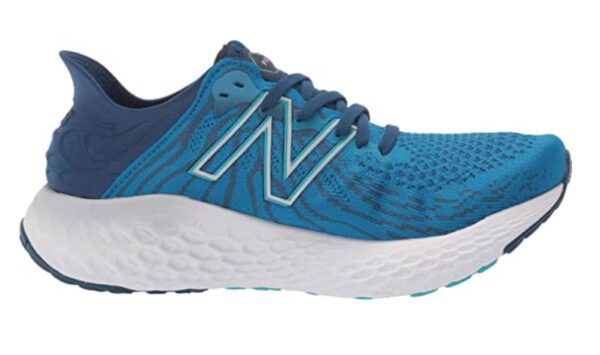 The midsole still consists of New Balance's super fine and well-known Fresh Foam X foam and the sole is largely identical to its predecessor New Balance 1080 V10. The material is relatively responsive and based on the thickness, it has lots of "bottom" and will be suitable for even – and perhaps especially – the heaviest runners. It is not decidedly soft, if that is what you are looking for, but has a suitable balance, to be used for most types of runs.
Considering the thickness of the sole, the midsole is also very flexible. The design has a hexagon-shaped pattern on the outside and a slightly painted print, i.e. The geometry and amount of foam in the sole are unchanged compared to 1080 V10. But the small laser-punched holes that New Balance uses to fine-tune the softness of the sole in various places have changed shape from round to hexagonal. It is details like these that help to give the shoe a better and more high-end look.
Outer sole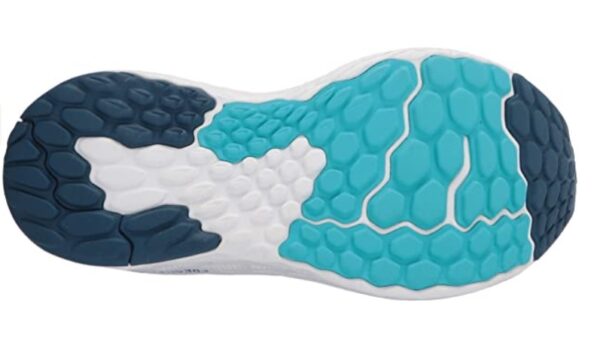 The design with the hexagon print continues down in the outsole. The cutouts are not that deep, but there shouldn't be problems with running, even on slightly slippery winter surfaces. The material is soft and the foot settlement feels natural and here are the "cut-outs" that also help to increase the flexibility, which the shoe companies experiment with all the time in general. The shoe's grip is unsuitable for trail running, although the sole will not have challenges with gravel paths and forest bottoms. However, 1080 V11 fits best in its perfect element, which is on paved roads.
Heel
There is 30mm of cushion under the heel, which has changed slightly. The shoe seems a little wider here and it is as if it locks your heel a little lower and not as firm as in 1080 V10. So, the fit has changed a bit here too.
Durability
The durability in general of the more expensive NB running shoes is excellent. You can expect the shoes to last 1,000+ kilometers, which is very special for running shoes as I see it. The rule of thumb for the durability of running shoes has for many years otherwise been 800 – 900 kilometers, so with more than 1,000 kilometers maybe 25% more than other brands, New Balance can make a difference in durability on running shoes. So, we can say that you are also in the process of saving money when you buy New Balance running shoes.
In addition, the shoes keep a nice structure. They do not collapse or "puncture", as you see with other brands, where the quality and selection of the materials has been compromised.
Final Thoughts
If you are the type who runs twice a week and only wants one pair of running shoes, the New Balance 1080 V11 is probably the best choice at all. It will continue to be one of the most popular all-around shoes on the market. You also have reliable and light quantity training shoes available, which you can use both on days when your legs are a little tired, but also when you need a little more speed. There is also a New Balance Women's Fresh Foam 1080 V11 Running Shoe available.