As a new and inexperienced runner, you might think that the most expensive running shoes also are the best running shoes or the running shoes with the best look as you see it! It's not true. This does not mean that you just have to choose the cheapest running shoes on the market, as the very cheap shoes usually have a shorter 'lifetime' than the more expensive running shoes because they contain much less midsole material, where the cushioning – shock absorption – is placed and it is important when we run longer distances. In Best Long Distance Running Shoes we explain this subject.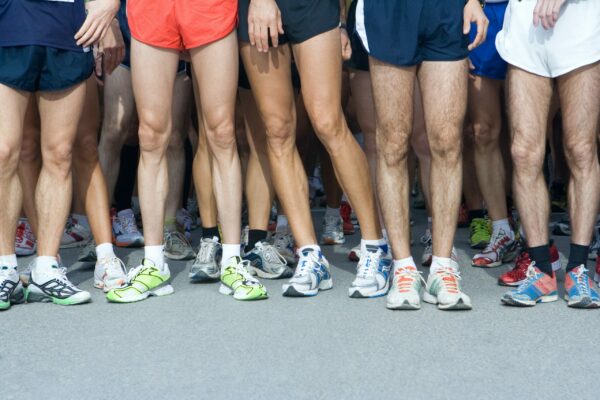 It will also mean that you have to buy new running shoes more often and you also get more loads up through the body during the time you use the shoes. The best long distance running shoes for a beginner are a shoe between very expensive running shoes and very cheap running shoes.
Best Distance Running Shoes 
There are great demands to your running shoes whether you are a beginner and starting your first training or tying the laces for your fifth marathon. Your distance, type of run, and running surface can vary from week to week – each run has a purpose, and so has each of our running shoe choices.
In this post, we will give an overview and help you choose the best distance running shoes based on your favorite fit, the kind of runs you run, and your running surface. We can start with this 4-point overview below:
Running shoes for training vs running shoes for race day
It is common for runners to have several pairs of shoes for different types of runs. On most of your runs, you use training shoes. They are a little heavier with more padding to absorb shocks and help your legs to make the training easier. Running shoes for the race day itself are focused on performance and speed, where you want to perform your best with maximum energy.
There is lightweight upper and propulsion in every step. You also need to remember to run in new competition shoes with a few quick runs to make sure they fit and feel good before using them in races.
The fit of your running shoes
Our feet are very individual and each runner has a fit and feel for running shoes that they prefer. There are also very precise technological methods – like Foot analysis– to uncover the dimensions of your foot, so you can find your fit very precisely. Some runners take half a size larger to account for the foot raising during longer runs.
Other runners prefer a tight, stocking-like fit. What is right for you? The right fit is the one that feels best. And the only way to know for sure is to get out and run a few kilometers in your shoes. There are also tables for choosing shoe size.
Running surface, distance, and speed
When you work towards a race or a goal, it's a good idea to run several different types of training runs, which create variation and develop you as a runner – both longer, slower, shorter and faster – and preferably on different surfaces. You can find out more about this at Choose the best running shoes for different Purposes or here.
Long distance running at an easy pace – LSD
Easy to moderate long runs are a must for any runner in any kind of training. A comfortable, long run at an easy to moderate pace helps to build up strength and improve your oxygen utilization, and it helps to recover from the hard runs. These shoes are made with more cushioning- and support materials.
Good Running Shoes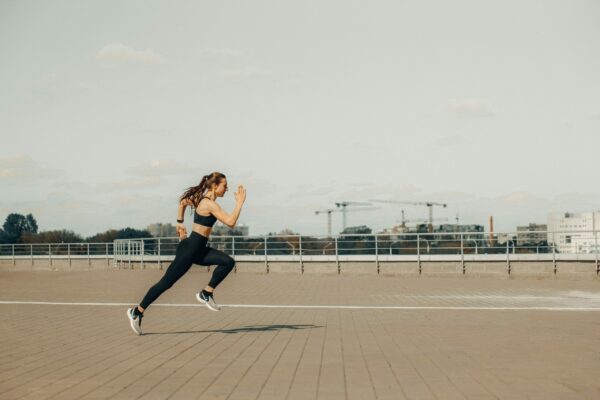 How much do you run? How far do you run? When choosing good running shoes, you should also know that there are many reasons to run. Some people inspires by the sport's competition and fight, desire for financial profit or to move personal boundaries, others for health reasons and some people run for something bigger than themselves, for charity, etc.
Besides, people have different abilities, talents, and levels to cope with running. If you find out what drives you – your purpose, you significantly increase the chance of success with your running project.
You can maybe ask yourself this question "What do I want with my running"? Will I just be able to run between 5 and 10 kilometers 1-2 times a week? Or will I both be able to run these regular runs, but also have the opportunity to build up my running shape and become faster. So, there are several things to consider when you choose running shoes.
How long is A long distance when running?
A long distance for you could be 5 km when you startup. Here you do not need as much cushioning as an experienced long-distance runner who often only needs extra cushioning after 15 km. But most of us will appreciate extra comfort.
My Story
When I started my own running career, I was out running 3 times/week at a high pace. I chose good solid running shoes for asphalt and concrete surfaces, which I knew covered my needs in relation to the routes I used. Running shoes that had good cushioning and are nice to wear.
When I later joined an athletic club, I bought several pairs of running shoes, as I, among other things had to run intervals inside a stadium – Track and field – on a surface as the image below, in the forest, trail run with my running buddies and competition race. Back then, I wanted to work on improvements in other aspects of my running, which required other types of running shoes.
My tip if you are a beginner, you should start out with small steps. Maybe 5 km is a long distance to run for you? You can always build up later if you want. For example, if you want to run faster on 5-6 kilometers, then it is a good idea to go for a lighter running shoe! Let's look at this topic below…
How To Go For The Right Distance Running Shoes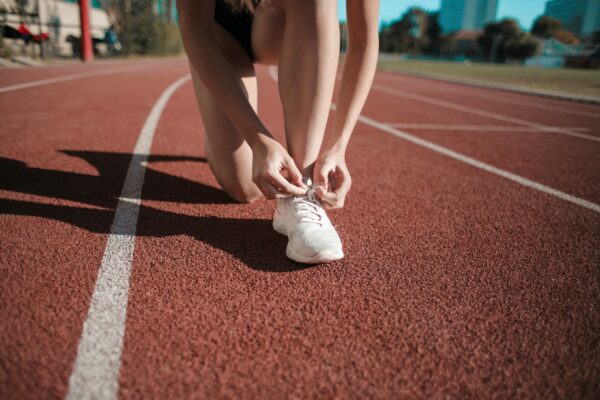 Before you buy running shoes, you should find out which surface you want to run on the most. Are you mostly into asphalt, gravel trails, or treadmill? The harder the surface, the more shock absorption you typically need. And the more uneven the surface, the more important it is with the stability of the shoe.
Do you have to run long or short? Overall, as a rule of thumb, we can say that there are two types of running shoes: those that are built for short, fast distances on an even surface, and shoes for long tough runs.
In the first category, you need a running shoe that is super light and flexible, but has less shock absorption and support – they are for the fast pace. Long distance runs (LSD) running shoes are for those who run longer than 10 – 15 km and need the best possible support and cushioning.
Your running style
Are you to neutral running shoes, supination, or running shoes for pronation? A neutral running style means your foot hits the ground as straight as possible. If your ankles Roll inward, it means you are a pronation runner and you need pronation shoes. By supination, also called under pronation, the ankles roll slightly outward when the foot hits the ground. You can have your running style tested by a physiotherapist or in a sports shop.
Cushioning in your running shoes
How much cushioning do you need? As you probably know, your back and your joints are loaded with about 3 times your own weight per. running steps, so good shock absorption is essential. It should suit your running style and the surface you prefer most. Hard surfaces such as asphalt and concrete give shocks up through the foot and body, so it requires more cushioning.
If you run in the forest or on a treadmill, you need less shock absorption. You can also inform the store employee about your running habits in the sports store and then find the right shoes.
What about the durability of running shoes?
The rule of thumb says that a pair of running shoes last for 1,000 km this rule has been used for many years. However, when the shock absorption is pressed flat, you can often hear it on the shoes when you land as they make "noises" due to holes in the cushioning. Of course, it also depends on the running style, the quality of the shoe, and how heavy you are.
If you get sore knees and feet after running, it could be a sign that the support and material in the shoes are worn out – that you have probably squeezed the air out of the many air cells in the sole. Then it's time to go for new running shoes.
If you use the treadmill which is very flexible, very controlled, and straightforward, a tight fit is not so crucial. If, on the other hand, you want challenges by running in forests and hilly terrain, then you should go for a running shoe with a tight fit and extra support.
Trail shoes are designed to withstand an uneven surfaces and work optimally in mud and on slippery paths. The sole is rough and there is good support around the ankle and heel.
How to avoid running injuries?
There are no shortcuts to getting in shape by running. It requires repetition and perseverance. As a new runner, you need to start out slow. Although your overall fitness improves in just one to two months, and your bones strengthen after three to four months, it takes up to nine months for joints and tendons to strengthen.
So, while you may have the resources to run long distances, it may not be certain that your tendon tissue is ready for it and the risk-off injuries are in the red area. Therefore, first, increase the amount of your running training and then the speed. When you have a surplus on the short runs, you can gradually increase the distance. Then your pace can begin to increase
The Best Running Shoes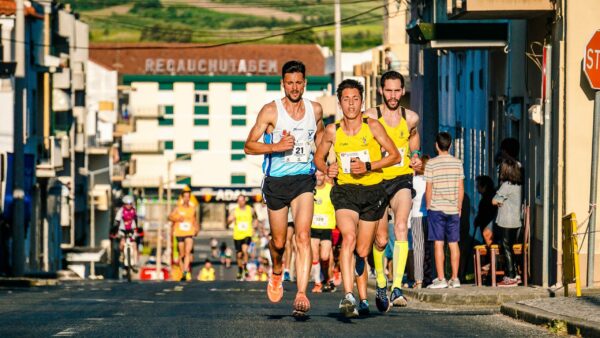 As you know now, it is very important to choose the right running shoes. If your body and running shoes do not fit together, this can have serious consequences.
You should always keep in mind that the choice of running shoes is 100% individual and make sure that your body and not least your feet are well. The purpose of this post is to give you as a runner a 'manual' to the most basic things you need to keep track of when choosing running shoes. The intention is to make you aware of opportunities and choices of running shoes and do the prior work yourself.
No matter which shoe you choose, always remember that new running shoes must be adapted to the feet with shorter runs – to first and foremost avoid blisters and other things that are worse. You should therefore never run a half-marathon in brand new shoes, but instead buy them in advance, with time to run in them at shorter distances.
Another good rule of thumb is that you must replace your running shoes once a year and no matter what, they must be replaced after a year and a half, as the shock absorption in the sole disappears even if the shoes have been hidden away in the closet. If you run longer distances and several times a week, you should change your running shoes twice a year.
Choosing the right running shoes can be compared to going to the eye doctor when you need new glasses. The employee goes through various tests with 'filters' based on your personal answers to them until you have finally got a result that can be used to choose your personal glasses incl. Glasses frame and design of the glasses.
Two Great Long Distance Running Shoes
Saucony Men's Ride Running Shoe is a neutral all-round running shoe – a versatile running shoe. Thanks to this, the shoes are ideal for your daily runs and longer distances. This 14th edition has a sportier look. The FORMFIT upper fits smoothly around the feet.
It gives a comfortable feeling without becoming too stiff and thus ensures a stable and confident running experience. The mask material is very breathable and keeps the feet cool. The COLDTRAC outsole is made of durable material, which provides more grip on cold surfaces than before.
You experience good grip and traction on both wet and dry surfaces. Saucony Women's Ride 14 Running Shoe is the women's model as the image below. For both men and women, you can choose from several looks.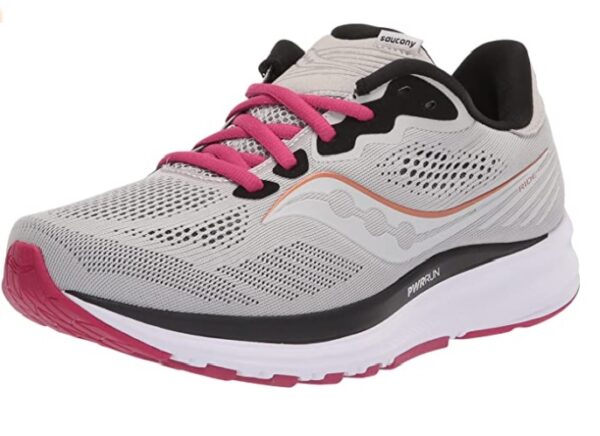 Under Armour Hovr Sonic 4. These men's running shoes – as the image below – are built with HOVR ™ technology and deliver a flexible running step, which makes every kilometer feel effortless. The HOVR ™ foam construction provides excellent energy yield to achieve a sense of gravity.
For both men and women, you can choose among several looks. Paired with a lightweight mesh upper, this shoe makes any distance accessible. The women's model is: Under Armour Women's HOVR Sonic 4 Running Shoe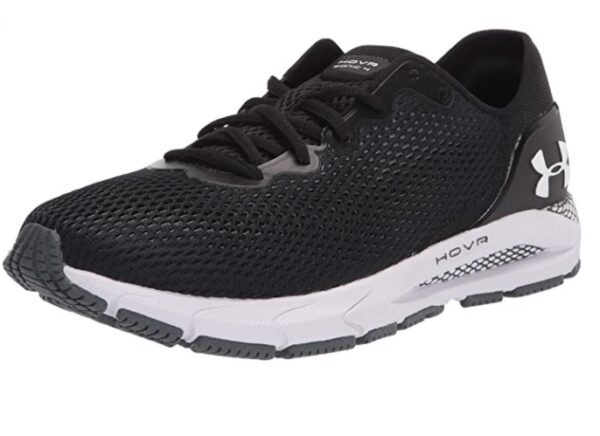 I hope you like this post, and if you have any questions about Best Long Distance Running shoes, or want to leave your own Personal review, please leave a comment below.
What shoe is best for long-distance running?
Looking at durability, weight, cushioning and response Asics Gel-Nimbus Lite 3 stands out as an excellent shoe for long-distance running. Mostly because you don't carry heavy shoes over time and with proper rubber below the sole.