In some of the previous articles, we have discussed how Running Style is typically divided into Overpronation, neutral pronation and supination, as a starting point when choosing running shoes. In Choosing the best running shoes for different purposes, we look at how to choose running shoes in practice for the specific purpose we will use them for. If we do it systematically, it isn't difficult.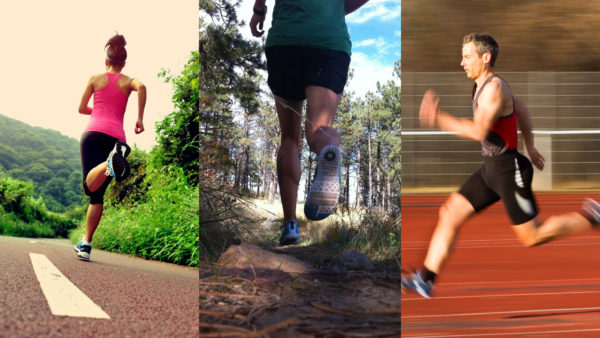 Training Shoes
For training sessions where you do not have ambitions to run fast or set records, but rather running for quantity training in easy/moderate pace – 'daily training', then you should go for a well-cushioned shoe that gives you good support.
The effect is that you wear less on the body and get a better recovery between the more demanding running training. It prevents injuries and gives a performance-enhancing purpose.
Your running shoes for quantitative training must be solid and stable regardless of your running style. This makes them more robust and durable in terms of being able to be used often.
When training more than 2-3 times a week, it is a good idea to have several pairs of training shoes, preferably of different types. In that way, you don't strain your muscles, tendons and bones, in the same way, every time you train – you vary your run.
Running Trainers
By varying your runs, you minimize the risk of injuries. And it is not more expensive with 2 pairs of shoes (or more), as you do not wear the same shoes all the time – so they last longer. If you run varied on different surfaces, it is obvious to run in several types of shoes.
Ordinary training shoes are typically not the lightest, although there can be great variation, quantitative training is often for longer and easy/moderate runs, so the focus is on protection and comfort as the body gets tired. In this way, it also recovers faster.
How to choose training shoes 
Shoes should not be chosen based on design. A nice color does not necessarily mean that it is the right running shoe for your foot and running style. One of the best ways to help yourself find the right running shoes is to bring your old and well-worn running shoes to the sports shop.
They tell so much about your way of wearing them and thus your running style. Below you will find some of the best running shoes with pronation support – i.e., running shoes that are stable and support the foot on the inside so that it does not "fall too much inwards".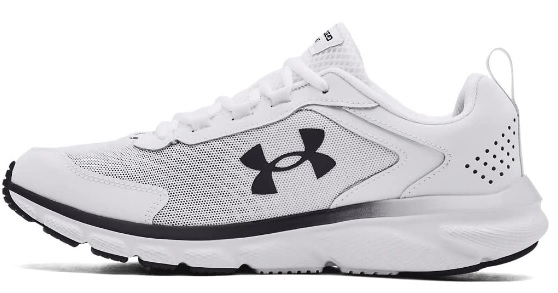 Running Shoes For Competition
This shoe belongs to the lightweight category, which is also called competition, pace or fast running shoes. There are many good reasons why you should have a light running shoe in your wardrobe. Below you will find the most important:
How to run faster
A lighter running shoe simply makes you faster! Do you want to set a new personal record, or do you want to beat your friend or colleague for an upcoming race? – then you should not cheat yourself for some easy minutes and seconds. Get yourself a lightweight/competitive running shoe!
By running in a lighter running shoe, you improve your running economy and thus utilize the forces that you have available in a more efficient way. If you are used to running in a classic quantitative training shoe such as Asics Gel-Kayano or Nike Vomero, then a pair of lightweight shoes will feel like an extra turbo when you run intervals or run competitions.
In addition to the fact that the light running shoes actually improve the running economy, as soon as you get in a pair of light running shoes, you will also experience a delicious feeling of lightness – and quite naturally you will feel that you run faster.
Train your body more versatile!
Another great benefit of owning a pair of lightweight running shoes is that you can train your body more versatile and varied. There are many indications that variation in training is one of the most important factors in terms of preventing and avoiding running injuries.
If you always run in the same shoe at the same pace on the same route, it will be the same muscles, tendons and bones that are repeatedly subjected to strain – and it is not appropriate if you want to avoid overload injuries.
Switch between different running shoes
The structure of the running shoe is of great importance for how your body is loaded during running. So, by having several shoes to switch between, you have from each time you train to have the opportunity to vary the way your body is loaded. This will ultimately help reduce the risk of congestion injuries. Therefore, you need to switch between different running shoes.
The more serious runners often use a running shoe dedicated exclusively to competition use. There can be a big difference between whether it should be used for 5 km or marathon running. When you have to perform up to your very best, even margins like weight can be crucial – and here a pair of lightweight competition shoes comes in.
Therefore, it is an essential argument to buy a pair of low-weight running shoes. To get the full value of the pure competition shoes, they are mostly for runners with speed, ie under 2.40 on the marathon or 1.20 on the half distance. A lot of shock absorption and support have been cut away to bring the weight down. In other words, a compromise that for most runners is not worth the effort in terms of achieving a fast time.
Shorter Running Distances
For races of 5 and 10 km, a light shoe can also be a good idea. If you are a heavy runner, you should consider the need for a competition shoe and instead look for a lightweight shoe. But there is nothing that can move mountains like a pair of lightweight running shoes on race day.
The feeling of "nothing" on the feet gives wings. But one must then remember to rein the wings so that one does not 'die' after a few kilometers. The low weight is meant as a compromise around support and comfort. This is one of the reasons why you should consider whether you get the effect of low weight.
A good light shoe for competitions is usually built on a narrower and more curved basis, with a simple midsole of typical EVA foam, an outsole of soft and light rubber and an upper part in very light and breathable mesh material.
One of the best running shoes for competitions as well as the short and fast runs is BROOKS HYPERION TEMPO as below: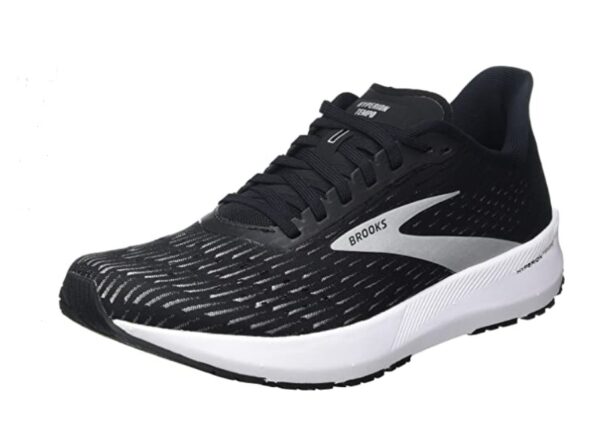 Minimalist Running Shoes
A good alternative or supplement to the more "classic" running shoes can be to run in bare feet or very light shoes with great flexibility and with a low drop. A few years ago, the trend took off when author and runner Christopher McDougall wrote the running bestseller "Born to Run" about a Mexican Native American tribe who ran long and fast with very simple shoes. Without being harmed, and several of us remember Zola Budd. Budd's career was unusual in that she mainly trained and raced barefoot.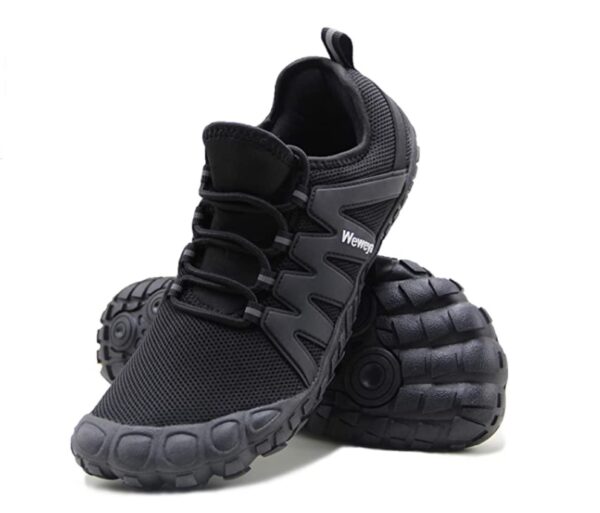 It helped to shift focus from the more classic perception of running shoes, running style and the way of running. The technique is a crucial factor here. The Natural Running phenomenon itself can be attacked in several ways. There are many techniques, and it is cultivated in a myriad of variants such as Pose-running, where you work with technique, posture and high stride frequency.
Natural running
Natural Running is very much about technique, where you typically land in the middle of the foot or forefoot. This is done to take advantage of the resilient shock absorption from the foot and the body's construction, thereby sparing the rest of the body against the hard shocks from the landing.
One returns to the roots and runs more, as one does without shoes. For example, watch the children run on the beach. This pursuit of the original natural element of running has created and given name to Natural Running.
Depending on the belief, you go from barefoot running to more classic running shoes with a low heel drop. The low heel drop (the level difference between the thickness of the midsole under the heel and forefoot) helps to require a landing further forward on the foot so that you land more on the entire foot.
The running shoes must be flexible so that they follow the movements of the foot while you run. Likewise, a low weight is essential when you need to have a barefoot-like feel in your run.
Trail Running Shoes
Trail running has existed for many years. There has been a small selection of running shoes with extra grip in the outsole on the market. In recent years, this type of race has become more and more popular, as here you can challenge yourself and let nature set up obstacles and challenges and at the same time run in the most beautiful nature.
Therefore, increases the selection of trail running shoes more and more becoming sophisticated the more extreme this type of running becomes. The characteristic of a trail running shoe is that there is a knob system on the outsole, which means that you are firmly attached to the surface in nature.
Best trail running shoe
The construction and design of trail shoes for cross-country running are very different whether it is on rocks or in mud that you run. The Trail Shoes are equipped with different types of protective measures depending on what they are to be used for.
The upper part can be tighter so that pebbles, gravel and mud do not get into the shoe so easily. There may be a so-called rock plate, which prevents pointed stones can be felt up through the sole. Reinforcements of the upper part and the shoe do that they can withstand bumps into, for example, stones and blackberry bushes.
Here there is not much focus on running style, as running off-roads and paths gives a much more varied running pattern, i.e., the movements are not as one-sided as when running on asphalt and paths.
Trail running – different terrain
If you run in very uneven terrain, it is an advantage to be in fairly close contact with the ground, as there is a greater risk of twisting in a higher midsole than on one that is close to the ground. Therefore, low heel drop is often seen in trail shoes
Brands such as Salomon, Nike and Adidas have made several running shoes that are particularly suitable for trail running. However, the HOKA ONE ONE SPEEDGOAT 4 below is probably the best for long trail runs.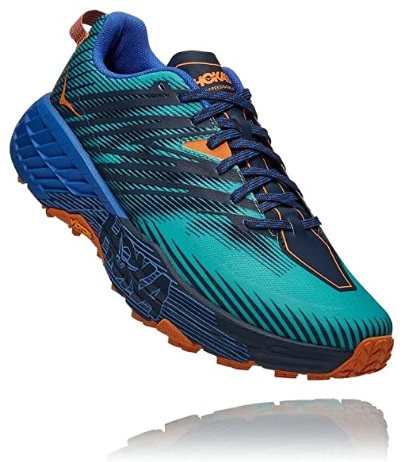 Hoka One One Speedgoat 4 is named after one of the world's best ultra runners – and rightly so! This trail shoe is the obvious choice for long trail runs and ultra runs. The superb shock absorption carries you gently throughout the run.
However, a large amount of foam in the sole is by no means heavy to run with. Running in Speedgoat feels light, soft and extremely comfortable. Hoka One One Speedgoat 4 can be used on both solid and soft surfaces.
Final Thoughts
As you can see, there are several choices you should make before choosing the right running shoe for your purpose. Let's make a summary below:
1) Find your running style – Many sports stores have this opportunity on a treadmill, or look below one of your old worn shoes. How is the worn pattern?
2) What do you want to use your running shoes for?
3) Make your Shoe choice(s)
4) Have more than one pair of running shoes
I hope you get something out of this post and if you have any questions about the topic or want to leave your own Personal review, please leave a comment below.
Which shoe brand is best for running?
Brooks running shoes are probably the best running shoe brand. In particular, because they focus solely on running in their market portfolio in contrast to other big sports brands e.g. Nike, Adidas, and New Balance!