Developed by passionate running enthusiasts, Saucony running shoes are a leading global running brand. Saucony are Based on performance, innovation and style with a goal of creating compelling footwear- and apparel through its widely acclaimed brands Saucony and Saucony Originals. Gracing the feet of its great elite runners like Parker Stinson, Jared Ward, and most notably Molly Seidel's 2nd place at the Olympic Trials Marathon, Saucony Endorphin Pro men's running shoes were seen but the shoes were not available to us 'mortals', until now.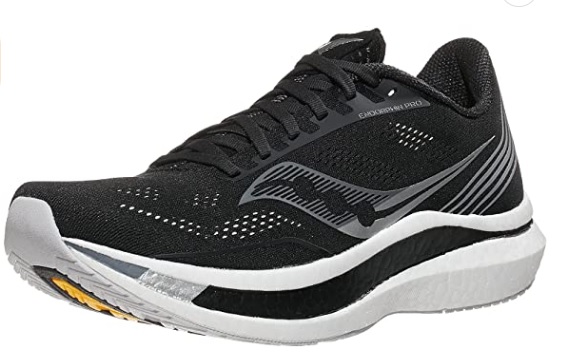 when it comes to the brand Saucony, and especially their manufacture of running shoes. Then we know that it is people who know what they are dealing with. These people are passionate runners who have dedicated their lives, ideas and thoughts to making fantastic running shoes. And we must say that they are doing it well. According to one of the top running sites on the internet, the two best marathon running shoes worldwide are from the brand Saucony and the brand is gaining more and more terrain here, and it does so only because it is quality running shoes they manufacture.
Saucony was founded in 1898, to equip and strengthen the human spirit in every step, every run, in every society. Saucony's mantra and call to action, Run for Good, is a recommendation for people to experience the evolving power by running.
Saucony's award-winning inventions include PWRRUN + ™, PWRRUN ™ and FORMFIT ™.
So, it's not a new and hyped brand that just suddenly popped up out of nowhere. No, it is a brand with many years behind it, and thus also a great routine in producing high-quality running shoes.
Saucony – The Beginning
It all started in Pennsylvania in 1898 when 4 young businessmen chose to start Saucony Shoe Manufacturing. As early as 1920, the store was booming, at that time about 800 pairs of shoes were sent out the door a day. And that's how it went up through the '90s. More and more athletes are discovering Saucony as a shoe and running brand.
In 2011, they changed their top models' heel to toe drop from 12mm to 8mm – and that was something that many athletes took really well. Saucony running shoes are now a brand that most runners are familiar with – in line with New Balance, Brooks and Inov8 mm.
Saucony's Top Model Endorphin Pro is the centerpiece of Saucony's Endorphin series of shoes, which i.e. also includes Endorphin Shift and Speed, and is the top of the line-racing shoe on offer. focus is on the marathon distance, where Endorphin Pro according to a comprehensive study is one of the world's best marathon running shoes.
Saucony also supplies running shoes to him or her who would like to run on the road. They have a few trail running shoes that have hit the market successfully, but if we look broadly at what kind of runners they attract, then they are the ones that prefer to run on the solid surface.
What's Really Good About Saucony Running Shoes?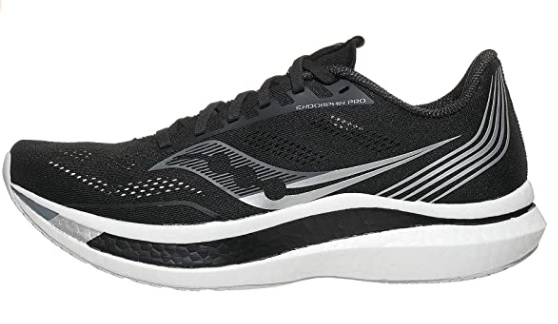 There are many excellent technologies and characteristics of Saucony. But if we should highlight some of the best, you can be sure that the products that come on the market have been thoroughly tested and tried out. Products that are published are carefully measured for the task they have to solve. Everything that comes out of Saucony's test center tends to be of the highest quality. And it is a really good security to have as a runner.
Another thing worth highlighting is for sure their way of building their shoes. We very rarely hear some say that a Saucony running shoe fits poorly, or has created frustrations in that direction. They have a really excellent fit and do really very good things for your feet.
The Most prominent Technologies in Saucony Running Shoes?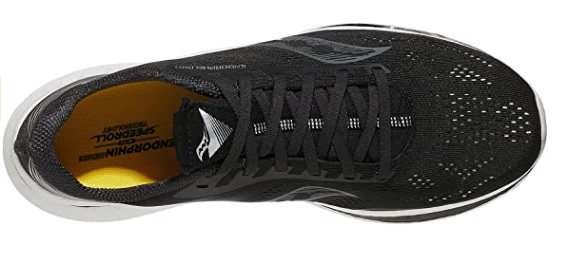 There are many well-considered details and development hours behind the technologies in Saucony running shoes. Below is a small selection of the most prominent:
The shoe has a full PWRRUN PB midsole, which is 40% lighter than PWRRUN and provides almost 90% energy yield. The Endorphin Pro midsole also features Saucony's new Speedroll technology.
Powergrid+:
Is their sole construction that gives you the 21mm height in the forefoot and 29mm in the heel. It is a construction that just gives you a super nice feeling when you run, and then of course lots of shock absorption. A sole construction that lasts for many kilometers, without becoming "flat".
Everun:
It is an extra layer of shock absorption – but much closer to the bottom of the foot. It is a material that is put in the sole and which returns up to 83% of the energy back to the runner. It is, among other things, this technology that makes Saucony running shoes so comfortably soft and super good to wear.
Isofit:
Another thing that makes your running shoes from Saucony sit sublimely on the foot is their ISOFIT. It is a kind of method that lies inside the shoe, which makes sure to give your feet the support they need. It is an ultra-soft material, which is also made of highly sweat-absorbent mesh, so your feet can breathe really well.
Saucony men's and women's running shoes online can be found on Amazon, which you can find below.
In the past, in Europe, It was difficult to find Saucony running shoes, but selected retailers today have the Saucony shoes for running. Many of the dealers who had them before, we had to find at dealers such as, Wiggle, Milletsports, and 21Run which make a great effort to have a nice selection of Saucony shoes for both men and women.
They may not be as popular as Asics, New Balance, and Nike, but they are produced on at least the same level of quality and they are far more durable than many other brands.
Saucony women's running shoes tend to last longer than Saucony men's running shoes, but here the weight naturally also has an impact. In addition to the weight, your running style has also a lot of influence on the wear of your Saucony running shoes.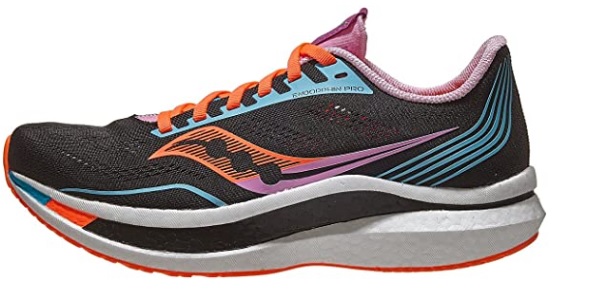 The shoe provides the perfect amount of protective cushion with an abundance of energy in return, and a 'smooth roll' that drives a runner forward encouraging to speed. The upper part is made from a single piece of thin single-layered engineered mesh. The material is pliable with a structure coming from the bonded logo overlay, laminates around the heel, and an internal toe bumper.
Their motto is worth remembering: "At Saucony, it's a good day when we run. A better day is when we inspire others to run."