Many people think that trail running is hard and demanding. But it's about what you make of it and also the type of trail running you choose. When you run in nature up and down the hills or when the surface varies from forest bottom, mud, gravel, or rocks, you will find that your regular running shoes have their limitations. You cannot get the right grip here. In how to choose the best trail running shoes, we look at your opportunities for choosing the right shoes based on how your trail running- and routes will look like.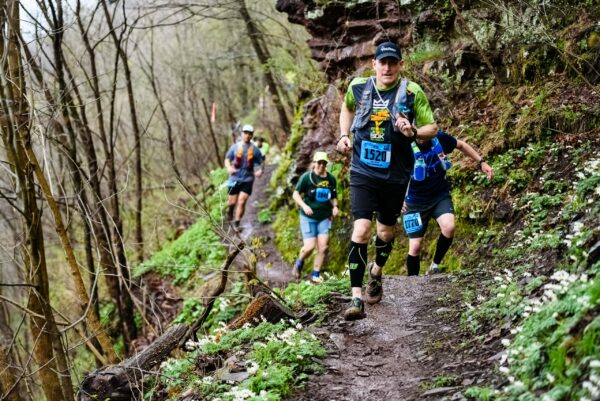 In relation to marathon training or other kinds of regular running, trail running can be used as a great opportunity for cross-training to create variation. And there are also great opportunities for trail gear to choose from depending on your needs.
Trail Running Challenges
If you choose to run in ordinary running shoes, it gives two major challenges in particular:
1) You do not get enough out of the energy you spend on moving. Each time you hit the ground to set off, an ordinary running shoe will lose grip and slip back instead of getting stuck and allowing you to get forward. This is especially a problem uphill. It's like one step forward and two back.
2) You lose safety when you move quickly down the hills or run technical routes with many changes of direction. The knobs under the sole of a trail shoe ensure you a good grip on the ground and reduce the risk of falling. Given that you run on varied surfaces, it is often not fun to fall as it is more unpredictable what you land on.
Trail Running Shoes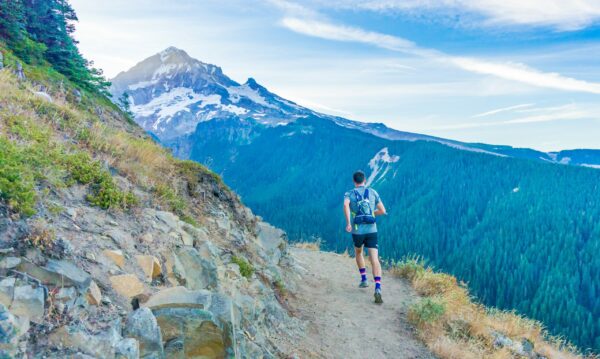 In this article, you will get suggestions and tips on how to choose the right trail shoe for your needs. The choice of trail shoes depends very much on the surface you have to run on.
Many runners run impeccably in the woods in a pair of regular running shoes without knobs in the outsole and other specialized shoe properties as long the surface and weather allow it.
It also depends on whether you are a newbie, experienced, or expert or you prefer regular trail running, advanced trail running, or challenging trail running (Ice and snow).
Choose Trail Running Shoes That Fit The Surface
You should choose a shoe that suits the conditions. There are trail running shoes for all conditions, both muddy, dry, rocky, wet, slippery, etc. The selection is therefore huge and can be a jungle at times. How technically demanding is the surface you have to run on?
The more technically demanding surface you have to run on, the closer fit the shoe must have, so you don't curl around in the shoe but get the maximum stability and control of the shoe.
A shoe for Cross-country running, where much of the running takes place off the trails, is typically very narrow. A shoe for regular trail running is typically a bit wider and softer in fit. Therefore, keep in mind which surface you want to use the shoe on.
If you need to use the shoe over longer distances, you need to have a little extra space in the shoe so that the feet can expand a little. Hoka One One Speedgoat 4 is a good choice here and the shoe differs with its thick midsole from other trail running shoes.
You get maximum comfort for the long runs or if you just want the best of the best when it comes to shock absorption since this shoe probably is the best Max-Cushioned Trail Running Shoe at all.
Let's go a step further and take a closer look at what different challenges there can be in trail running…
Different Types of Trail Running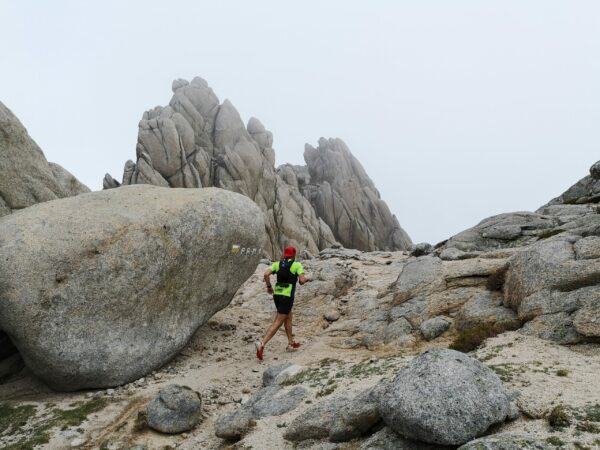 As you know by now, there are several different types of trail running. There is not just something called trail running. Therefore, there are also different types of trail running shoes. They are developed and designed to handle the task that the individual type of trail running offers. Below are some overall types described:
The regular trail running route
Is the one most used by beginners and those who maintain their shape over the winter. It's running in the woods, on either the forest trail or maybe in the mountain bike trail. If you are a beginner, you will probably start on the forest path, and when you need a little more challenge, you choose to run in the narrower MTB tracks.
The best overall trail running shoe for men, in this case, must be Salomon sense ride 4:

For the regular trail running route, The surface is often highly variable and can be both the gravel path that runs through the forest, it can be a forest bottom filled with leaves or mud, or other types of paths.
There are a lot of options in what we call the regular trail. The running shoe for the regular trail run is characterized by the sole not being very profiled, as the surface is relatively dry and firm.
The wet trail running route
This trail is a slightly more challenging type of trail running. It's typically a muddy or very wet surface that is primarily present on the run. It can still be on a forest bottom, around a lake, or maybe on a dirt road after a lot of rain.
They are mentioned as wet trails because it's typically something that is available during the periods when it rains a lot. So fall is a really good bet on when you can get these challenges.
A running shoe for the wet trails is typically characterized by the sole being much more profiled than on a regular trail running shoe. And that's because it has to go down and have grips in the soft surface and make sure you do not slip in some of the many changes of direction.
A good choice for this kind of surface for men would be Saucony Men's Peregrine 11 Trail Running Shoe You have more color choices.
These shoes have the coarsest knobs and the strongest grip on the surface. They are good for trail running where the forest surface often is wet, soft, and muddy. They are designed to handle even the most extreme challenges – even winter trail running. The GORE-TEX inner sock keeps the foot dry.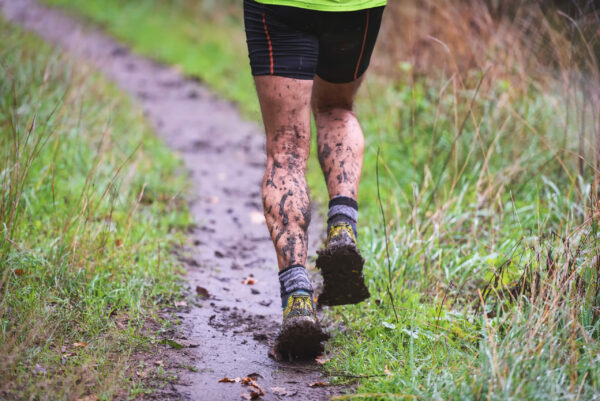 The slippery trail running route
Most often takes place in the winter season. This means you are out running on ice- and or snow in most cases. In fact, it can take place both in the terrain, but certainly also on ordinary roads, sidewalks, etc.
It's just a question of whether enough snow has fallen. But if you have tried to walk on a sidewalk that is salted and tidy, and then directly into a piece with is ice and snow, then you can definitely understand that this kind of surface is very challenging.
You can choose to train through winter with the SPIKECROSS 5 GTX. The terrain for this shoe besides ice and snow is Rocky, Muddy & Soft. Salomon has taken the iconic Speedcross and added a complete GORE-TEX bootie for weather and snow protection.
There is also used winter Contagrip®© compound and added 12 tungsten spikes to the bottom of the sole for a confident grip on soft or compact snow, and ice.
It requires something extra if you are going to run on ice and snow.
In circumstances like these, you should preferably have – at least a little – experience as a trail runner. The shoes for trail running on icy slippery surfaces are in general characterized by a rubber sole with built-in spikes that can drill into the snow and ice and thus achieve the optimal grip.
OCR run
If we talk about races and competitions which also of course are found in the above descriptions, then there has been a greater and greater tendency to that we want to challenge ourselves. People do not want to just run the regular trail anymore, we just need something more.
Therefore, we see more and more that obstacle races/trail races appear with different kinds of challenges. Among other things, is OCR runs (Obstacle course racing) a phenomenon that has gained a lot of progress in the last few years.
It's a mix of trail running, obstacle running, and Crossfit. It takes place in many cases often in some form of descending terrain, and the exercises/challenges you have to do are based on using your own body weight. A bit like you know it from Crossfit.
Trail Running Shoes – Overview
The right trail running shoes for you will make your trail running experience unique. A proper grip on the ground's surface is essential for trail running together with some other features as described below with a standard trail shoe, which is great for a newbie who wants to try trail running.
Stability of your trail shoe
A trail running shoe is not built in the same way as a running shoe for roads in terms of stability. Your foot is rarely in a plain position in trail running. So, it does not really make sense to have stability technologies in a Trail shoe.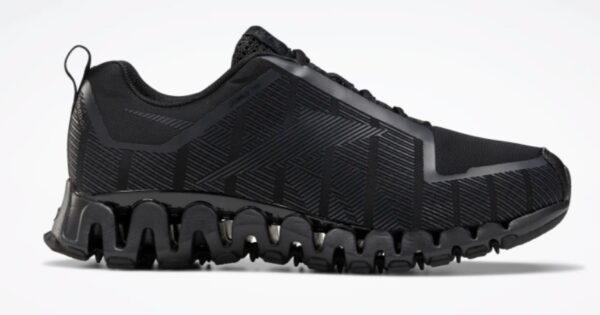 Shoe fit
A trail running shoe has a narrower fit, as it must be able to keep the foot in place in relation to the many changes of direction as well as different foot positions in the landing phase, on the more varied surface. The shoe must therefore be firmly attached to the foot.
Trail shoe upper
Very often, the upper is more durable and resilient on a trail running shoe. This is because it receives more "spanking" than a normal running shoe. The shoe is built to withstand- and meet thorns, branches, and other challenges that nature gives your running shoes.
Shoe cushioning
Basically, a trail running shoe has less cushioning than a normal running shoe. Because on the road, the surface is hard and plain. By trail running, the surface is more uneven, soft, and "energy absorbing."
Trail shoe sole
The sole is one of the crucial points in relation to a trail shoe. It is essential for the grip in the ground, and therefore a trail shoe is coarser and rougher than on a normal running shoe.
Final Thoughts
Trail running is an effective way to get away from the routine and immerse yourself in nature. Running through the woods will bring you close to nature and make you feel raw, energetic, and connected to something bigger than yourself.
In addition to the mental benefits, there are physical benefits, as Trail running affects the body less than normal road running while building more strength in the muscles to stabilize the core and legs.
To gain these conditions in your off-road adventures, it could be a good idea to try different types of trail shoes until you find the right trail shoe for you and your "off-road" needs, so you can achieve the best trail runs.
I hope you like this review and if you have any questions about the topic or want to leave your own Personal review, please leave a comment below.
How to choose the right trail running shoes?
Decide what kind of trail running surface you mainly want to use the trail shoes for. Is it a regular trail route? A wet trail running route, a slippery trail route? Then you can start choosing fit and specific design features.