A sport watch today is an excellent training tool if you choose to use the options available. The yield will be even greater if you decide what you want to achieve before the training session and then plan the training goals, you want to go for weekly. In how to choose the most effective marathon training watches I have chosen my best running watches for Marathon training because of these reasons.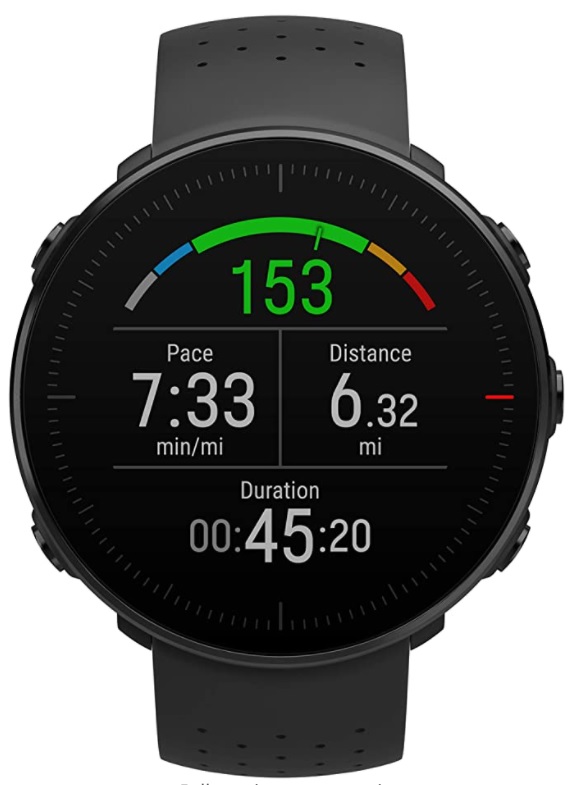 Sport Watch – a New Training Dimension
For example, the distance, heart rate, length of intervals as well as warnings from heart rate zones. This gives the training a whole new dimension of quality which also makes it more fun.
It's easy to get fast access to a lot of data that can help you be a better runner whether you want to improve your times, lose a few pounds or just want to get in better shape. The latest news within running watches is the built-in music player and Spotify, so you don't have to bring your mobile phone with you on the run.
There are so many running watches on the market today, so it can be difficult to find the right Marathon training Watch for you unless you know what to look for, which often means functionality and data collection.
If you are a competitive runner or super jogger it's important to have your personal heart rate zones in the watch, since the amount of training easy can lead to overtraining unless you have heart rate zones with warning signals.
I prefer running watches with heart rate monitoring and GPS tracking. After the run, you can upload training data to e.g. Strava or Garmin connect and review a lot of info about the run like the route, who is drawn with a line, the height differences, calorie consumption, etc.
I have a running watch with a heart rate measurement on the wrist, which I am quite happy with.
Wrist-Based HRM Sport Watch 
It measures the heart rate all the time and also calculates the average of the day. So if you've been out on a wet evening with friends in the city all night and look at your heart rate average for the past 24 hours the day after, you get a minor shock.
The only minus in wrist-based heart rate measurement as I see it is it doesn't always measure quite accurately such as an "old fashion" heart rate watch with a heart rate belt. The wrist-based heart rate watch calculates the heart rate based on an algorithm and not directly on the heart rate as the heart rate belt does.
So, it makes the heart rate belt more reliable particular at the more demanding intervals. But in general, the wrist-based heart rate watch is great in most situations. You can watch the heart rate in different situations throughout the day and during the night's sleep, it can measure your sleep rhythm which can be uploaded and analyzed in the cloud.
Although I have had Garmin running watches for many years, I have chosen the two best running watches from Polar this time. Marathon watches will often be better, especially if you are a data geek but in terms of data collection, functionality, price, usability, display and robustness, are my Marathon Watch number one – Polar Vantage V.
Polar Vantage V – The top Model of Polar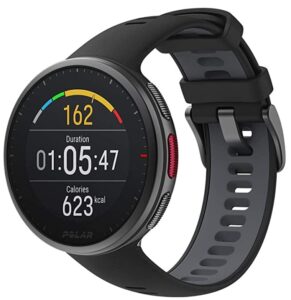 The Polar Vantage V is a really nice running- and Marathon Watch with functionality that none of its competitors can match and the screen structure is in a class of its own. It looks great and the heart rate is wrist-based but can be supplied with a heart rate belt if you want that.
The watch has a large (1.2 ") and a brilliant touchscreen with a color display as we know it from Apple Watch. The numbers are razor-sharp on the screen and work just fine in the sunshine too. The GPS is not quite as fast at finding the signal as Garmin's watches.
Sometimes it's a problem particularly in the winter when you are waiting to get started while the watch says "wait" while searching for the signal and you stand impatiently in the cold. But once there is a signal there are no problems and Polar is very precise to use.
Other great features
Battery time is about 7 days in watch mode with continuous heart rate measurement or 40 hours in training mode with GPS and heart rate monitor turned on.
Unless you are an ultra-runner, it is more than okay. In practice, the watch must be recharged once every four or five days. One of the best functions of Polar Vantage V is that it can measure how hard you work, which means how many watts you provide when you run.
I don't think none of the competitors' watches can do that without extra accessories. This feature is mostly for the really experienced runners, but it's a welcome feature for the rest of us that can give the little extra drive that makes a difference.
Another of the strengths of the Polar watch is the focus on getting the restitution part of the running training included. It's a good and relevant part. Among other things, they have a feature that shows how well you recover during the night.
Good and quite usable, since it can inform how well you can train the next day. A drawback of the watch is the touch control and the five buttons on the side that can be a little confusing until you find out how they work. But usually, with advanced watches, it takes some time to figure out how the buttons work in practice. My Marathon Watch number two is…
Polar M430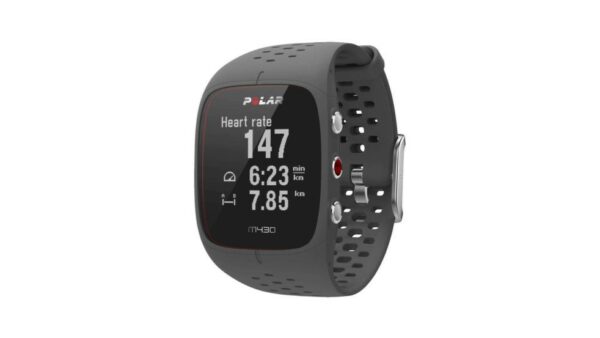 I'm not a competition runner anymore as when I was younger. So today I have other needs with my running and training. I enjoy running for personal experience and wellness more than setting a personal record and impressing my running team.
So, the Polar M430 sports watch is my second choice of sports watches today. It's a more classic watch with an "old fashion" design and then it's pretty reliable and it expresses running as when I grew up with my first polar watch.
It can pretty much be the same as the more expensive models, but the fancy things I don't use anymore are cut away. The Polar M430 is for those who run and focus on that. It has a GPS tracker and a wrist-based heart rate monitor.
But anyway, it's still my personal fitness and running trainer who helps me get in shape. The Polar M430 monitors my activity 24 hours a day from jogging to training, sleeping, or even walking and provides a basic overview of my shape and improvement.
You get good value for the money and a good and durable watch. The watch lasts for about 5 days of use with continuous heart rate monitoring and daily training sessions, which is okay. You can also receive messages when you have been inactive too long.
So, I use this sports watch mostly when I run on the treadmill in the training center. With its 55 grams, the watch is a little heavier than the Polar Vantage V, but that's not something that matters much. The screen is large enough, while the resolution is on the low side.
Conclusion
This blog was about the best Watches – For Marathon Training. If you want a broader overview of Sport Watches to choose a personal favorite that fits your specific needs, you can check my other "Best Sport Watches for Marathon Training" review here.
It will always be a personal choice to choose a running watch that fits your specific needs. It's all about knowing what you want to use it for. But sometimes you just want a watch because it has a certain prestige and signal value like with the Polar Vantage V where you feel in control of the situation.
I hope you like this review and if you have any questions about this post or want to leave your own Personal review, please leave a comment below.
Is Polar watch any good?
Polar watches are great for runners in particular. Polar has useful training and recovery tools with some of the most accurate wrist-based heart rate sensors out there. You can automatically upload your activities to Strava from Polar Flow.