Many different things must fit together on the marathon distance before the race will be a success. With a Marathon Training Schedule and the right preparation, you can do a lot to have a positive experience. Below you will learn how to use the marathon training schedule for beginners/intermediate runners. The schedule is the Specialization, which shows how to put it all together in practice forward to the marathon race.
The schedule is for beginners/easy experienced and continues from the basic schedule but first, we will take a look at the training types in the schedule and their purposes. A blueprint so you know what it is all about.
Long Slow Distance LSD 1 and LSD 2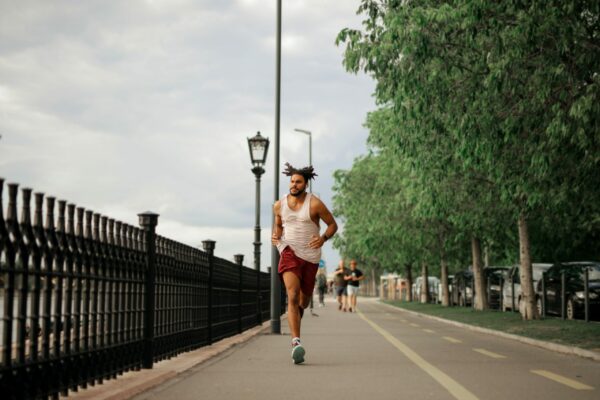 Aims to continue the endurance training from the basic training. Both LSD 1 and 2 should accomplish by easy/moderate intensity, i.e. in a comfortable, "talk" pace use your HRM training zone 2. This basic pace becomes faster and faster over time, as long as you are patient and let the body's adaptation to the training happen by itself.
The Lactate Threshold Training (LT – training)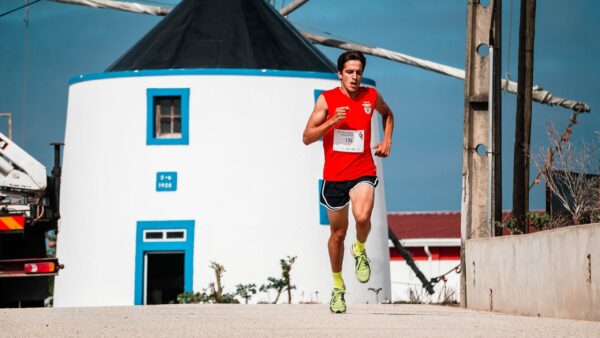 During this period, moves the lactate threshold for when the lactate begins to accumulate in the muscles, and thus you will be able to run closer to the limit for the maximum Oxygen uptake. As described earlier the LT corresponds roughly to your half-marathon pace and a working heart rate at 70-80 % of max. for beginner/easy experienced runners.
This lactate threshold can be determined by running 1 hour on a measured flat route with maximum effort. From the distance you have covered in an hour, you can calculate the time you use per kilometer, which is then used as the LT – training pace.
If you use a heart rate monitor, and have made the two heart rate tests and loaded the results in the HRM, you already know your working zone 3. The LT – training starts as intervals with long pauses between the work intervals – about 3 or 4 minutes. During the program  LT – training also includes tempo runs, test races and competitions on shorter distances as preparation.
The Tempo runs accomplish at the calculated pace, corresponding to the lactate threshold. The length of tempo runs is about 30 min. minutes of work, where the Intensity automatically will be close to the LT, because of the duration.
Test Run
Test runs are a good indicator of whether you are in the right shape concerning your goal or whether it is time to change your ambitions. The purpose of test runs and competition/races on shorter distances is:
To determine your physical capacity and do you recover in the right way
To research whether you are ready for your planned race
Being able to determine your level. The training load may then be adjusted concerning shape progress.
To assess the effect of the different training types and how you put them together.
To motivate you to more training
Making you conscious of the effects when you follow a training program.
Being able to predict your performance in your chosen marathon race.
When you participate in races during this period of training, the purpose is also to sharpen your mentality for competition. You get used to running among many other runners if you have not tried that before, which can push you too. These shorter races enhance the speed and thus the fitness toward the marathon goal. The pace should be just below maximum effort.
Before you start with interval training, it will be a good idea to have the right running shoes for the purpose. We will recommend Brooks Hyperion Tempo for Men and for Women an ultralight, fast and responsive running shoe.
A perfect shoe for intervals and tempo runs. A running shoe that just wants you to run forward. A minimalist shoe where everything has been about keeping the weight completely down, which has succeeded without compromising on quality:
Brooks Hyperion Tempo running shoe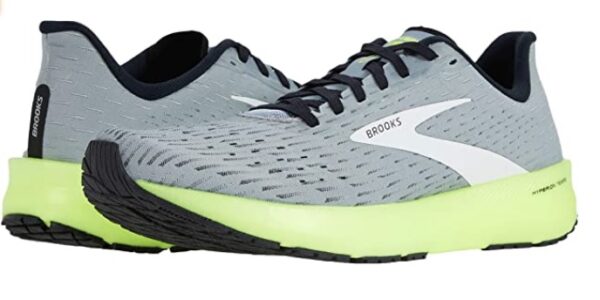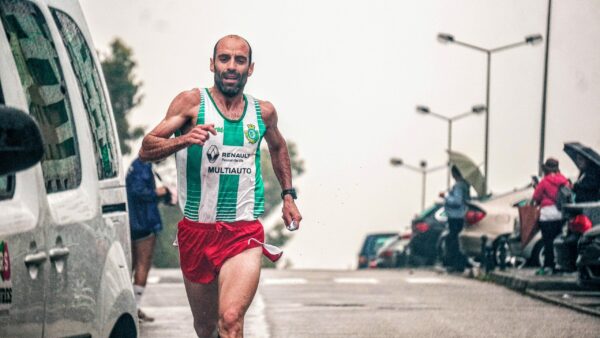 Performs best at high-intensity training, where you work with an intensity equivalent to 80 to 95 % of the maximum depending on running experience. Since it is a very high pace, this training type accomplishes at short intervals.
High-intensity training is the most optimal way to improve the maximum oxygen uptake (VO2-Max.), since you by this training type, can achieve the greatest total amount of intensive work.
This training type is the most important factor to increase your shape, but you do not have to work to exhaustion to improve this. You will also obtain improvements by reducing the intensity and increasing the duration it takes a longer time but it is less stressful and safer in relation to being overloaded.
High Intensity Training – Find The Balance
It is therefore necessary to find a balance. The intervals should be accomplished with an intensity very close to the current maximum Oxygen uptake. If you are beginner/Intermediate, and not yet have accustomed the body to this intensive training type, you should run these at your 10 km pace.
It is also important that the rest periods between the working periods adapt to the length of the working period.
The optimal rest period should last between 50 and 90 % of the working period. It means that a running period of 4 minutes can be replaced by a rest period between 2 and 3 minutes. In the rest period, you should be in motion, because the blood circulation in the legs will decrease if you just stay and wait. Jog or walk.
High intensity training plan
If you run with a heart rate monitor or a stopwatch, you can set it to count down in the rest periods from let's say 3 min. When you finish an interval, you start the countdown. When the timer beeps after the 3 minutes, you run the next interval and so on. Unless of course, you have a coach to manage the time. In this way you can manage your training.
Fartlek Training
Is to create variation, to keep your training from getting too boring, and obtain a better sense of your pace range. Include 6-8 strides here, and you will avoid being too slow, be better to pace shift and get a more optimal step length for your marathon pace.
The training program below is a suggestion. It's a 14 weeks training schedule followed by 3 weeks tapering schedule. The program is for runners who run about 50 km/week. Race day is your chosen marathon race.
Is an alternative to Fartlek. Hill training performs like intervals just in hills and you obtain good muscle strength, coordination, flexibility, better running economy and variation.
Below is a marathon training program for beginners and easy experienced runners. It's suggestions, so be flexible around your current running level and adapt the program to you and your ambitions.
Marathon training Beginner/easy experienced

Week
LSD1 (km)
LSD2 (km)
LT intervals Test/Tempo runs
VO2 – max. 
Fartlek/Hill Training
Km/Week
1
18
10
 
 
30 min.
39
2
20
12
2*2000 m
 
 
42
3
20
12
2*2.500 m
 
 
44
4
21
12
 
4*1000 m
 
46
5
22
14
2*3000 m
 
 
46
6
23
14
 
4*1200 m
30 Min.
48
7
22
16
5 km tempo run
 
 
48
8
26
16
6 km tempo run
 
 
54
9
27
17
 
 
30 min.
54
10
22
17
8 km test run
 
 
55
11
28
16
 
 
30 min.
57
12
22
17
10 km tempo run
 
 
58
13
32
16
 
 
30 min.
62
14
25
16
10 km Race (competition)
 
30 min.
60
The remaining runs that are not described in the program are done as easy runs so that you reach the number of km/week shown in the right column. In this way, it ensures a progression in the course toward a chosen race.
Below is the tapering schedule for 3 weeks to complete after the 14 weeks above.
| | | | | | | | | |
| --- | --- | --- | --- | --- | --- | --- | --- | --- |
| Week | Monday | Tuesday | Wednesday | Thursday | Friday | Saturday | Sunday | Km |
| 1 | Rest | 6 km | 8 km + 8 strides | 5 km | 6 km tempo  | Rest | 21 km | 46 |
| 2 | Rest | 6 km | 3*1500 min 10 km pace | Rest | 7 km | Rest | 18 km | 37 |
| 3 | Rest | 6 km | 6 km | 5 km | Rest | 5 km | Race day |   |
I hope you like this blog and if you have any questions about this topic or want to leave your own Personal review, please leave a comment below.
How many months do you need to train for a marathon?
A rule of thumb as a complete beginner is 26 weeks. You have to find your current running level and follow a training program from there. By following a strict training plan you'll gradually improve your fitness and strength toward the race which is very important.