When it's autumn, it's time to replace the shorts with long tights and the thin running shirt with a base layer. A lot of runners think that it's great to run in autumn because it's not so hot anymore, and it's not freezing yet either. When winter comes, cold weather running tights is the best way to keep you dry and warm as the starting point. Getting the best runs out of these seasons requires some changes in the running wardrobe. We will look at that in this article.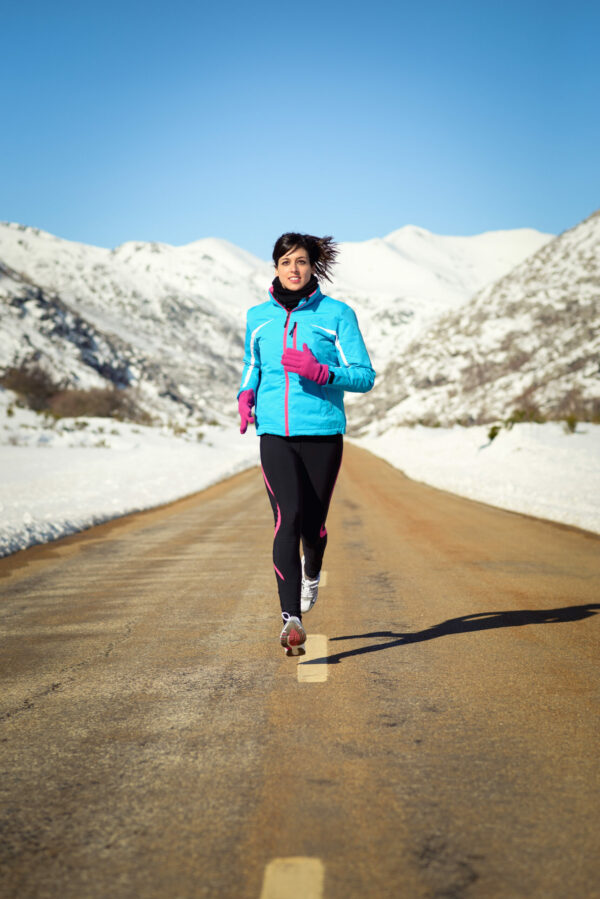 When summer is over, running in the scorching heat of the sun is also a finished chapter. it's time to think a little more about how your running wardrobe should look for the next season. In order to get the best out of the run, you should consider how your outfit should look now and how you want to dress.
The concept of layering clothes for outdoor activity is fundamental, no matter the time of year. Cold weather layers also called the three-layer system of base, mid and outer layers provide the opportunity to regulate our temperature whilst moving quickly or slowly for any outdoor activity.
Best Cold Weather Base Layer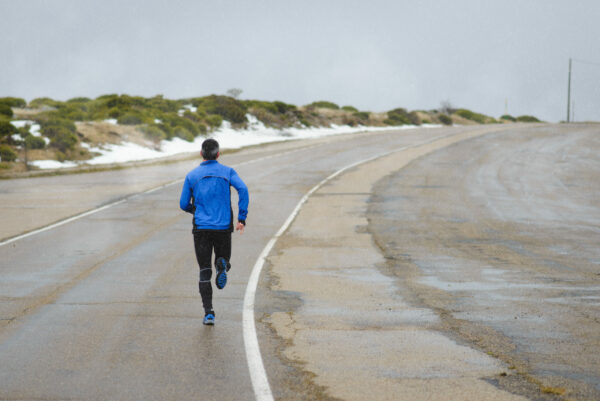 The base layer is the moisture-transporting layer that sits close to the skin. It is usually relatively thin and close-fitting. The primary goal is to direct sweat away from the body so that the person can remain dry, warm and comfortable. Merino wool has long been used as a go-to product as it has excellent moisture-wicking properties and retains warmth even when wet.
Many consider the base to be only one layer, but two thin layers are often better than one thicker layer. Or a thin layer of a thicker product over the top may also be required in extreme cold. Important with base layers is, always to take a spare with you.
The ability to switch to warm/dry layers during long activities, especially in extreme cold, can be a lifesaver.
A base layer for the legs is only a consideration if you need to add specific outdoor pants. Again, merino works best for the base. If you run, specific running tights (there are winter versions with windproof panels) are usually all that is required, as the legs are constantly moving and therefore retain heat.
But in extreme cold and wind, it may be necessary to reconsider based on the level of activity. Base merino with loose running pants over the top is an excellent scenario to start with. The running pants can also be waterproof as mentioned below or for climbing, they can be down or synthetic such as Primaloft.
Cold Weather Layering – The Mid Layer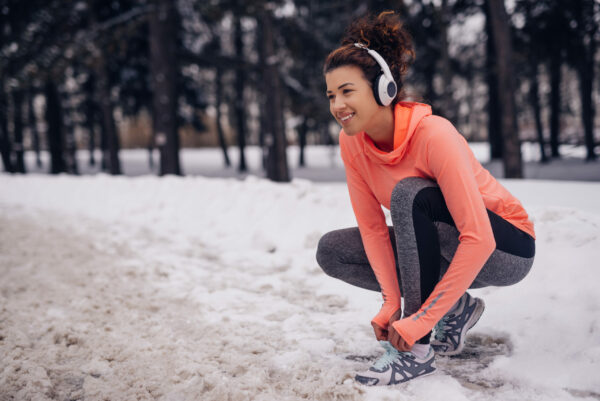 If we consider the mid layer as an insulating layer, this mid layer is also very important in transporting excess heat from the body and the base layer. Unlike the base layer, a mid-layer should fit looser to facilitate the capture and retention of air.
So, the air between the base layer (inner layer) and mid layer helps retain heat and transport moisture. There is no definitive middle layer and often the choice depends on the specific activity you do, the conditions, and how active or inactive you will be.
For example, 100% merino is possible, as a synthetic product like Primaloft or a down product. Each has its own unique properties and uses, where warmth to weight ratio is an important consideration, especially for an outdoor runner.
Cold weather running gear – Primaloft or another product
Primaloft or another product. Each has its own unique properties and uses, where warmth to weight ratio is an important consideration, especially for an outdoor enthusiast as mentioned. Depending on the product, a Merino interlayer will usually be heavier than synthetic, and down is the lightest.
Volume is an important consideration, down compresses very well and can be made exceptionally small to meet the best of most needs, small size, and lightweight. Merino, on the other hand, will take up a lot of space with extra weight.
Cold weather running – weather conditions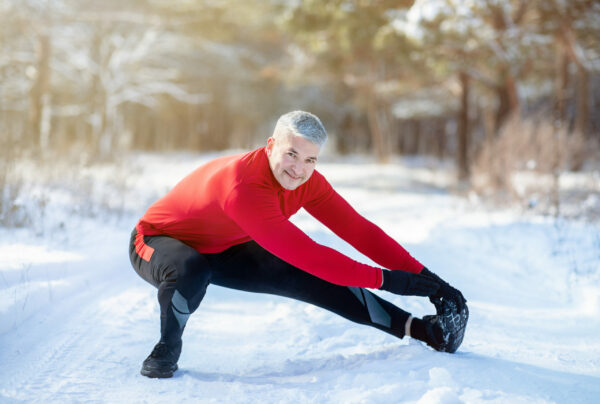 Weather conditions will often dictate which midlayer you will choose, Merino is good for all conditions (wet and dry), and Synthetic works equally well in wet and dry with a smaller bulk size and weight.
Historically, down has only been good in guaranteed dry conditions, as down (goose or duck, the goose is best) becomes ineffective when wet. However, many brands now treat down to resist water.
This often goes by the name Hydrophobic. Hydrophobic down has been treated with a durable water repellent that allows the down to dry faster and resist water for longer, meaning it will perform better in humid conditions.
This makes down jackets utilizing hydrophobic down more versatile as they can be used in cold, damp conditions without being damaged.
Cold Weather Layering – The Outer Layer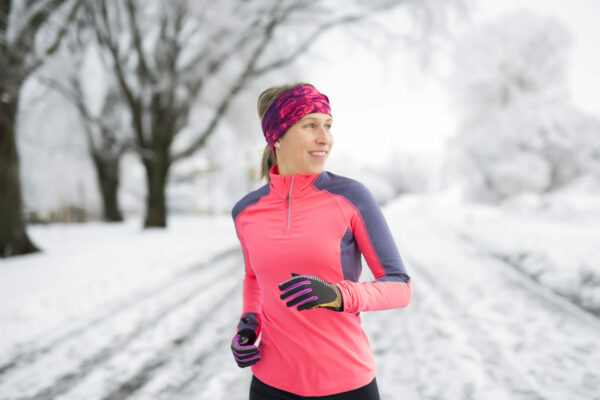 Designed to protect you from the elements but equally also allow the person inside to lose excess heat, outer layers are essential for outdoor activities. Many products exist and many varieties exist such as Gore-Tex Paclite Plus, Pertex Shield, Proflex Waterproof, Hyrdroshell, and the list goes on.
If running and moving fast and light, your choice will be dictated by product weight and size.
However, if the choice is hiking and mountaineering, a heavier-duty and more resilient product will be required. Also, keep in mind that pants will or may be required. Again, running waterproof pants can be minimalist whereas hiking pants will need to be more durable.
Cold weather running tights
If there was anything that surprised me at the start of my running career, it was winter training in cold weather running tights. The most effective ones are made of synthetic materials such as 90% polyester and 10 % spandex or elastan and they sit very close to the legs. the best winter tights are functional, breathable, snug Close-fitting, and flexible fit heat-retaining material that helps you stay warm.
They are incredibly effective, allow free movement, insulate and regulate the temperature and you hardly notice that you are wearing them. And here we talk about running interval training up and down at minus 10 – 15 degrees Celsius in my Craft winter tights. And here we talk about running long intervals up and down the streets in snowy weather and slippery roads.
Best cold weather gloves – technical winter gloves
Cold hands will often make any outdoor activity miserable and there is no one definitive answer to how to keep hands warm as there are many variables based on the conditions you will be in. A good place to start is with technical winter gloves (image below) where you can use your fingers for the mobile phone etc. or Merino liner glove.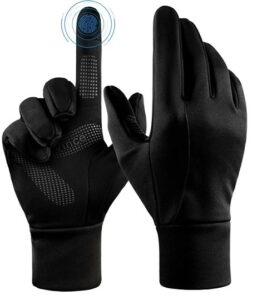 Mitts are guaranteed to be warmer, however, if you are climbing or doing a sport where finger dexterity is required, a mitt will not work. So, you need to assess your own personal needs.
Finally, an outer waterproof layer can be an excellent idea if persistent rain and cold temperatures are to be encountered. You need to adapt the layers for the conditions and just like a hat, moving and adding gloves is a great way to regulate temperature.
The head – ear muffs winter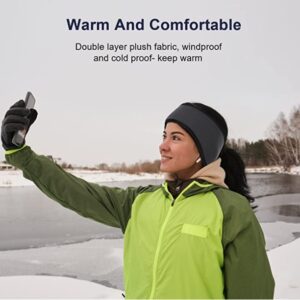 Most of the body's heat is lost through the head and quite simply, humans are designed to make sure the head and brain are kept warm. So, in cold conditions, hand and feet warmth will be sacrificed if your head is cold. Adding a layer to your head is a guaranteed way to warm it up immediately so treat this as a priority.
Equally, if you are too warm, removing a head covering is an easy way to cool down quickly. A merino wool beanie, Buff, or wrag is superb for maintaining warmth and just as the base layer, it will remove moisture and still keep you warm even when wet. A good solution will also be using fleece headbands such as ear muffs warmers winter fleece headband.      
Merino socks for your Feet 
Merino socks are essential for "happy feet". In dry conditions they wick away sweat, in wet conditions they retain warmth. Just as with the body, layering socks is a great idea. Most of the time a sport-specific merino sock will work, however, in winter, the demands on one's feet increase.
Consider a thin base layer sock with a thicker sock over the top, just like you would with your body. If you anticipate extreme cold and wet, a specific barrier sock may need to be considered such as a Sealskinz or equivalent.
What to wear for running in the cold weather?
The best running gear to wear in the cold weather is synthetic material, merino, and goose/duck down. By using the layer system, you can take clothes on/off depending on temperature.