A running shoe is designed with special features to give you a comfortable and hopefully an efficient running experience. But everyone has an individual running style, and it is important to know your own running style to choose the right running shoe in order to avoid injuries and get the best running experience. It's Fascinating With Running Style – The Way You Run. Because mainly You can have one of three types of feet as the first inquiry. Your gait can show a pattern of neutral pronation, overpronation, or supination. You can't immediately see which one you have. But you can take a look at the sole on your old shoes and see the way you slip on the sole – how is the pattern. That can give you an idea of your running style and the way you run. 
Neutral pronation: The shoe that fits to this pattern of movement cushions the shock when you hit the ground and supports your foot in its natural movement.
Over pronation: This shoe also cushions shock when you hit the ground. But by over pronation rolls your foot too much inward and this roll must be stopped, to control the foot in the most natural performing of the contact with the ground to avoid injuries.
Under pronation or supination: When the foot under-pronate or supinates it maintains so the run performs on the outside of the sole of the foot. In this case, your foot will be controlled so it rolls inwardly as close to the neutral pronation as possible. The picture below illustrate the three 'standards':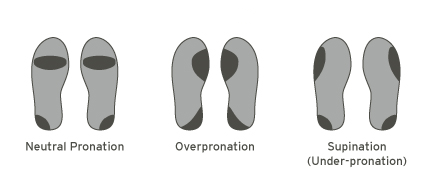 Looking at Running style in Practice
As supporter by one of the biggest bridge marathon races in my country, I was standing out there on the middle of the bridge and my tasks was helping the runners when they have problems or needed fluid. Staying out there watching so many runners passing you, shows that there are just as many ways to run as there are runners. the individual's body is unique in its structure, and the movements reflects that – running Style. Weak and tighten musculature can affects the running style in a non-optimal direction and you see that particular by the end of the race. Some of the things you can do is loosing weight, muscle training or use shoe inserts.
Running Style In Sports Stores
In sports stores, you run on a treadmill and the clerk look for one of the three positions of the foot in the landing phase i.e. whether you pronate, supinate or over-prononate. He find running shoes to you who fits to that results. Then you choose your personal favorite.
Running style in a sports physiology clinic – a standard course:
According to a  physiotherapist, the causes to running injuries or other physical loads can be found in several places in the body, even in areas where you do not otherwise have problems. A Complete Running Analysis from trained specialists such as physiotherapists, will give you a thorough examination to find out these causes which then can be corrected and "trained away" with exercises. With an analyze of the running style you can correct for some of these inconveniences.
Initial conversation with the physiotherapist. You'll be asked about the injure extent and how it occurred, your run and other factors that may be relevant. This information is important in relation to the next steps and treatment.
Physio therapeutic study of the bio mechanical conditions relevant to running.
Running style analysis filmed with high-speed multi-angle cameras. This makes it possible to see and analyze failure in the running style, weaknesses or altered movement that otherwise wouldn't be visible to the naked eye. Several different recordings are made, both with and without shoes.
Review of examination and recordings to find the "problem areas". The physiotherapist analyzes the challenges from the study and the running style analysis. You will be explained and shown where possible errors are and what you can do about it i.e. where I should try to change the way I ran.
Instruction. We review which relevant exercises you can do to remedy and adjust, and discuss what you can work on in your run. This is tested and adjusted on the treadmill.
Treatment: If necessary, a course of treatment is put together.
Final report: A report is prepared in which the relevant challenges/problems are noted. In addition, the exercises you should be doing and which changes you need to make in your training, will be described. You will also receive a CD/USB with the recordings. Then you can study them and possibly make exercises at home.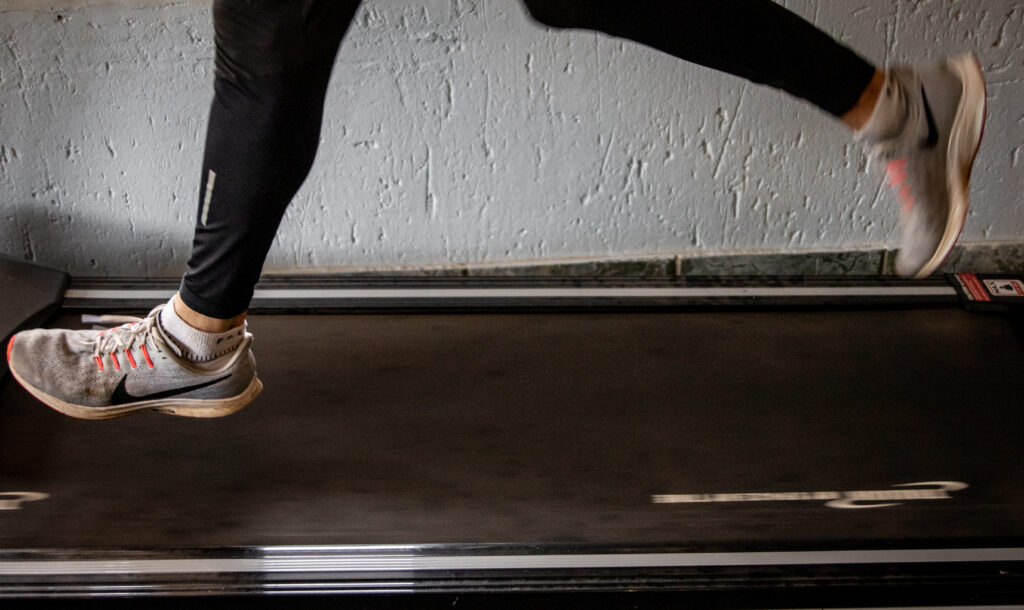 Running Shoe for the Experienced Runner
For the experienced runner with many years of running experiencing it can be a challenge to choose running shoes and sometimes be confusing because there are so many choices out there today. But if you prepare yourself from home, it will be easier to find the right shoe together with the clerk in the store. The first thing to do is decide if you want to use the shoe to training and running events or seriously competition races. Unless you are a very seriously and experienced runner it will be beneficial that you only stick to decidedly training shoes.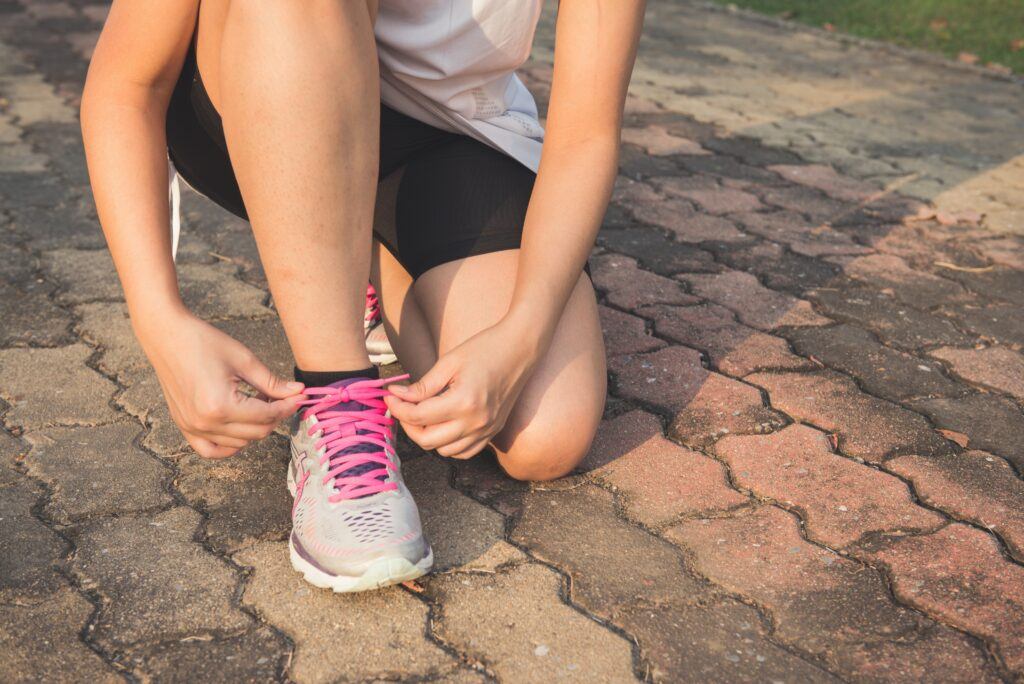 In addition, there are hybrids between competition and training shoes. These shoes weigh less than regular running shoes, but do not have the same stability in the sole and heel cap. Typically, the shock absorption will also be poorer. It is therefore strongly advised not to use competition shoes or competitive shoes for training. When competing, you should also be reluctant to run in competition shoes. Whether the shoe weighs 60 g or more or less has minimal significance even in the long distances. It must be weighed against poorer stability and shock absorption and an increased risk of overload damage. Use a lightweight training shoe instead of the competition shoe.
Running Style Conclusion
For the experienced runner, the running style and shoe choices are more luxury problems. But the story about the  Complete Running Analysis really touches me.
A friend of mine told this story which was his own and he is totally recovered today after following the recommended program and I was just totally surprised because I didn't know that excellent specialists was out there and could do something like that today. I would probably have quit running with such injuries.
A Complete Running Analysis is addressed for you , when you:
Is a beginner with running training.
A seasoned runner who wants to improve his run – running economy and technique.
An elite runner where all small adjustments are essential.
An injured runner who has had to reduce his training
A runner who wants to experience more comfort when running.
A runner who wants to prevent that injuries occurs and wants advice on choosing running shoes or insoles.
So there is absolutely no reason to give up running just because challenges occurs and that is also true in many other areas of life today – if we are looking for them.
If you are a serious runner like myself , I hope you like this review and if you have any questions about Running Style or want to leave your own Personal review, please leave a comment below.